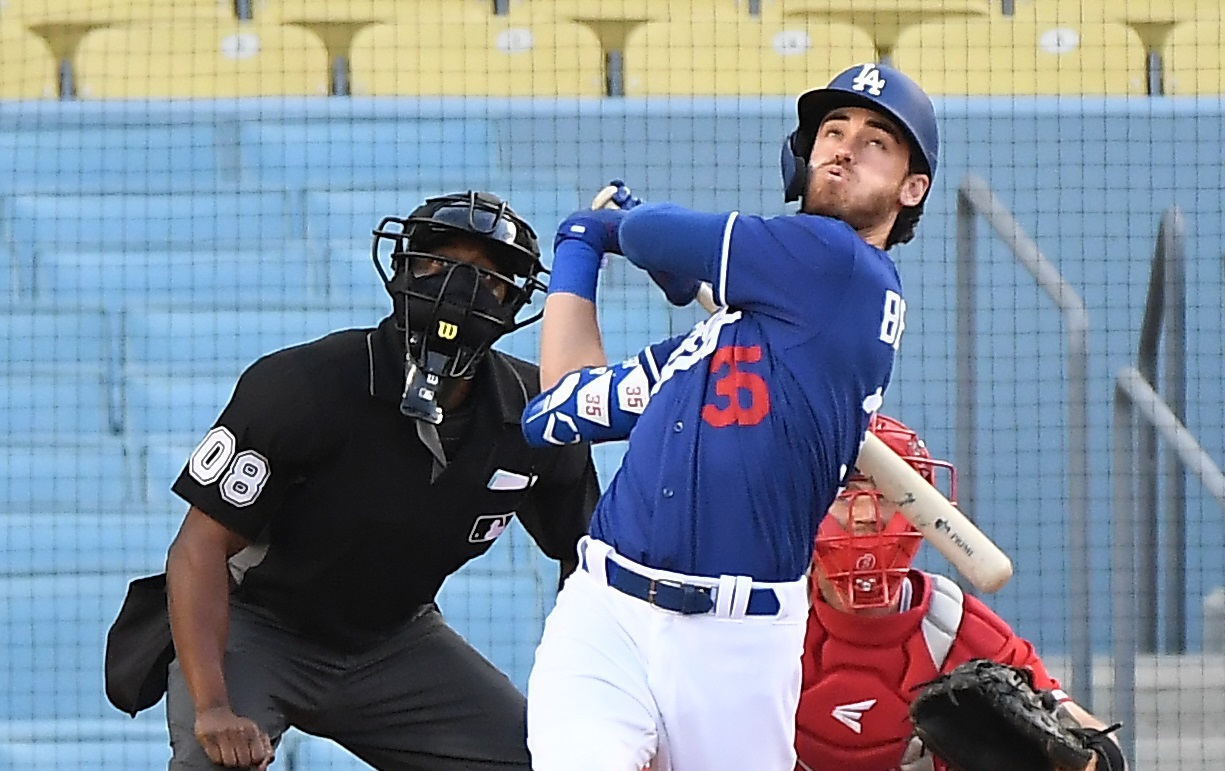 Justin Turner Robbed the Dodgers' Cody Bellinger of a Home Run in the Most Bizarre Possible Way
Cody Bellinger's two-run homer in the third inning of 2021 opening day turned into a single because of a baserunning blunder by Los Angeles Dodgers teammate Justin Turner.
Fans in most major-league cities haven't seen a baseball game in person in 18 months. When they returned to Coors Field in Denver for the 2021 MLB opener, Cody Bellinger and Justin Turner of the Los Angeles Dodgers treated them to something they've probably never seen before.
Turner wiped Bellinger's home run off the board with some inattentive baserunning at the tail end of what was already a bizarre play.
Cody Bellinger is in the lineup following offseason surgery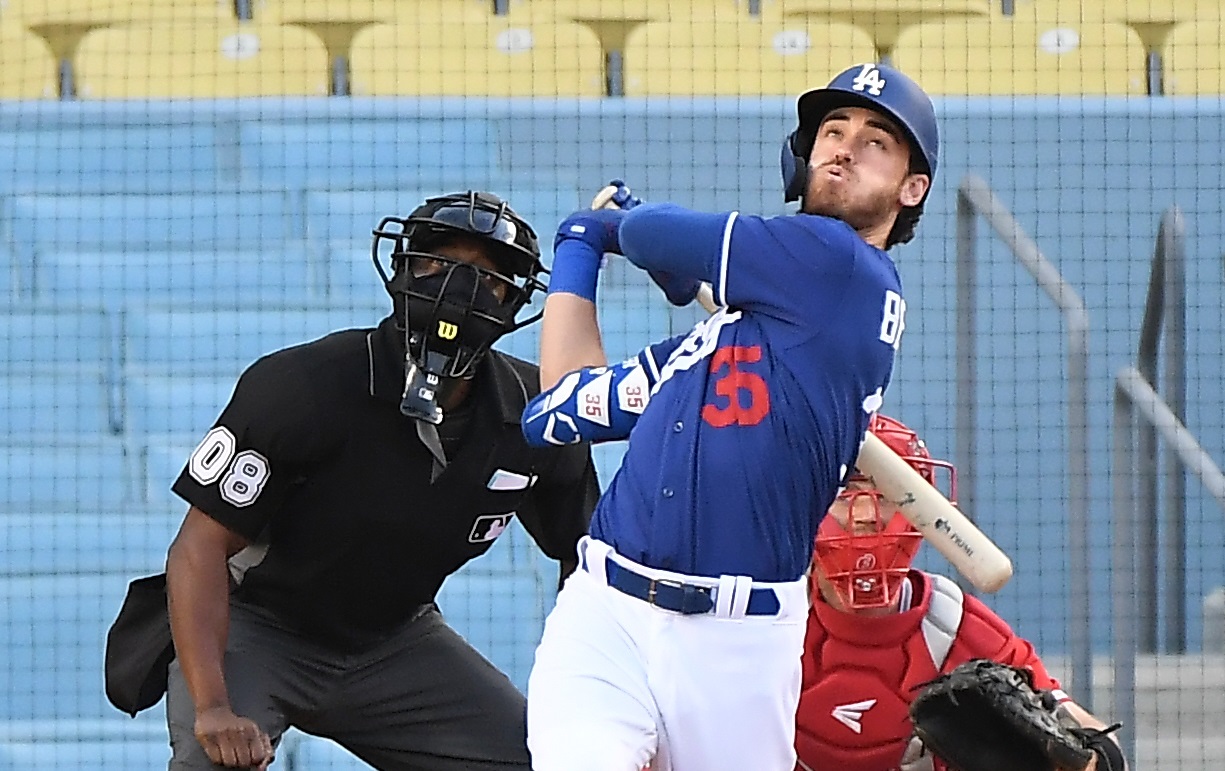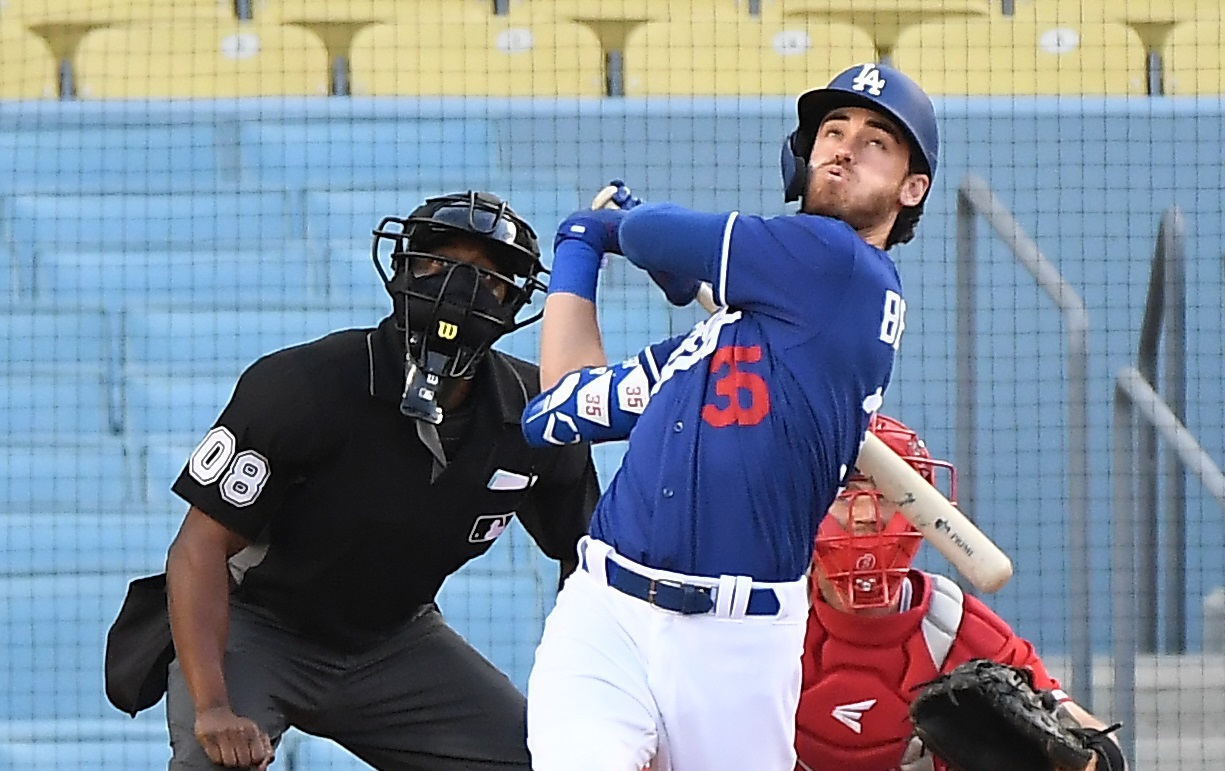 Cody Bellinger's showing in spring training was nothing to write home about. The fifth-year Los Angeles Dodgers outfielder and first baseman appeared in only nine exhibition games and put up a meager .160 batting average with three extra-base hits.
The slow start wasn't unexpected. Bellinger underwent surgery in November on his right (non-throwing) shoulder, followed by three months of rehabilitation. Bellinger had dislocated the shoulder multiple times before re-injuring it while forearm-bashing a teammate after hitting a Game 7 home run vs. the Atlanta Braves in the NLCS last fall.
He struggled through a 3-for-22 effort at the plate in the World Series, derailing what had been a strong postseason for him, and had to ease into spring training.
The start of the 2021 opener against the Colorado Rockies looked as though he was rounding back into the form that earned Bellinger the NL Rookie of the Year Award in 2017 and MVP honors two years later.
And then Justin Turner made his presence felt.
Justin Turner robbed Cody Bellinger of a home run
Baseball fans in Denver were treated to a most unusual play in the top of the third inning on April 1 as their Colorado Rockies hosted the Los Angeles Dodgers, the defending World Series champions.
With the Dodgers' Justin Turner on first base, Cody Bellinger launched a long fly to left-center field. Rockies left fielder Raimel Tapia tracked the ball to the wall and appeared to reel it in. However, the momentum caused Tapia's glove to slam into the top of the wall, dislodging the ball over the fence.
What transpired wasn't clear from the infield, according to the Los Angeles Times, and Turner was confused as he rounded second base. Thinking Tapia had held on to the ball, he started racing back to first base to avoid a double play. In the process, he passed Bellinger as the batter was approaching second base in a home-run trot.
By rule, Bellinger was out but Turner was allowed to change direction for a second time and round the bases. The net result was that Bellinger's two-run home run became a one-run single to break a scoreless tie.
He'll get his share of homers before the season is over
Cody Bellinger may have had his first home run of the season wiped away by a weird play, but the young Los Angeles Dodgers star has a whole season and three-quarters of his career ahead of him to make amends.
Bellinger entered the Dodgers organization as a fourth-round draft pick in 2013 out of high school in Chandler, Arizona. He reached the majors in 2017 and became an instant All-Star, hitting .267 with 39 homers and 97 RBIs in just 132 games.
Bellinger followed with 25 homers the next season and then blossomed in 2019 with 47 round-trippers and a .305 average on his way to the league MVP award and his first Gold Glove. He regressed to a .239 average in the pandemic-shortened 2020 season, but Bellinger still hit another dozen homers.
Bellinger, who'll turn 26 in July, entered the new season with 123 career homers in just 506 career games.
All stats courtesy of Baseball Reference.