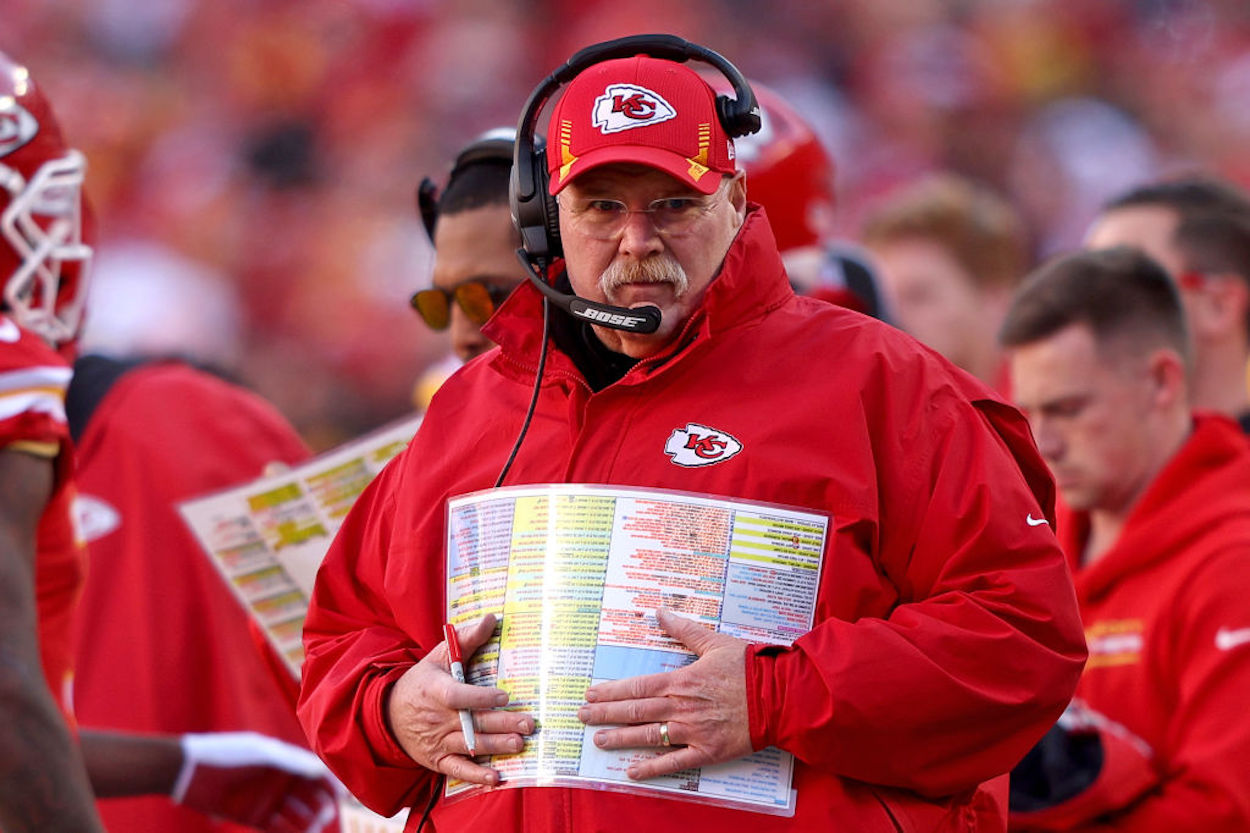 Kansas City Chiefs: Andy Reid Is Calling an Offseason Audible to Help Patrick Mahomes' Offense Avoid an Early Setback
While the loss of Tyreek Hill still looms large in Kansas City, Andy Reid is doing his part to help Patrick Mahomes and company move on.
While the Kansas City Chiefs have ruled the AFC West in recent years, things could be different this fall. With teams around the league improving and Tyreek Hill taking his talents to South Beach, the pressure is on Patrick Mahomes and Andy Reid to keep their offense firing on all cylinders.
With that goal in mind, the veteran head coach has called an audible. Offseason workouts may have officially begun, but Reid has given his offense permission to keep working together in Texas. That might sound a bit unconventional — it's easy to imagine NFL coaches ruling with an iron fist — but it could make all the difference when the 2022 campaign kicks off.
Andy Reid has allowed Patrick Mahomes and the Chiefs' skill players to keep working out together
Over the past two years, we've all become familiar with the realities of remote work. The Kansas City Chiefs, it seems, are also comfortable taking things to Zoom.
Earlier this offseason, Patrick Mahomes gathered the likes of Travis Kelce, Ronald Jones, Marquez Valdes-Scantling, JuJu Smith-Schuster, Clyde Edwards-Helaire, and Mecole Hardman together in Fort Worth, Texas. The group worked out, ran through offensive schemes, and, perhaps most importantly, got to know each other. Against the backdrop of Tyreek Hill — one of KC's key players — moving to Miami, the bonding session was much-needed.
"I wanted to get everybody together so they get to meet each other and build those friendships," Mahomes explained, according to Nate Taylor of The Athletic. "And then I wanted to really focus on the details, which I think is a great thing for us because we'll get to go back to the basics and then evolve as the season goes on."
The group kept Andy Reid and offensive coordinator Eric Bieniemy apprised of their efforts, and the two men called an audible. They moved the beginning of the Chiefs' offseason program to a virtual format, meaning the offense could stick together in Texas to continue their efforts.
While that might seem unconventional, Big Red boiled things down to trust.
"That's where I have the trust in the guys to be able to do this," the head coach explained. "I don't need them right here [in the team's training facility]. We've played a lot of games in the last four years, maybe more than anybody in the NFL. Having them with a little time away to do their bonding with themselves, especially with the influx of new players, I think is important. When they get here, they'll be revved up."
Chiefs fans will be hoping that trust helps Patrick Mahomes and company avoid a slow start to the season
From afar, some offseason workouts can seem pretty insignificant in the scope of an entire NFL season. For the Chiefs, though, building that chemistry will be essential.
While the loss of Hill may sting, the Chiefs still have a capable offense. Mahomes, of course, has proven that he's more than capable of making plays. Travis Kelce is an elite tight end, although we'll have to see how he adjusts to being the main focus of opposition defenses. The rest of the group — Smith-Schuster, Hardman, Edwards-Helaire, and Valdes-Scantling — possesses plenty of talent but will have to answer questions about putting it all together in Kansas City.
Through that lens, the focus on building chemistry becomes a bit more logical. While memes about Mahomes simply chucking the ball downfield because Hill was somewhere were made in jest, there was an element of truth to the idea. The quarterback and receiver shared a locker room for five seasons; that, plus the respective blend of arm strength and speed, made the two a deadly combination. With the Cheetah in Miami and defenses keying in on Kelce, someone else will need to emerge as a trustworthy option.
It's also worth considering how the overall landscape of the AFC has changed during the offseason. The Raiders, Chargers, and Broncos have all improved. Elsewhere in the conference, the likes of Josh Allen and Joe Burrow still loom large. Kansas City would already be facing a challenge to remain near the top of the standings with Hill on their roster. Without him, things will get even tougher.
With that in mind, Mahomes' bonding session becomes even more important. Under normal circumstances, you'd say that the Chiefs could learn on the fly; even if the growing pains stretched into the first few weeks of the regular season, KC is talented enough to absorb a loss or two without it being too much of a problem. Facing an improved AFC West, though, there's no room to stumble. A small setback in Week 2 could be enough to miss the playoffs.
From a cynical perspective, you could argue that Reid's audible won't mean anything. Just about every quarterback works with their receivers, and no amount of chemistry can replace Hill's raw talent. When you're fighting to keep a championship window open, though, just about anything is worth a shot.