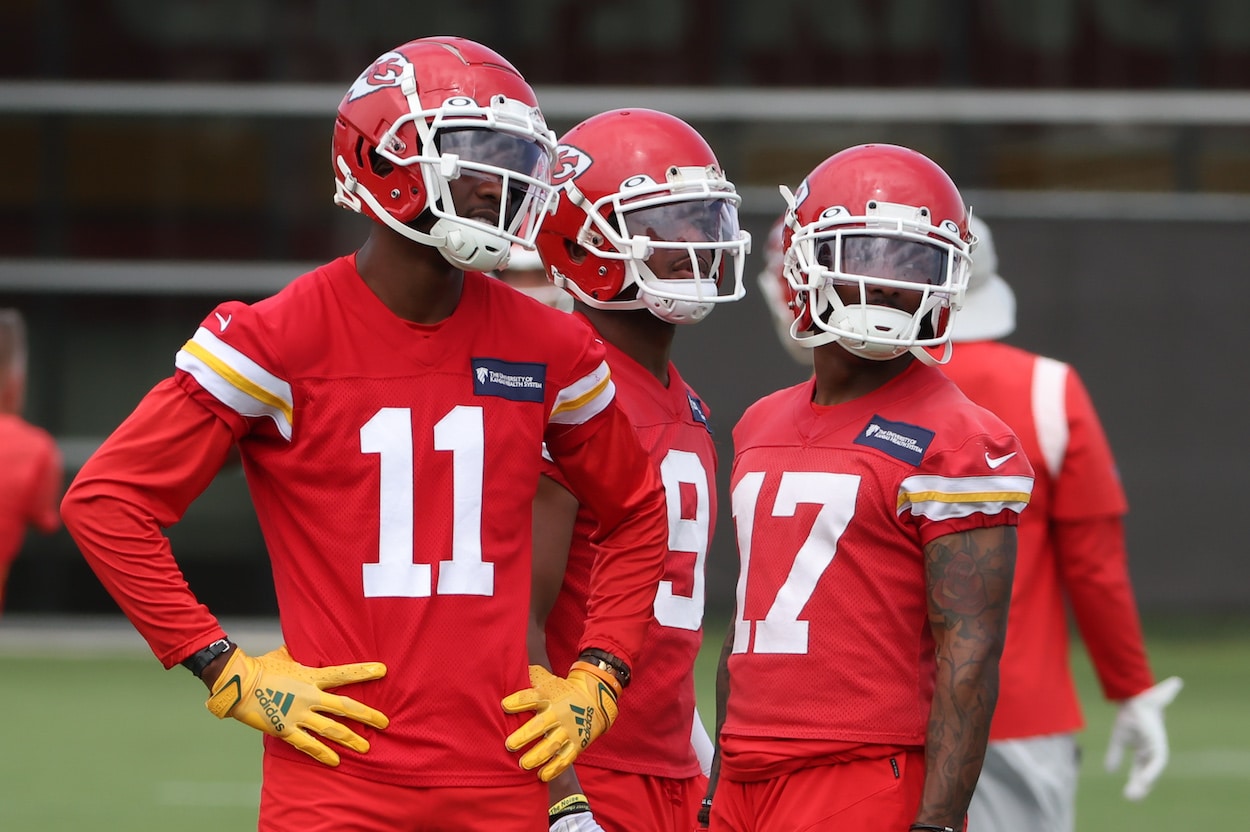 Kansas City Chiefs Training Camp: 3 Position Battles to Watch in 2022
As the Kansas City Chiefs training camp opens ahead of the 2022 NFL season, here are three camp battles to keep a close eye on.
The Kansas City Chiefs once again were one of the best teams in the NFL last season, although a poor second half in the AFC Championship Game cost them a third consecutive trip to the Super Bowl. Although an offseason shakeup cost Patrick Mahomes Tyreek Hill, there are still plenty of players on the roster — both new and old — with championship pedigree. As Kansas City Chiefs training camp gets underway, here are three positional battles to watch closely.
Kansas City Chiefs Training Camp Info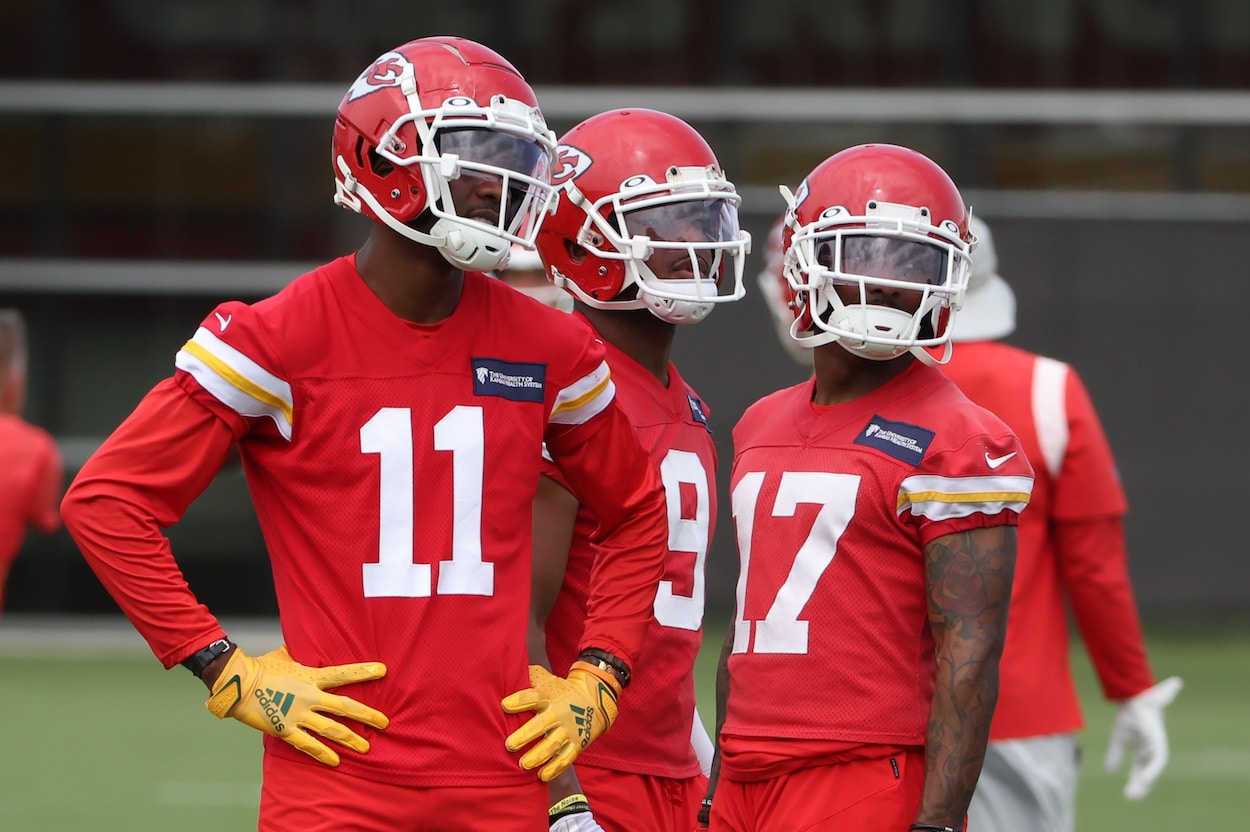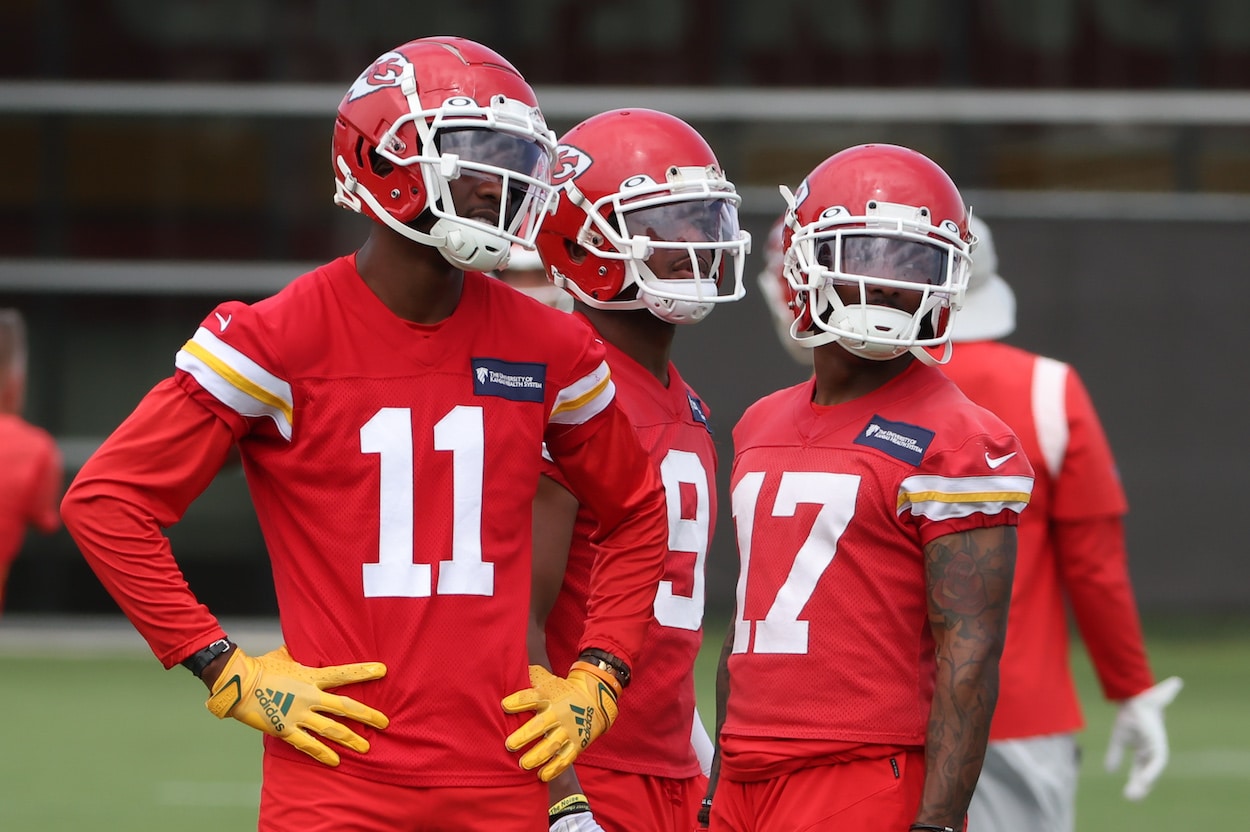 Location: Missouri Western State University, St. Joseph, Missouri
Rookies report: Friday, July 22, 2022
Veterans report: Tuesday, July 26, 2022
First game: at Arizona Cardinals, Sunday, September 11, 4:25 p.m. EST
Battle No. 1: WR — Mecole Hardman vs. JuJu Smith-Schuster vs. Marquez Valdes-Scantling vs. Skyy Moore vs. Justin Watson vs. Josh Gordon
Finding a replacement (or replacements) for Tyreek Hill is priority No. 1 for Andy Reid, Eric Bieniemy, Patrick Mahomes, and the Kansas City offense in 2022. 
There are plenty of contenders. 
Mecole Hardman seems like a clone of Hill and has spent the last three seasons playing with him. JuJu Smith-Schuster and Marquez Valdes-Scantling have spent the majority of their careers as second options and are looking to break out of that role. 
Skyy Moore is a promising 2022 second-round draft pick, and former Tampa Bay Buccaneer free-agent pickup Justin Watson is getting some sleeper buzz. Finally, Josh Gordon was the best receiver in the NFL once, but that was nine years ago. 
This Kansas City Chiefs training camp battle seems like it will come down to who gels with Mahomes quickest. My best guess is that when the dust settles, Smith-Schuster, Moore, and Valdez-Scantling will be the starting trio in Week 1. 
Battle No. 2: CB2 — Trent McDuffie vs. Rashad Fenton vs. Deandre Baker vs. Lonnie Johnson Jr. 
Cornerbacks playing the AFC West in 2022 will have to match up with Davante Adams and Hunter Renfrow, Keenan Allen and Mike Williams, and Courtland Sutton and Jerry Jeudy.
The Kansas City Chiefs have L'Jarius Sneed to that, but there are some question marks after him. 
Charvarius Ward left in free agency for the San Francisco 49ers this offseason, so the Chiefs have to find a new No. 2 to match up with all this AFC West (and really AFC in general) receiving talent. 
The candidates currently in Kansas City Chiefs training camp are Trent McDuffie, Rashad Fenton, and Deandre Baker.  
McDuffie is the Chiefs' first first-round pick in 2022 and had the talent to start in Week 1. He may be better in the slot, though, so Andy Reid needs to decide on his second boundary corner. 
Rashad Fenton, Deandre Baker, and Lonnie Johnson Jr. are all fourth-year players the Chiefs hope will step up and break out. Fenton is the favorite on the Chiefs blogs, but the team gave up draft capital to get Johnson from the Houston Texans. He's also 6-foot-2 vs. the 5-foot-11 Fenton and Baker. That's why I see him as the winner. 
Battle No. 3: RB1 ­— Clyde Edwards-Helaire vs. Ronald Jones
Clyde Edwards-Helaire has been good — not great — since the Chiefs picked him 32nd overall in 2020. When he's healthy, he a true dual-threat back. However, he's missed 10 games in two years and seems too fragile for a full bell cow workload. 
This offseason, the Chiefs brought in Ronald Jones from the Tampa Bay Buccaneers. He's nowhere near as dynamic as Edwards-Helaire, but he's an innings-eater who can supplement his counterpart well. 
This Kansas City Cheifs training camp battle at running back won't be about whether Edwards-Helaire or Jones will be the true No 1. It will be more about what the snap split looks like. 
It's also worth watching the rest of the backs in camp — Jerick McKinnon, Derrick Gore, Isiah Pacheco, Jerrion Ealy, Tayon Fleet-Davis — to see if any of them jump up and become a real threat to steal carries from the top two. 
If any of these other backs do get in the mix, the veteran McKinnon and the seventh-round rookie out of Rutgers, Pacheco, are the most likely candidates. 
All stats courtesy of Pro Football Reference