Kareem Abdul-Jabbar Once Compared Kobe Bryant's Iconic 81-Point Game to Stephen Curry's Style of Play: 'Wherever He Was, He Was Going up and the Ball Was Going In'
Kareem Abdul-Jabbar had a front-row seat for Kobe Bryant's 81-point game with the Los Angeles Lakers. For everyone who watched that performance, it was truly a night they won't ever forget, and that includes Abdul-Jabbar. While discussing it once, though, the former NBA big man compared Bryant's remarkable game to Stephen Curry.
Kobe Bryant gave everyone a plethora of memories throughout his time on the Los Angeles Lakers. From winning five championships to earning the league MVP in 2007-08, Bryant had some magical moments on the court that culminated in him becoming one of the most revered athletes in the history of sports.
However, arguably his most memorable performance came in a contest against the Toronto Raptors on Jan. 22, 2006.
That was the night Bryant dropped his historic 81 points.
Everyone who either attended or watched the game on TV was mesmerized by what he was doing. Mamba simply couldn't miss that night, and he posted a stat line for the ages.
Of those astonished by his play, though, was another NBA legend in Kareem Abdul-Jabbar. In fact, Abdul-Jabbar later compared Bryant's play in that contest to the way a current NBA star plays their game today: Stephen Curry.
Kobe Bryant dropped 81 points for the Lakers in 2006
During the 2005-06 season, Bryant was in his second year without Shaquille O'Neal and was proving to everyone he didn't need the big man to be successful.
Bryant led the league in scoring that season with a career-high 35.4 points per game to go with 5.3 rebounds and 4.5 assists. His biggest performance that year, though, came on that one night in January.
The Lakers entered the game 21-19 while the Toronto Raptors were one of the worst teams in the league, posting a 14-26 record at the time and eventually finishing 27-55.
But LA still struggled out the gate that night. The Raptors jumped out to a 36-29 lead, despite Bryant scoring 14 in the period. They then continued separating themselves in the next quarter, leading 63-49 at halftime, even with Bryant having 26 total points.
However, the next two quarters were all Kobe.
Bryant dropped a whopping 27 on 11-of-15 shooting in the third, which helped the Lakers take a 91-85 lead. He then closed the night by scoring 28 more in the fourth, which equaled 55 in the second half and 81 for the entire game.
The Lakers won 122-104, and Bryant added six rebounds and three steals to go with his 81 points.
It was a magical performance and is still the second-most points a player has scored in NBA history. And fittingly enough, the league's all-time leading scorer, Kareem Abdul-Jabbar, was on the bench to see it.
Kareem Abdul-Jabbar compared the performance to Stephen Curry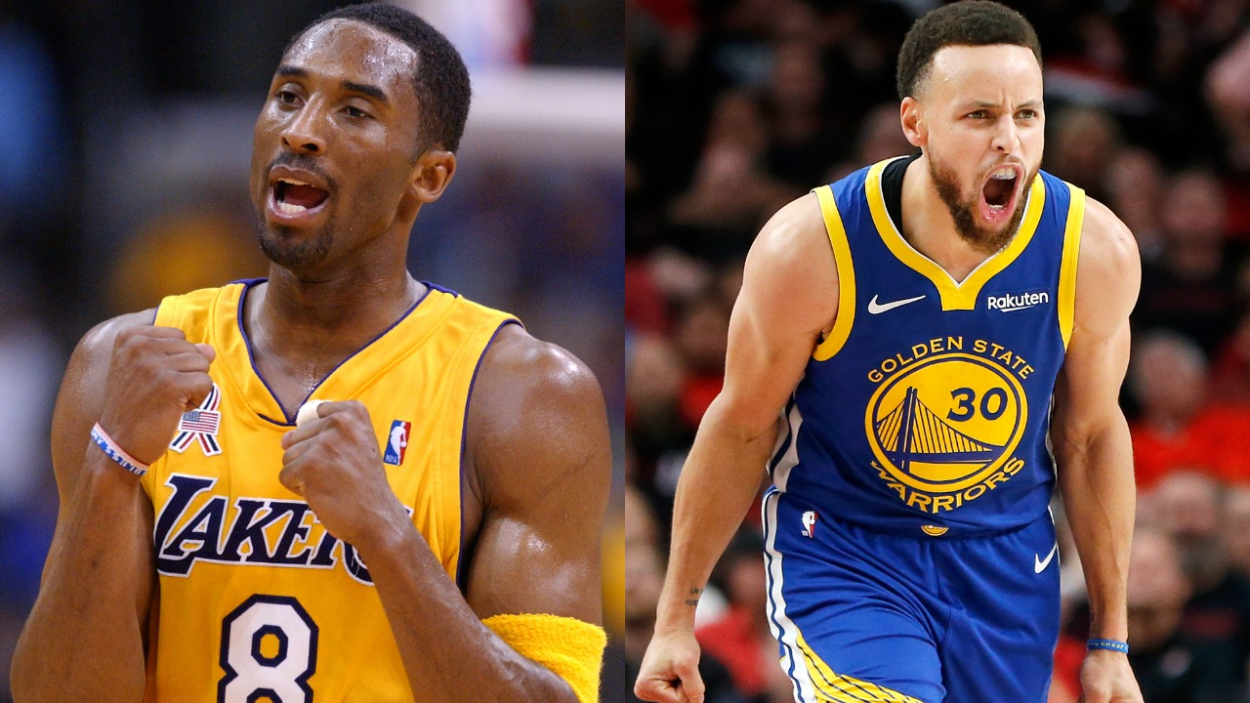 Abdul-Jabbar was a Lakers assistant at the time Bryant scored 81. Despite having some remarkable performances himself (he once dropped 55 points, 29 rebounds, and 11 assists), Kareem seemingly couldn't believe what he was watching.
"I couldn't get over it. He would pull up just a couple of steps past the half-court line," he said in 2020, per USA Today.
Abdul-Jabbar then had an interesting line that praised both Bryant and Golden State Warriors star, Stephen Curry.
"I never saw anybody that hot with that kind of range until Stephen Curry came along," the NBA legend said, per USA Today. "Kobe was unbelievable. Wherever he was, he was going up and the ball was going in. The long-range bombs that he threw in that night was incredible."
No, Curry has never had a performance like Bryant's. The most he has scored is 62 points. But Abdul-Jabbar's comment is interesting because the Lakers legend was never known for being an elite 3-point shooter.
Although, that night, he was.
Kobe Bryant's night was similar to the way Stephen Curry plays today
Kobe Bryant was never a high-volume 3-point shooter for the Lakers. He averaged 4.1 long-range attempts per game for his career and posted 6.5 per outing during that 2005-06 season. Bryant also only took 21.2% of his career field goal attempts from beyond the arc. 
By comparison, Curry averages 8.6 long-range attempts for his career and has averaged 10.0 or more in four of the last six seasons, including 12.7 in 2020-21. Nearly half of his career field goal attempts have come from beyond the arc as well.
While those numbers aren't even similar to Bryant's, the five-time NBA champ hoisted 13 long-range shots during his 81-point performance, making 53.8% of them. That rate is even better than Curry's 43.3% career 3-point shooting percentage.
There are often nights where Curry just chucks up shots from anywhere, and they seem to go in; he has limitless range. Bryant, on the other hand, took most of his shots throughout his career from mid-range or near the basket (78.8% of his career field-goal attempts were 2-pointers).
But on that night in January 2006, Mamba had Curry's unlimited range.
And Kareem Abdul-Jabbar had a front-row seat.
Stats courtesy of Basketball Reference