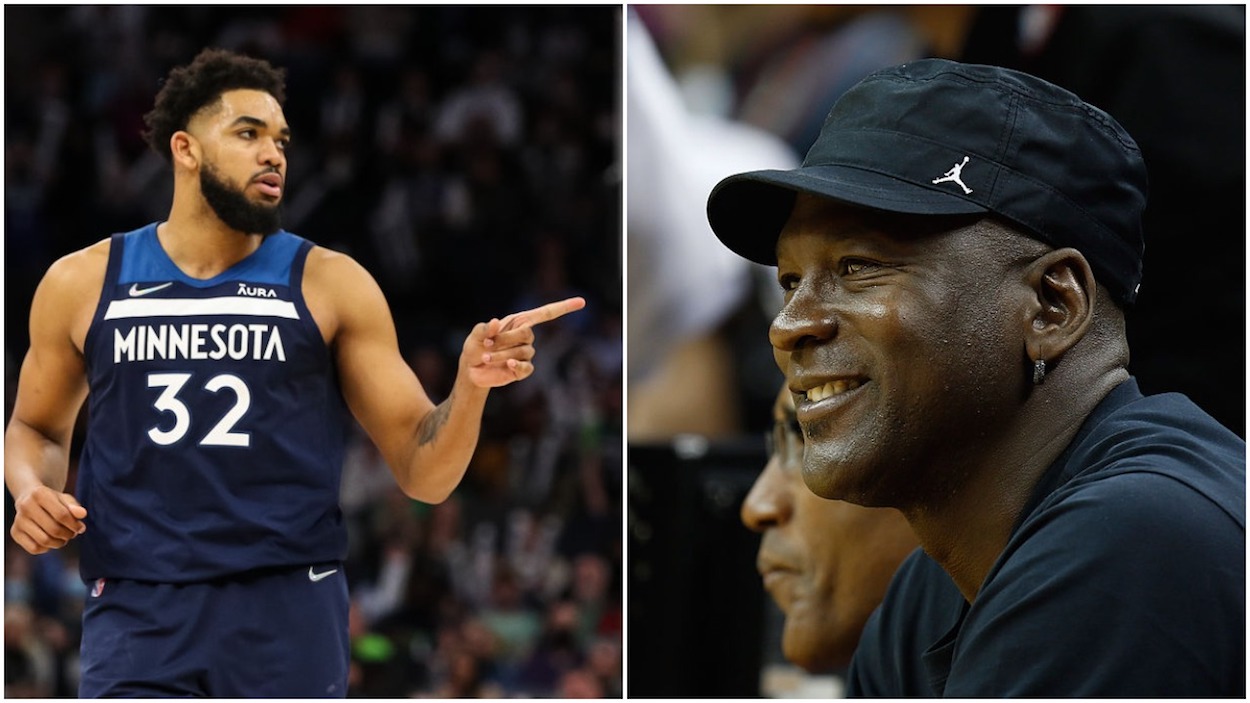 Karl-Anthony Towns Reveals What Happened During His All-Star Encounter With Michael Jordan
While Michael Jordan's exchange with Karl-Anthony Towns may have looked awkward, the Timberwolves big man confirmed that wasn't the case.
Whether you're a fan or a current star, just about everyone in the basketball world has an affinity for Michael Jordan. Even if His Airness wasn't among your favorite players, his place in sports history gives him a special status. Just about everyone, if given the opportunity, would gladly accept a chance to chat with the living legend. During the NBA's All-Star festivities, Karl-Anthony Towns got that opportunity.
While KAT's exchange with MJ didn't seem the most natural — some on Twitter even joked that Jordan didn't know who the younger man was — the Timberwolves star took to the Internet to clarify exactly what happened.
Karl-Anthony Towns and Michael Jordan seemed to share a somewhat rushed moment in Cleveland
While things have changed a bit over the years, one of the traditional joys of an all-star event was getting the entire league together in a single place. Given the festivities around the NBA's 75th Anniversary, though, the 2022 All-Star Game still featured some cool interactions.
Plenty of stars were present, but Michael Jordan understandably stole the show. Clips of his interactions with Magic Johnson, LeBron James, and Luka Doncic understandably went viral. Given His Airness' place in sporting history, virtually anything he does becomes front-page news.
His interaction with Karl-Anthony Towns, however, seemed a little different. In the same clip where Jordan and Doncic embraced, the Timberwolves star appeared. He and MJ shared a brief handshake; they also pointed at each other before His Airness quickly walked away.
While their exchange didn't exactly seem cold, it didn't quite feel the same as some of the other scenes taking place around the court. On social media, some even joked that Jordan didn't know who Towns was.
KAT and MJ were actually engaged in a bit of friendly trash talk
In the video making the rounds on social media, it's tough to determine exactly what Towns and Jordan said. Thankfully, KAT stepped in to clarify.
According to the big man, the seeds were planted when His Airness arrived in Cleveland. "He came late cause he was at that NASCAR thing," Towns explained in a video shared on his Youtube channel. "They didn't think he was coming. So, he walked in. He was trying to tell me something. He knew what he wanted to say, and he was trying to talk to me about the Charlotte game. About the Hornets game when I had 39, and I came through … with the clutch shots. He was trying to tell me that and then something, they were like trying to rush him. I think they were trying to rush him because the [NBA] 75. They were trying to get everyone organized to get the photos done and everything."
Later in the evening, the two men crossed paths again. That interaction was the one captured on video. So what really happened?
"MJ looks at me. MJ looks at me, and he goes, 'I remember what you did to my team. I seen what you did to my team. F*** you,'" Towns continued. "I say, 'Yeah, I like this energy.' … That's why you see me right in the video go 'Yeah!'"
The interaction, however, didn't end there. As every basketball fan knows, Jordan wasn't going to turn the other cheek.
"And the funniest part," Towns continued, "MJ's so iconic and so competitive. He looks back at me and goes, 'Yeah!' Yo, I was crying."
KAT might not have gotten a hug from His Airness, but, if his story is to be believed, it's clear that the living legend knows exactly who the Timberwolves big man is.