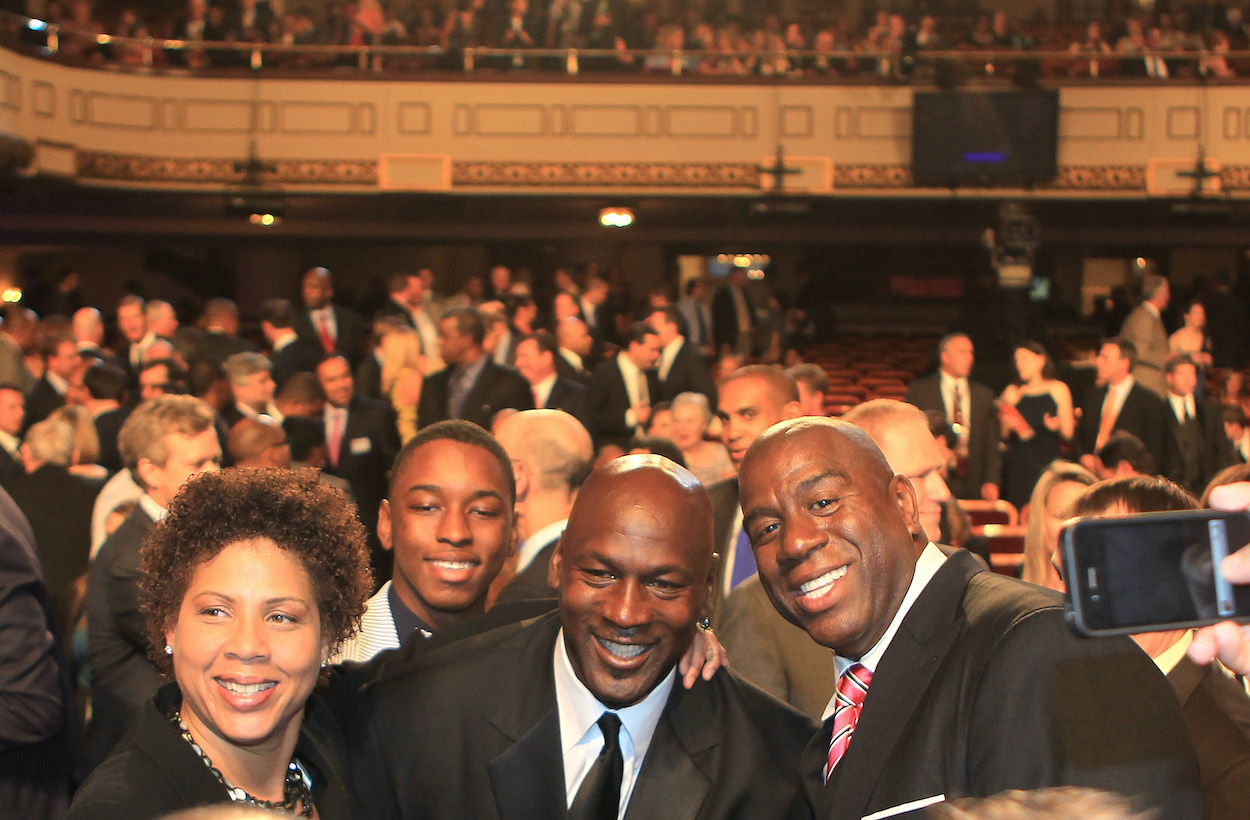 Michael Jordan Issued a Challenge to Magic Johnson at the 2022 All-Star Game
Michael Jordan is still confident he could beat Magic Johnson in a game of one-on-one at 59.
From punching teammates in the face during scrimmages to approaching friendly golf matches and simple card games like the NBA Finals, the tales of Michael Jordan's legendary competitiveness are more than plentiful. The Chicago Bulls great possessed a hunger for winning that he was never able to satisfy, and he's still just as cutthroat today as he was throughout his NBA career.
In a reunion with dozens of Hall of Famers at the 2022 All-Star Game, Jordan approached former rival Magic Johnson and challenged him to a game of one-on-one. Even at 59 years old, he's still the same MJ we've always known.
Michael Jordan caught up with old friends at the 2022 All-Star Game
The NBA All-Star Game attracts the biggest names in basketball every year, but the 2022 event featured the most star power in one arena that we've ever seen.
Dozens of Hall of Famers packed the Rocket Mortgage FieldHouse this year as the NBA honored the 75th anniversary team during halftime of the All-Star Game. Everyone from Jordan to Jerry West was in attendance. Well, everyone except Scottie Pippen, but that was probably for the best.
Throughout the night, Jordan was able to catch up with LeBron James, Dominique Wilkins, James Worthy, Patrick Ewing, and others. Of course, he also took some time to joke around with Magic Johnson.
Michael Jordan issued a challenge to Magic Johnson
When Jordan arrived in Cleveland and started saying hello to the other members of the 75th anniversary team, you just knew he was going to find Johnson in the crowd. After all, the two Hall of Famers battled against each other for eight years in the NBA and faced off in the 1991 NBA Finals.
During their conversation on Sunday night, with a handful of living legends watching intently, Jordan issued a challenge to his longtime rival-turned-friend.
"That's an old dog right there. That's an old dog," Jordan said while pointing at Magic. "C'mon, where your shoes at? We can go play one-on-one, me and you, right now."
The rest of the room broke out in a chuckle at Jordan's "joke," but he couldn't have been more serious. While everyone else smiled from ear to ear, MJ stared at Johnson with a stone-cold look on his face. He really wanted the smoke.
Still as competitive as ever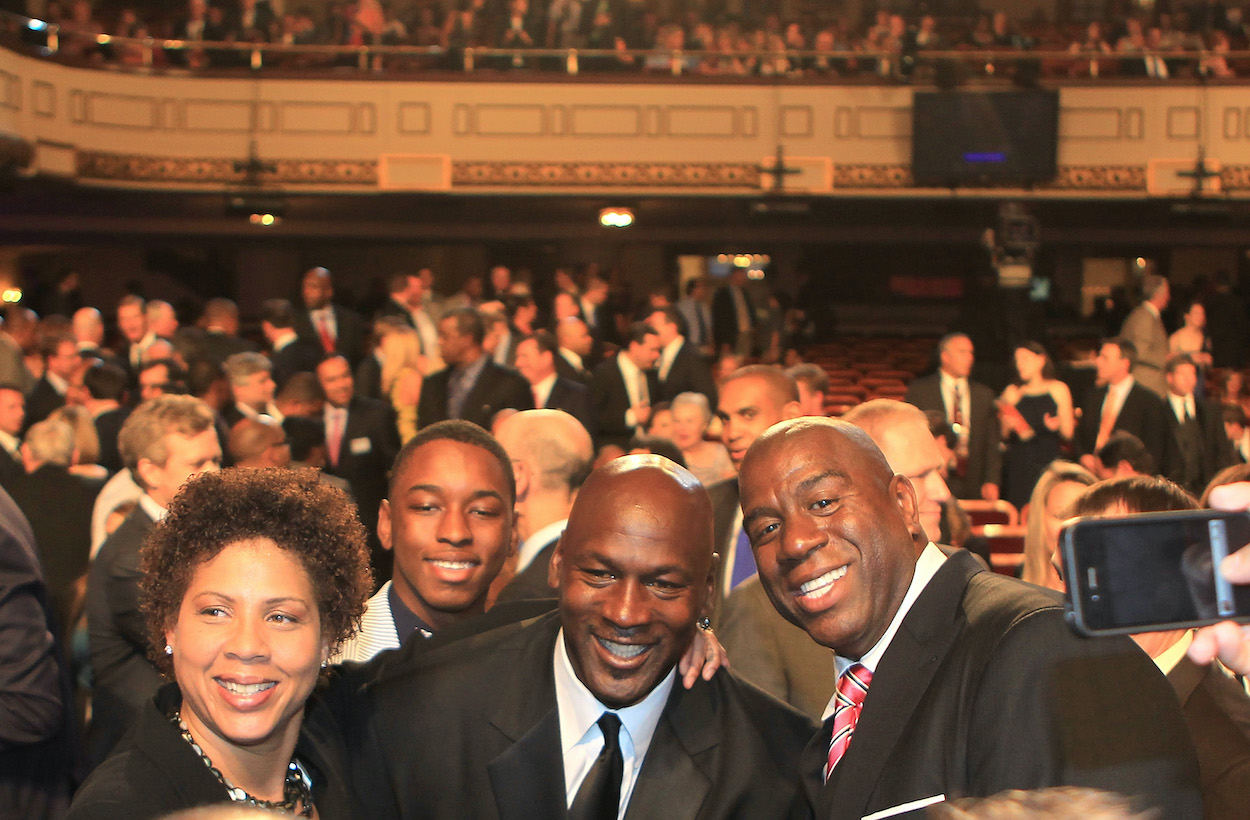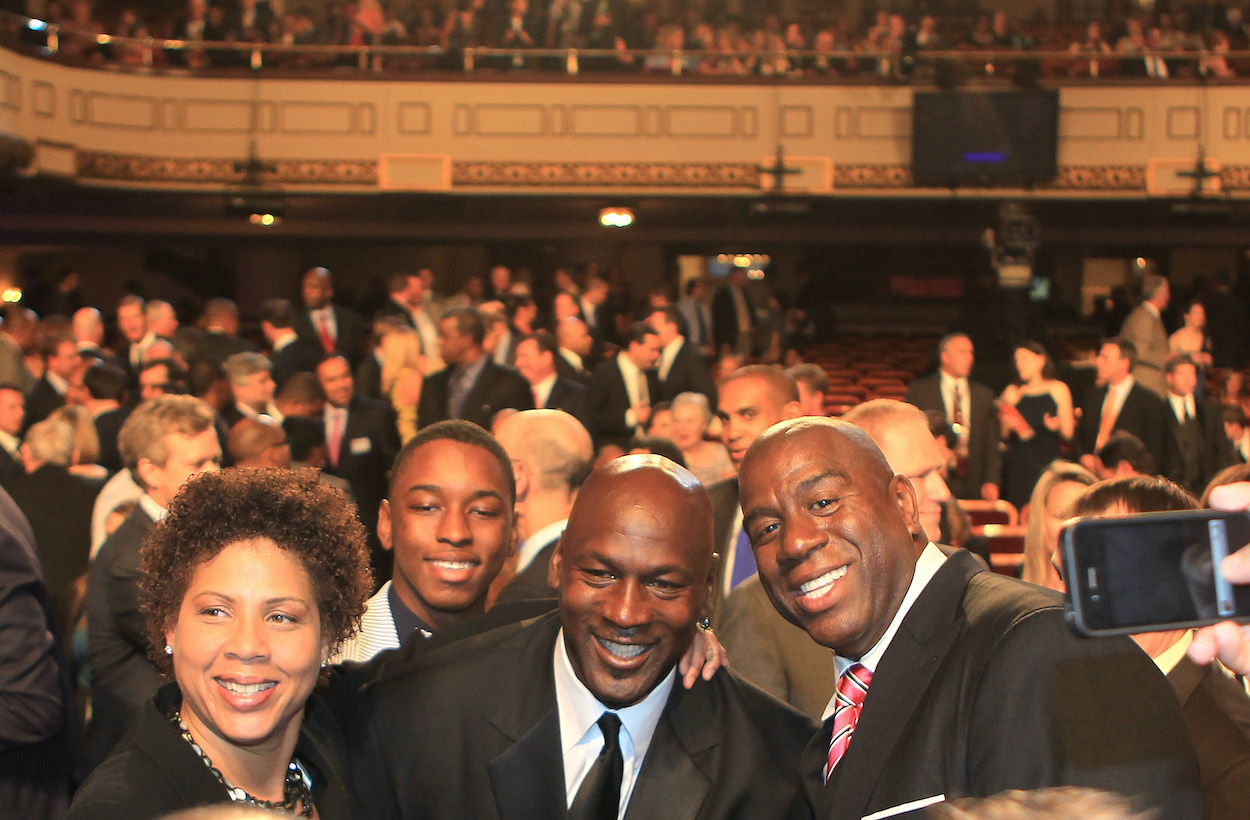 Jordan might not be the player at 59 he was at 29, but that competitive fire still courses through his veins just as powerfully as it ever has. These days, he's able to let some of that fire loose on the golf course. He regularly challenges PGA Tour pros to matches at his The Grove XXIII golf course, and he fares better than you might think.
But Jordan isn't able to talk trash to his former NBA rivals like he used to night in and night out. Sunday night gave him a rare opportunity to do just that, and he took full advantage of it. If Johnson had accepted his challenge, the two might've just paused the start of the All-Star Game to settle this thing once and for all.
Never change, MJ.
Like Sportscasting on Facebook. Follow us on Twitter @sportscasting19.