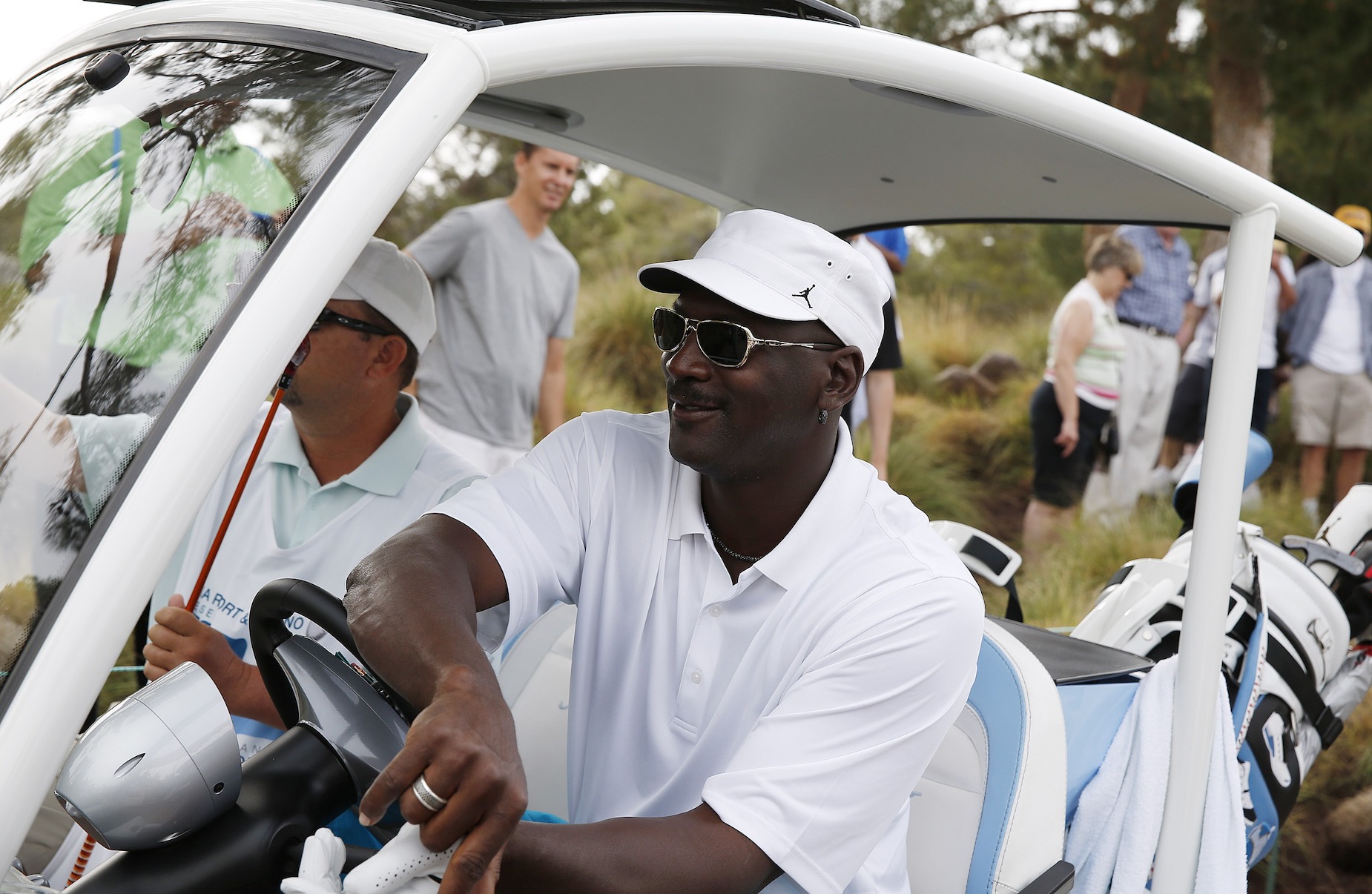 Michael Jordan's 'The Grove XXIII' Golf Course Includes a Cool Power Move to Remind Guests of MJ's Greatness
If you're golfing at The Grove XXIII, there's no doubt that Michael Jordan is the club's top dog.
While virtually everyone knows about Michael Jordan and his basketball career, His Airness' athletic exploits aren't limited to the hardwood. The NBA veteran is a pretty serious golfer and even has his own exclusive course, The Grove XXIII. As you'd imagine, things are pretty swanky once you hit the links.
While everyone who visits The Grove XXIII is likely to already be familiar with Michael Jordan and his incredible legacy, the NBA legend isn't taking any chances. Even if you're simply sipping a drink at the bar, you'll be confronted with a simple power move to remind you of just who owns the course.
Michael Jordan has found incredible success, both on and off the basketball court
These days, LeBron James has forced his way into basketball's GOAT conversation. No matter who you think takes the top spot, though, everyone will acknowledge that Michael Jordan has built up quite the resume over the years.
Despite suffering an early setback and failing to make his high school's varsity basketball team on the first attempt, Jordan grew into one of sport's biggest stars. By the time he graduated high school, he had become a McDonald's All-American; in college, he nailed the game-winning shot as a freshman to help UNC clinch an NCAA title.
In the pros, Jordan's rise to stardom only continued. While the Chicago Bulls initially had some issues getting past the Detroit Pistons and their 'Jordan rules,' they eventually broke the seal. Jordan won six championships in two separate three-peats, claimed five NBA MVP crowns, and took home almost every other award imaginable.
Beyond his on-court success and pop-cultural dominance, Jordan also 'won' in another arena: finances. These days, His Airness has a net worth of more than $1 billion; that puts him head and shoulders above the competition, at least from an NBA perspective.
MJ loves golf and has opened his own course, The Grove XXIII
While Michael Jordan dominated the global basketball scene and even tried his hand at baseball, His Airness' athletic endeavors don't end there. MJ is also a pretty dedicated golfer.
During his time at UNC, Jordan first hit the course with some fellow Tar Heels, including Davis Love III, who would eventually go on to become a regular on the PGA Tour. While the basketball player struggled, as any novice golfer is bound to do, he still fell in love with the game.
As his star rose, Jordan found plenty of time to his the links and became a pretty capable player. He's also unwilling to compromise, which led to the creation of his own course.
When playing a country club, Jordan apparently became fed up with the slow pace of play. He set out to remedy that problem in the most MJ way possible: by simply building his own course, allowing him to, quite literally, make the rules.
That idea has since grown into The Grove XXIII, a course in Hobe Sound, Florida. While it's, by most accounts, a pretty impressive course, the details aren't just limited to fairways and greens.
Michael Jordan's The Grove XXIII even features Air Jordan ice cubes
As you might imagine, hitting the links at The Grove XXIII is a bit different than playing a round at your local golf course. Michael Jordan, it seems, doesn't want anyone to forget that he's the top dog.
In a recent Twitter post, Ryan Lavner of The Golf Channel shared a picture of the ice cubes used at The Grove XXIII. Based on an image that seemed to come from Jimmy Walker's Instagram, the course chills their drinks with ice cubes featuring the iconic 'Air Jordan' logo.
Keeping in mind that The Grove XXIII uses drones to deliver food and drinks to golfers during their round, and it all combines to be quite the power move. Not only are you on Michael Jordan's golf course, but you'll be (indirectly) paying His Airness for the privilege of having a drink delivered to you by drone. Then, when that drink arrives, it will be cooled by some Air Jordan ice.
To some, putting your own logo on ice cubes might seem a bit ostentatious. When you're a billionaire, six-time NBA champion, and global celebrity like Michael Jordan, however, you play by your own rules.