Kendrick Perkins Says He Deserves a Ring If the Boston Celtics Win the NBA Championship
Kendrick Perkins already won an NBA championship ring with the Boston Celtics. He believes he deserves another.
Perkins, the starting center on Boston's 2008 title-winning team, hasn't played for the Celtics since 2011 and has been out of the NBA since 2018. He took part in two NBA Finals in Boston, winning in 2008 and falling in seven games in 2010. Now an NBA analyst, Perkins recently said if the Celtics get past the Golden State Warriors for their 18th NBA title, he deserves another ring.
Kendrick Perkins was on the Boston Celtics' last championship team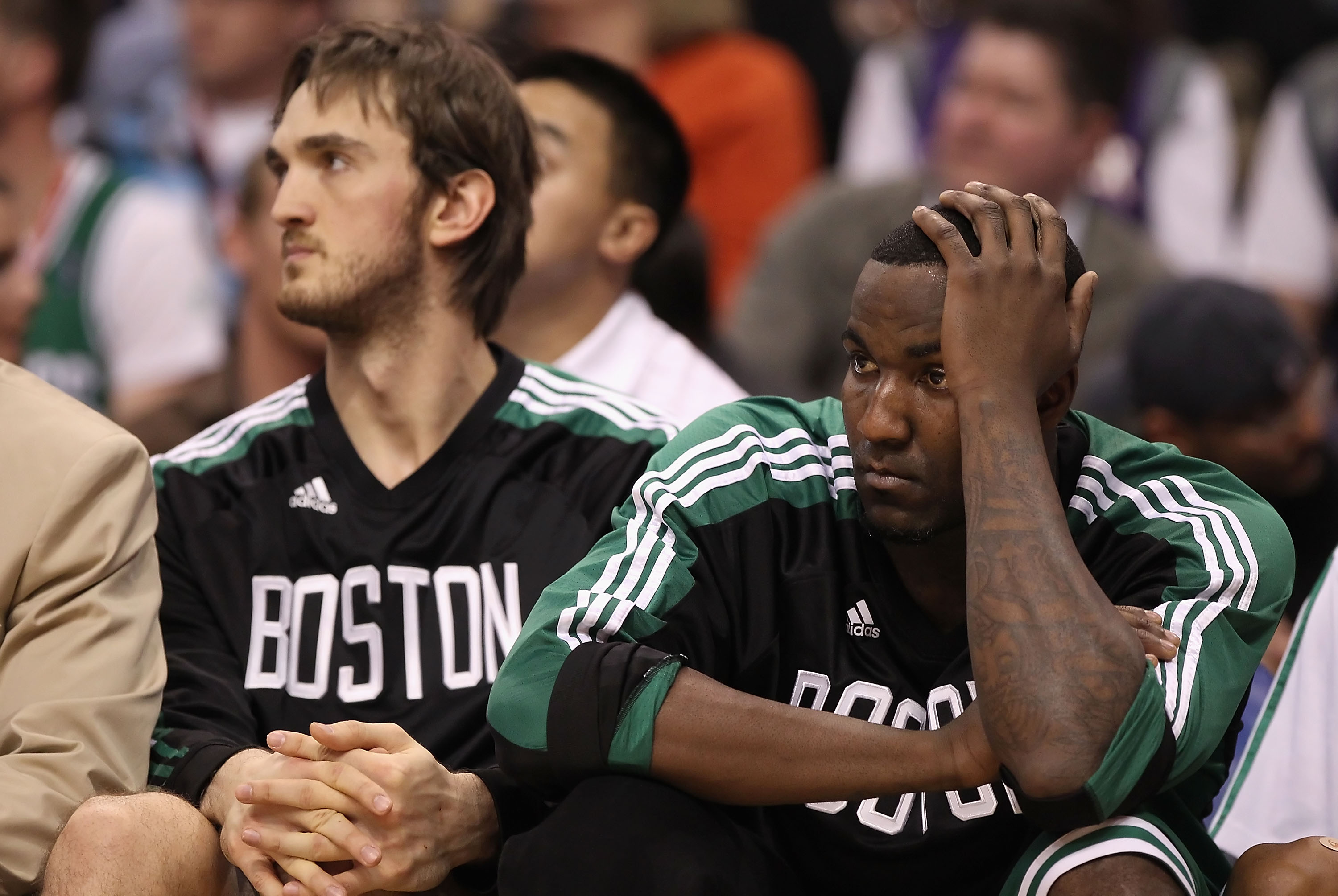 His statistics aren't going to wow anyone, but Perkins made quite an impact with the Celtics.
Drafted in the first round of the 2003 NBA Draft by the Memphis Grizzlies, Perkins was immediately shipped to Boston via a draft-day trade. Perkins jumped right into the NBA after playing high school at Clifton J. Ozen High School in Beaumont, Texas.
After appearing in 10 games as a rookie, Perkins slowly earned more playing time. He got a taste of a starting role in his third year, starting 40 of the 68 games he played. In the 2007-08 season, he started 78 games.
It was that year when former team president Danny Ainge orchestrated a pair of trades that turned the Celtics into an instant contender. Boston traded five players and two first-round draft picks to the Minnesota Timberwolves for Kevin Garnett. The Celtics also acquired sharpshooter Ray Allen in a separate deal with the Seattle SuperSonics.
Garnett and Allen teamed with Paul Pierce to give the Celtics their first Big Three since Larry Bird, Kevin McHale, and Robert Parish. Together for the first time, they earned their first NBA title since 1986.
Perkins started alongside the Big Three and point guard Rajon Rondo. Although he averaged 6.9 points and 6.1 rebounds that year, Perkins provided toughness and physicality in the paint.
Two years later, the Celtics returned to the NBA Finals as Perkins had his best statistical season. He put up a career-high 10.1 points and added 7.6 rebounds. Perkins was injured in Game 6 and missed Game 7, and the Lakers pulled out an ugly 83-79 victory.
Perkins said he deserves a ring if the Celtics win the NBA title
Perkins used to make a living by being an enforcer on the basketball court. Now, he spends his time talking about the game he played professionally for 14 years.
He's never afraid to say what's on his mind. Like many, he was critical of the Celtics as they struggled through the first three months of the season. At the 50-game mark this year, Boston was 25-25 and showed they couldn't hold a lead. Frustration kicked in with the fans and players. Perkins blasted the team's stars, Jayson Tatum and Jaylen Brown.
"Here's the problem I have," Perkins said after the Atlanta Hawks blew out the Celtics earlier this year. "No heart and it starts with Jayson Tatum and Jaylen Brown. Tonight, all I saw out of Jaylen Brown and Jayson Tatum was bad body language, shooting up a whole lot of shots, complaining to the referees, not playing any type of defense."
At one point, Perkins called for the team to break up its two stars. He joked that they listened to him and turned things around.
"The Celtics were at 18-21 and 11th in the East on Jan 6th," Perkins tweeted. "On Jan 7th I called the organization out and said that Tatum and Brown needed to be split! They took it personally and it saved their season. I need my damn ring if they win it all!"
The Celtics had one of the biggest turnarounds in recent memory. They finished the regular season on a 26-6 run. They swept the Brooklyn Nets, knocked off the defending champ Milwaukee Bucks, and ousted the top-seeded Miami Heat. Now they own a 1-0 lead over the Golden State Warriors in the 2022 NBA Finals.
When Perk talks, people listen.
Like Sportscasting on Facebook. Follow us on Twitter @sportscasting19 and subscribe to our YouTube channel.
RELATED: Robert Parish Reveals the Culture Shock He Felt With Golden State Warriors and Boston Celtics After Leaving Centenary College