Kevin Durant, Draymond Green Clown Stephen A. Smith After Watching JJ Redick and CJ McCollum Call Him out on 'First Take'
JJ Redick and CJ McCollum recently held Stephen A. Smith accountable on "First Take," calling him out for a confusing statement. Kevin Durant and Draymond Green then tweeted their support.
Stephen A. Smith can no longer give his random takes without getting checked.
Smith's over-the-top delivery isn't for everyone, but it makes for good television, and it has resulted in him becoming one of ESPN's biggest stars. His opinions aren't as ridiculous as those of Skip Bayless, but they still get people talking, and that's what the network wants.
However, former NBA player JJ Redick has become a worthy opponent for Stephen A. He calls people out when he knows they're wrong, and his experience in the league has given him almost a leg up on Smith when debating certain topics.
And recently, New Orleans Pelicans guard CJ McCollum joined the cause, signing a deal with ESPN. He too isn't afraid of holding people accountable. In fact, during a recent episode of First Take, Redick and McCollum both took issue with a statement Smith made, and their fellow players, Kevin Durant and Draymond Green, seemed to enjoy it, posting support on Twitter.
CJ McCollum and JJ Redick called Stephen A. Smith out on "First Take"
While recently talking about the Los Angeles Lakers on the June 7 episode of First Take, Stephen A. Smith said he had an issue with Russell Westbrook attending new coach Darvin Ham's press conference.
"Him being at that press conference yesterday, actually to me, I didn't like it," he said.
Smith then didn't explain himself too well. He just discussed how the Lakers reportedly wanted to trade Russ and then looked at Westbrook's 2021-22 struggles.
But Redick and McCollum wanted a true explanation.
"So, you said a random, random take, and then you explained a bunch of things about Russell Westbrook that had nothing to do with that take. And so I want clarification on this: What is your issue with Russell Westbrook being at that news conference?" Redick said. 
McCollum then joined in: "That's a wild thing for you to say. Him supporting his team, his organization, his coach, a fellow African American man that gets hired by the Los Angeles Lakers."
Smith then began backpedaling quicker than a cornerback, and he continued not making sense (you can see for yourself in the video above). But he eventually explained that his issue was with the Lakers having Westbrook at the press conference, considering they reportedly want to move him. He didn't have a problem with Russ and his decision to attend.
"I'm talking about it from the standpoint of a Lakers organization that is taking the position that they've taken – albeit privately – and I'm saying, 'excuse me,'" Smith explained. "When I see him at the press conference, it gives the impression, 'OK, are you keeping him here? Is this guy a part of the team?'"
Kevin Durant and Draymond Green loved the way their fellow players responded to Stephen A. Smith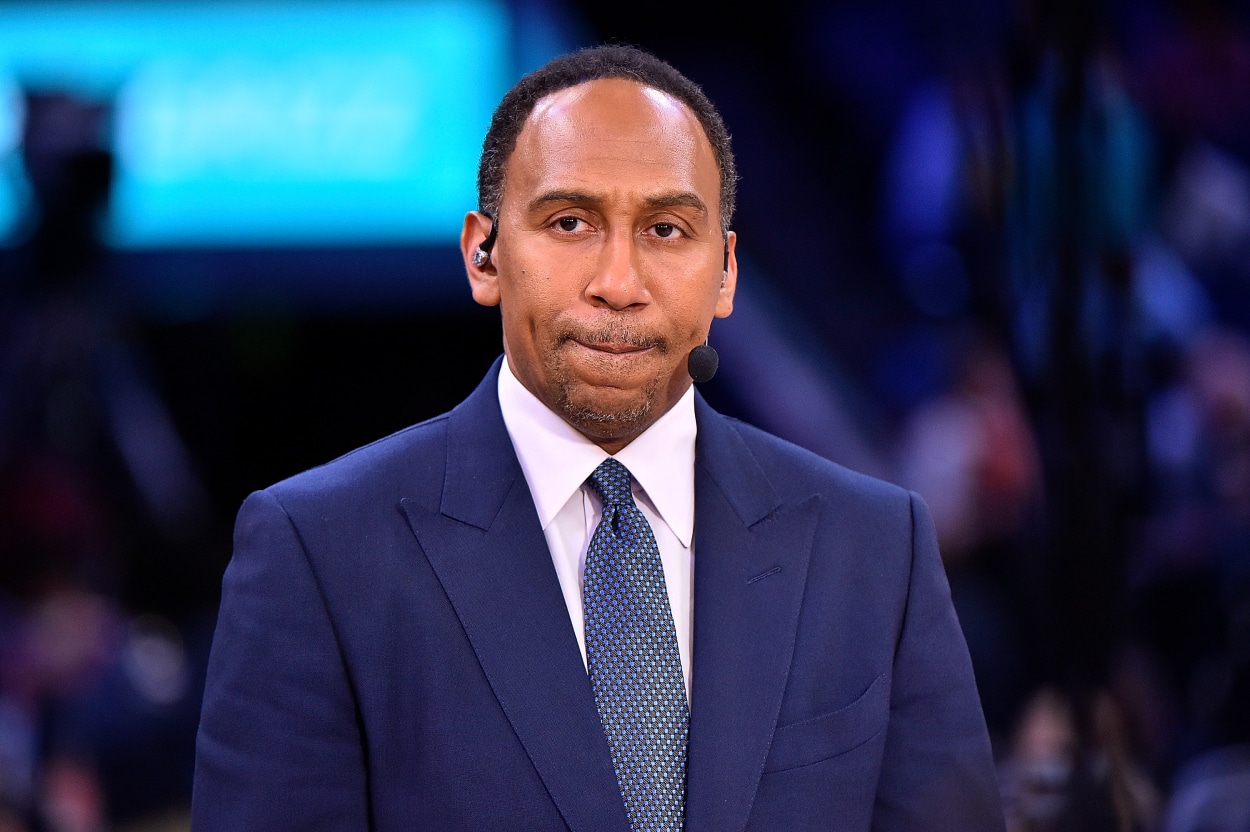 A clip from the conversation quickly went viral on Twitter, and various NBA players responded to it.
Kevin Durant, who has had recent issues with Smith, tweeted, "Steve can't beat up on Max Kellerman the boxing guy, and the new baseball guy "Mad Dog" or whatever his name is? I'm locked in now."
Draymond Green, on the other hand, posted several laughing emojis and said, "THE NEW MEDIA!!!!"
It appears they enjoyed seeing Smith get called out.
ESPN made an interesting decision by taking Max Kellerman off First Take last year, but it has resulted in guys like Redick and McCollum coming on and holding Stephen A. Smith accountable. He better be ready to explain himself from here on out.