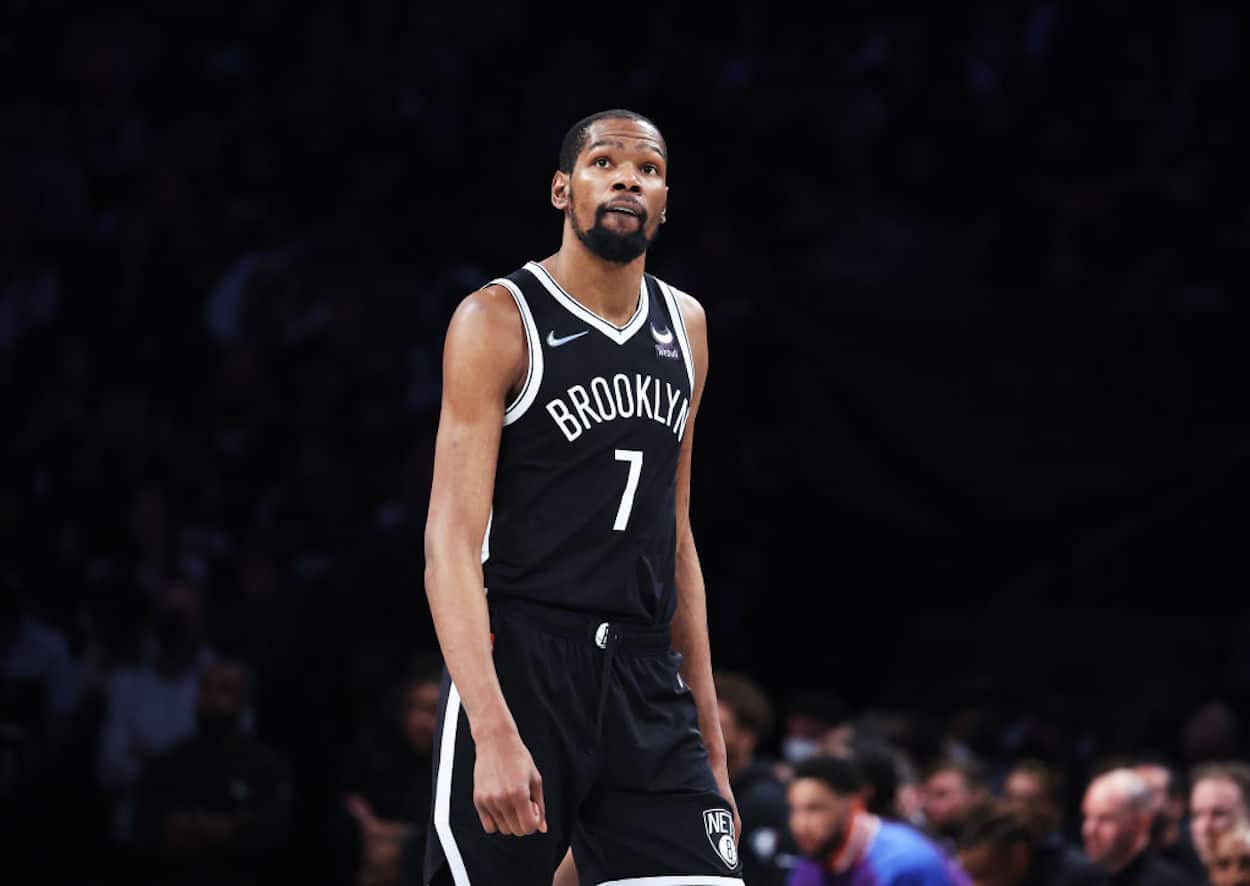 Kevin Durant Trade: The Brooklyn Nets Are Reportedly Ready to Risk Their Short-Term Future for a Long-Term Gain
While Sean Marks is trying to get the best possible return for Kevin Durant, he's playing with fire by trying to remain patient.
After a roller coaster of a 2021-22 campaign, the Brooklyn Nets' brass probably hoped that the offseason would be a chance to turn the page and refocus on the ultimate goal. Kyrie Irving and Kevin Durant, however, seem to have different plans. The guard created plenty of drama before picking up his player option, and now KD has requested a trade. 
Thus far, though, progress seems slow. Whether it's due to a lack of cap space or an unwillingness to part with top prospects, Durant's preferred destinations don't currently look like realistic options.
Based on that current landscape, Brooklyn is reportedly ready to keep the Slim Reaper on the roster for the foreseeable future. While that's well within the organization's rights, it's still quite the gamble.
The Brooklyn Nets are reportedly prepared to be patient when it comes to trading Kevin Durant
When a big-time talent like Kevin Durant suddenly requests a trade, it's easy to imagine the team's front office scrambling to the war room and frantically trying to weigh their options. While there was surely some urgency behind the scenes, the Brooklyn Nets seem to be playing things rather coolly.
According to Brian Lewis of the New York Post, the organization is prepared to wait for a deal that meets its standards to materialize.
"Miami and Phoenix are Durant's preferred destinations. But the Heat don't have a ton of tradeable assets, the Suns' package is unappealing without a three- or four-team deal, and Toronto — which most people around the league say has the best package to offer — is reportedly balking at including Scottie Barnes," Lewis wrote. "Golden State is interested in bringing back Durant, and the stars have talked to their former teammate and would be on board with a reunion. But The Athletic reported the Warriors sacrificing enough pieces to tempt Marks is unlikely."
So, where does that leave Brooklyn?
With tons of offers for Durant, but none they couldn't refuse and no rush to move him, the Nets are putting out the vibe that they could bring the forward (and maybe even Irving) into camp and see if all parties can make this work. Or if not, all play nice until a world-beating trade proposal is made. 

Brian Lewis, the New York Post
Elsewhere in the piece, Lewis noted that the Nets could even have Durant on the roster heading into training camp.
"That might be less than ideal. It might also well be posturing because if the Nets can't get their new Big 3 to actually buy in, it behooves them for teams to believe in their resolve," Lewis added. "And nobody can really picture the basketball-obsessed Durant holding out or refusing to play like Ben Simmons did in Philadelphia."
Let's focus on that "less than ideal" part.
The Brooklyn Nets are walking a dangerous tightrope, especially after last season
From afar, it's tough to take too much issue with the Nets' stance. Durant is under contract for four more seasons, and the organization is under no obligation to trade him for pennies on the dollar. While it may feel a bit gross to talk about human beings in this way, KD is a massive asset for the club. If Brooklyn is going to trade him, it's only reasonable to get a worthwhile package that will set the franchise up for future success.
With that being said, though, Sean Marks and company are certainly taking a risk. If a deal doesn't materialize by the start of the season, Durant could make things as messy as he wants them to be.
Even if we believe the forward is professional and loves the game of basketball, he could choose to hold out. At that point, Brooklyn starts to look like a loser. Not only will the team be playing without its top talent, but roster-related drama will once again take over the narrative. If the 2021-22 campaign showed us anything, it's that a so-called super team can't spend the entire season working separately and then successfully put it all together in the postseason.
Seeing KD sit at home might give the Nets a bit of moral superiority, but that doesn't count for anything in the standings. At this point, the franchise either needs to push its metaphorical chips to the center of the table or accept that their Big 3 era ended before it truly began and start to retool. Standing pact will only cause immediate damage AND fail to lay the groundwork for future success.
When push comes to shove, that's the risk that Brooklyn's brass is taking. While you want to get some legitimate pieces in return for Durant, the trade-off is stability. The longer he remains on the roster, the longer the Nets are trapped in limbo, unsure whether they're a contender chasing the championship or a pretender who will scrap for a playoff spot. 
In fairness to Sean Marks, it's tough to strike the right balance. You don't want to trade Durant for a handful of magic beans, but it's also a major risk to actively enter the season with an unsettled roster, especially after what happened last year.
That's why NBA general managers get paid the big bucks, though. This is his mess to navigate.
Like Sportscasting on Facebook. Follow us on Twitter @sportscasting19 and subscribe to our YouTube channel.