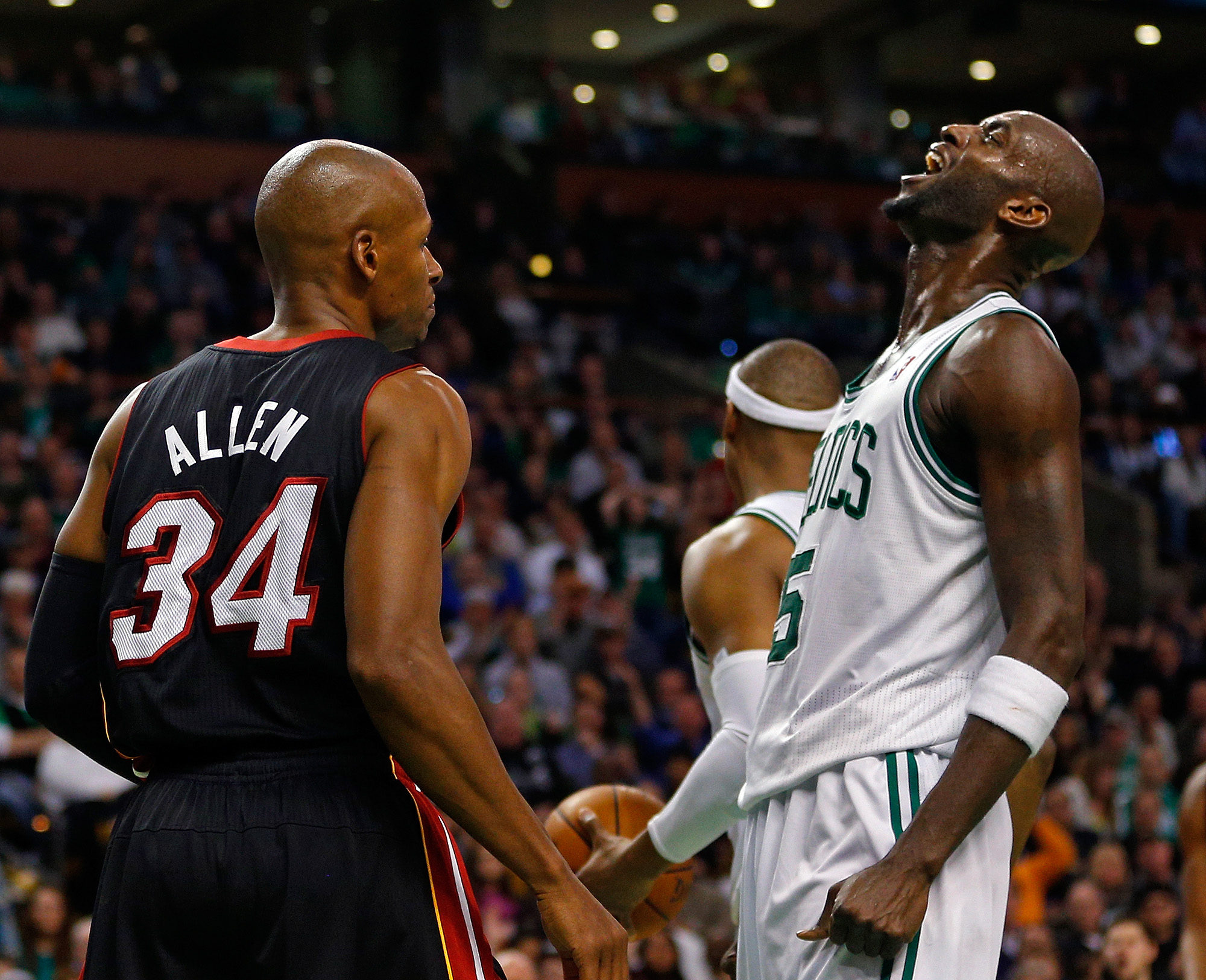 Kevin Garnett's Reaction to Ray Allen's All-Star Game Introduction Seemingly Says It All
It doesn't appear Kevin Garnett has forgiven former Boston Celtics teammate Ray Allen just yet.
On the court, Kevin Garnett and Ray Allen made it work. In their first year together with the Boston Celtics, the duo teamed up with Paul Pierce for Boston's Big Three (Part II) to hang Banner 17 to the rafters in 2008. Since then, things haven't been so smooth.
After coming oh-so-close to another title two years later, Allen bolted Boston when his contract ran out, electing to sign with the Eastern Conference rival Miami Heat. That didn't sit too well with Garnett. It appears KG is still holding a grudge, judging by his reaction when Allen's name was called during All-Star Weekend.
Kevin Garnett had a problem with Ray Allen leaving the Boston Celtics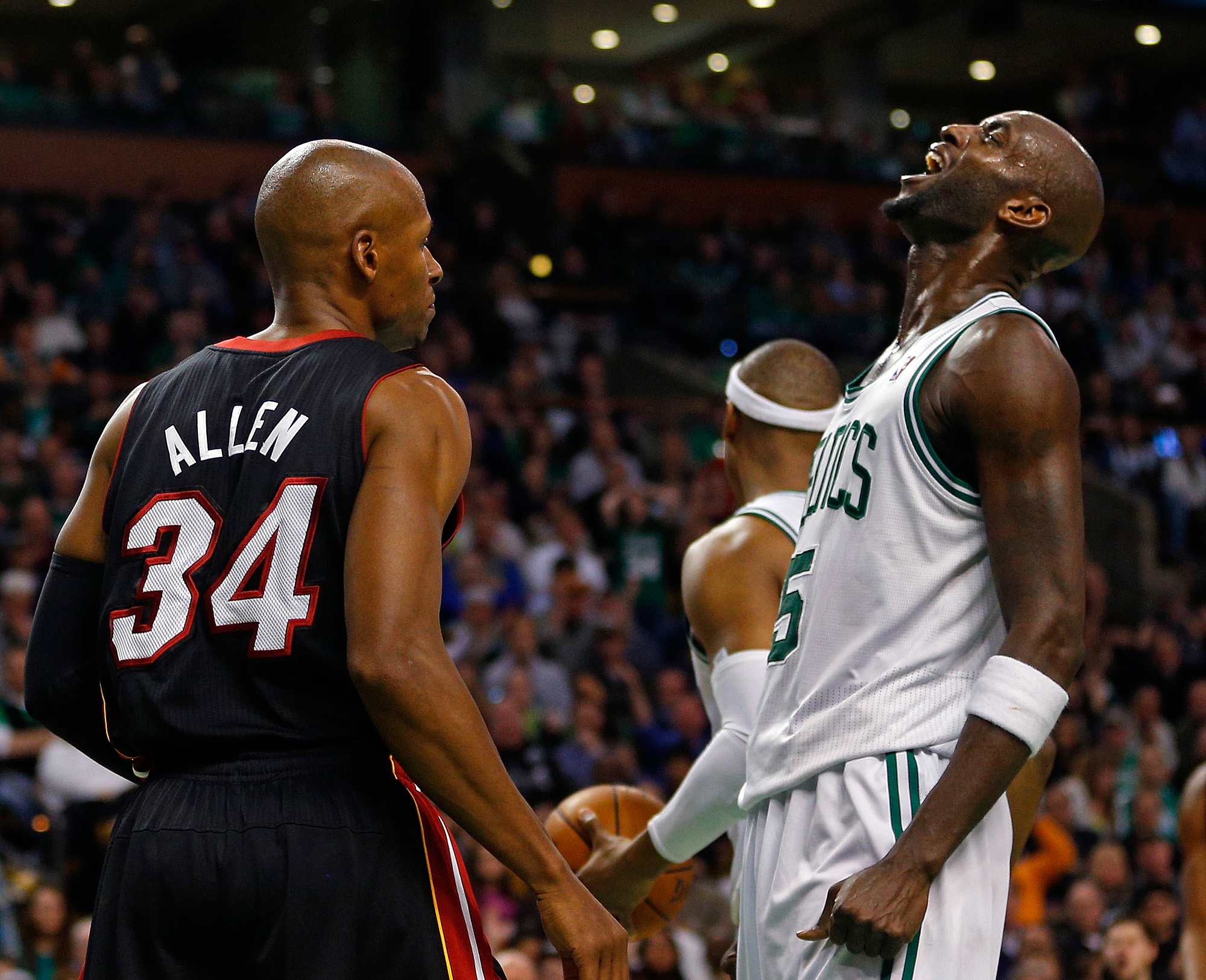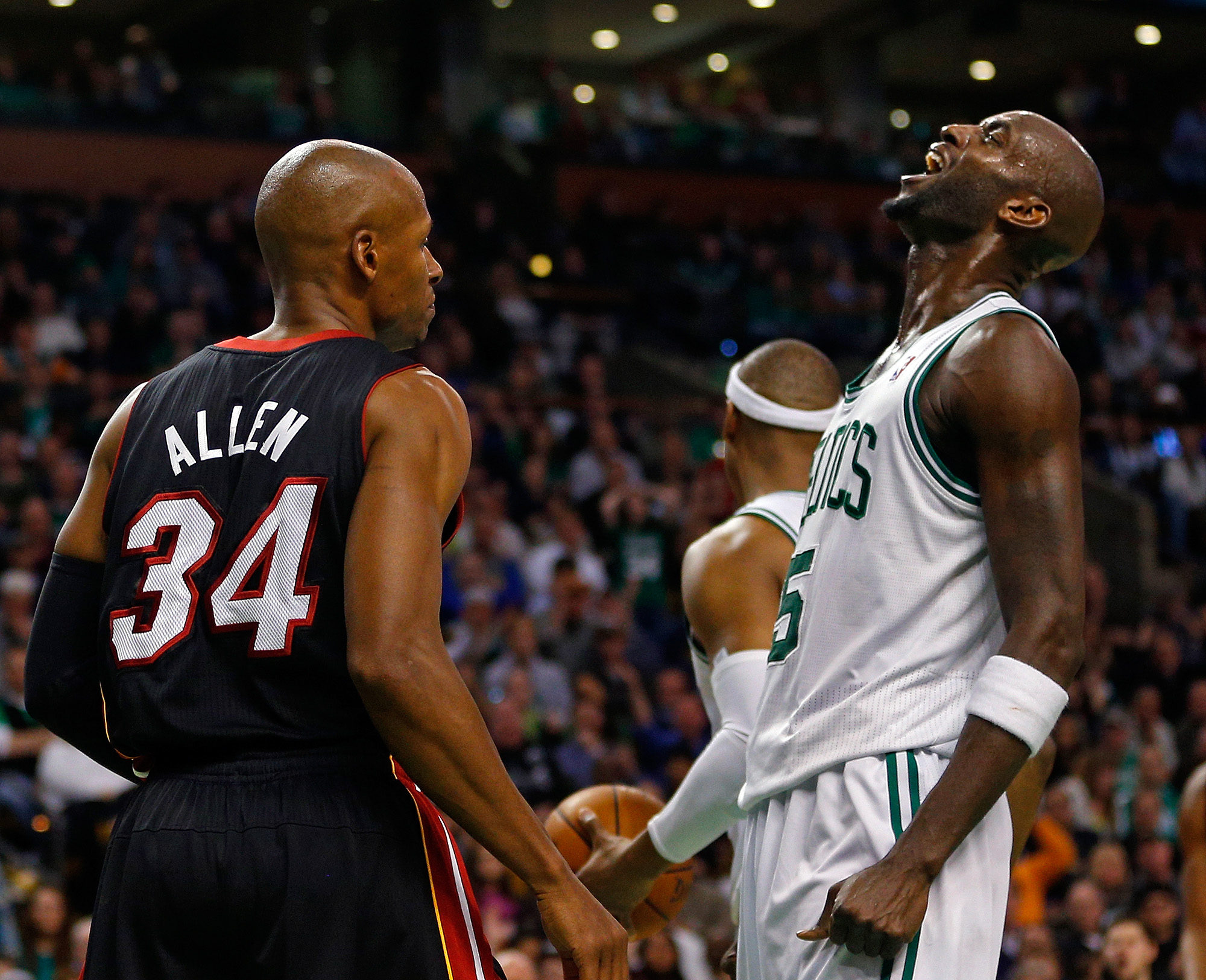 The Boston Celtics swung a pair of trades in the summer of 2007 that completely altered a team that had just finished 24-58. Danny Ainge traded five players and two first-round draft picks for Garnett shortly after landing Allen in a deal with the Seattle SuperSonics. Teaming Garnett and Allen with Pierce gave Boston its first big trio since Larry Bird, Kevin McHale, and Robert Parish.
In their first year together, the Celtics put up 66 wins and earned their first NBA championship since 1986. Two seasons later, they returned to the NBA Finals, where they lost to the Los Angeles Lakers in seven games.
After the 2011-12 season, Allen spurned the Celtics, taking less money than what Boston offered to sign with the Heat, where he won another championship. Garnett was not happy with the move.
"I've been very vocal on my distaste for what Ray did, that was real for everybody that was involved," Garnett said in 2020, per The Boston Globe. "That's real life. We was in a real beef with Miami at the time and very similar to if someone was to go from the Lakers to the Celtics, and vice versa. No one will speak on the underlyings of it, but that was a real thing. Miami and Boston. That was a real thing."
Kevin Garnett's reaction to Ray Allen's intro seemingly says it all
During halftime of Sunday's NBA All-Star Game, the league honored the 75 greatest players in history. Both Garnett and Allen were in the top 75 and in attendance.
When Allen's name was announced and the legends congratulated him with handshakes and hugs, things got a little awkward. Garnett was flanked by LeBron James to his left and Pierce to his right.
Allen made his way toward the trio and got a congratulatory fist bump from James. Pierce applauded. Garnett's reaction was telling.
The 2020 Naismith Memorial Basketball Hall of Fame inductee didn't clap for Allen. He didn't extend his right arm to congratulate him as he walked by.
Instead, Garnett stood still, head tilted up. It was as if he was focused on a basketball game and was at the scorer's table ready to check in. It's tough to know for sure what was going on in the video that's circulated throughout social media, but it certainly appears Garnett flat-out ignored his former teammate.
Garnett, Allen, and Pierce did get together for a photo
Boston's Big Three did get together for a photo after the event that appeared on Pierce's Instagram feed. Pierce's post included a slide of photos and videos from the event but didn't offer a whole lot on the relationship of the three players.
During a 2020 appearance on The Cedric Maxwell Podcast, Allen said he had no problem with Garnett.
"I never had any ill will towards Kevin," Allen said then. "This is not a two-way argument or debate. This is him. He dug his heels in the sand and he decided I'm not a brother of his anymore and so I said, 'Cool.'"
In a September Sports Illustrated piece, Pierce said he put the sour taste in his mouth when Allen left the team behind him. He said Garnett and Rajon Rondo hadn't. He said he was hopeful that Garnett would mend fences with Allen over time.
"KG, he's less stubborn as he gets older," Pierce said.
What about Rondo? "That's a problem," said Pierce. "Rondo, he's still stubborn."
If Garnett was still upset in 2020 about something that happened in 2013, the animosity likely still lingers. His actions when Allen's name was announced Sunday seemingly said so.