Kirk Cousins Rumors: Are the Carolina Panthers in Hot Pursuit?
The 2022 NFL offseason could be an unprecedented period for quarterback movement. In addition to a standard crop of free agents, signal-callers like Aaron Rodgers, Russell Wilson, Deshaun Watson, Derek Carr, Ryan Tannehill, and Carson Wentz could all be on the move. This is why, when Carolina Panthers and Minnesota Vikings QB Kirk Cousins rumors fly, we have to listen at least.
The Vikings QB has a big contract that would be a bear to trade. However, it might make sense for the new Vikings regime, and we know some teams are desperate for a franchise passer. That's why we need to examine these Cousins rumors more carefully.
Did the Carolina Panthers call the Minnesota Vikings about the latter's QB?
At the end of February 2022, the Kirk Cousins rumors involve the Carolina Panthers calling new Minnesota Vikings general manager Kwesi Adofo-Mensah to inquire about the 10-year veteran's availability in a trade.
In broad strokes, the Cousins rumors make sense. The Vikings are starting over with Adofo-Mensah and head coach Kevin O'Connell after firing longtime coach and GM Mike Zimmer and Rick Spielman. This situation makes it a good time for a fresh start.
Also, we all know who Cousins is at this point. He is a fine QB. In 2021, he threw for 4,221 yards at a 66.3% completion rate with 33 touchdowns and just seven interceptions. Still, his team finished 8-8 in games he started and missed the playoffs. He is in the top 50 all-time for passing yards but has a career record of 59-59-2.
That's Cousins in a nutshell.
For teams that have employed Cousins, this brand of mediocrity isn't enough. That said, for teams that employed Sam Darnold, P.J. Walker, and Cam Newton while going 5-12, Cousins' brand of mediocrity seems like a massive upgrade.
NFL Network insider Ian Rapoport joined the Pat McAfee Show on Tuesday and said that, while he believes the Panthers "will probably call on everyone" about potential QB trades, he doesn't think the Cousins rumors about a trade between the two teams is very realistic.
Whether the call was a serious inquiry or a fishing expedition (or whether or not it even really happened), here are the reasons a deal between the two teams may or may not make sense.
Why the Kirk Cousins rumors don't make sense
The biggest issue with the Kirk Cousins rumors is the quarterback's contract.
The Minnesota Vikings are heading into the 2022 offseason with the fifth-worst salary cap situation in the NFL. The team is an estimated $14 million over the cap heading into the free-agent period.
Cousins'$45 million cap hit in 2022 is a big reason for that. If the team trades the QB before June 1, they'd only have to pay the $10 million signing bonus, though. However, that means the other team would have to pick up the full $35 million.
As for the Carolina Panthers, they are in the middle of the pack in terms of salary cap space, with $17 million in cap room. That's not enough to absorb Cousins' entire base salary, so they'd either have to clear significant cap room or convince the Vikings to convert some salary to signing bonus, effectively eating some of that number in 2022.
Either way, the Kirk Cousins rumors are definitely dampened by the QB's massive contract. Despite the scary dollar figures, though, there are some reasons a Cousins to the Panthers trade makes sense.
Why the Kirk Cousins rumors do make sense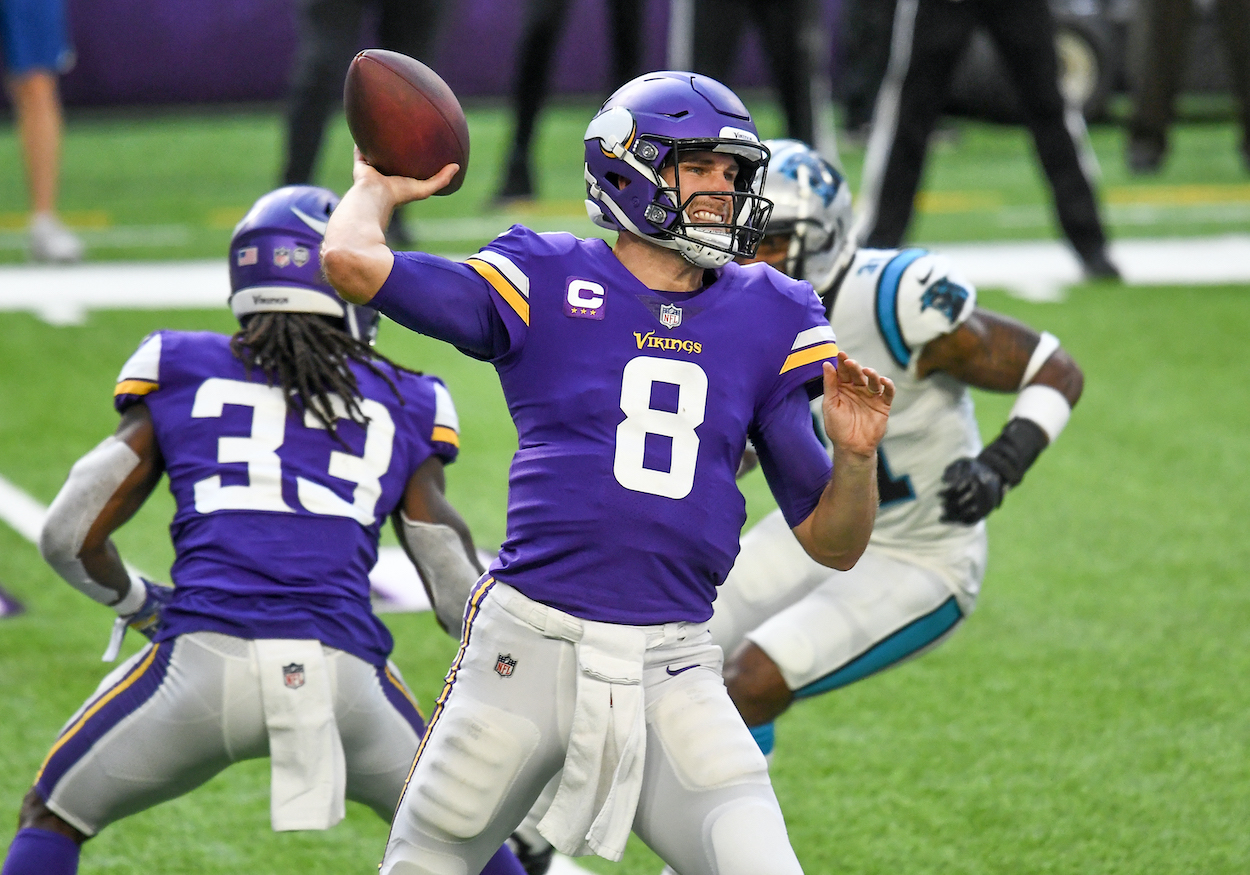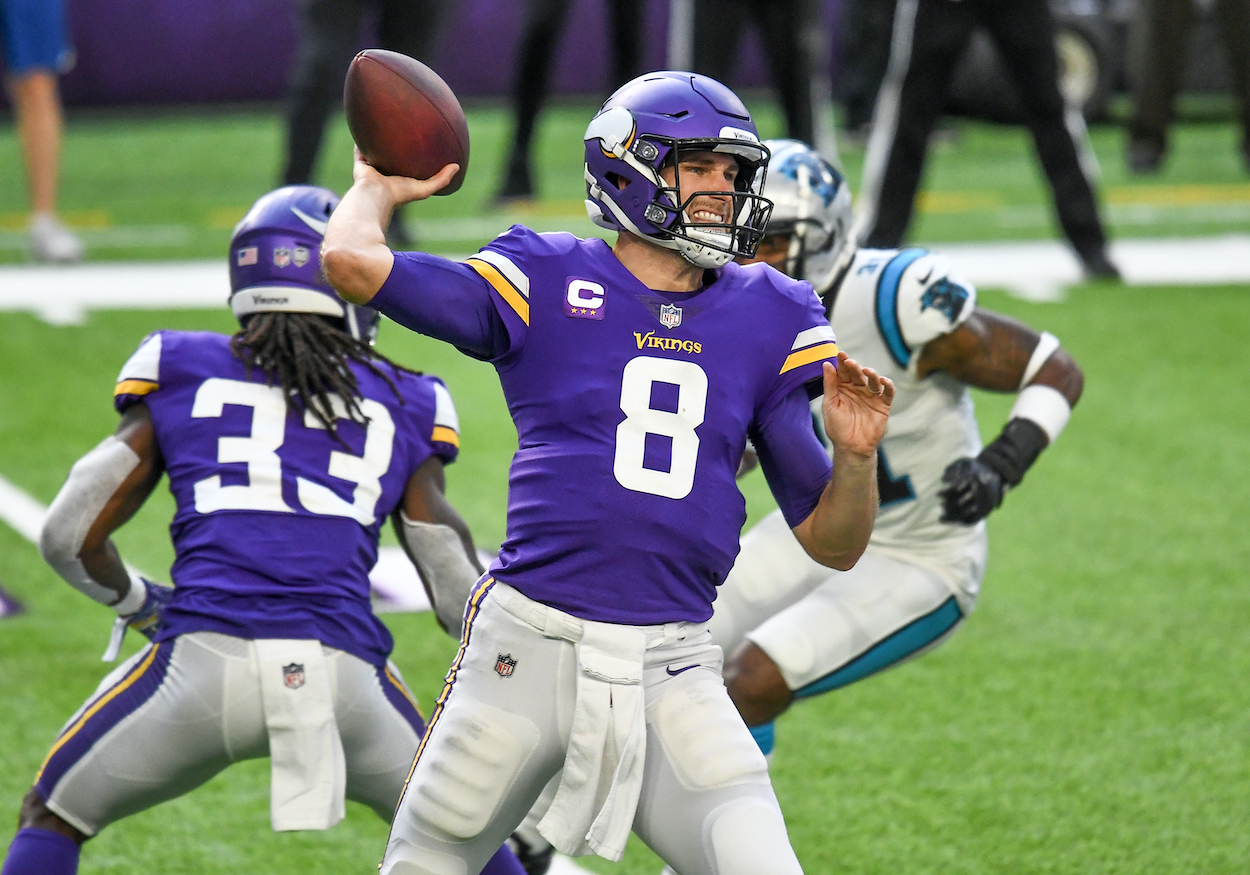 If there was a way for the Carolina Panthers and Minnesota Vikings to meet in the middle of the $45 million salary cap dilemma, there are reasons that the Kirk Cousins rumors make sense for both sides.
For the Vikings, with Kevin O'Connell taking over (with a fresh, guaranteed contract), wiping the slate clean and starting from scratch to build around youngsters Justin Jefferson, Dalvin Cook, Christian Darrisaw, Cameron Dantzler, and D.J. Wonnum makes sense.
As for the QB situation, the team dratted Texas A&M signal-caller Kellen Mond last offseason. And, at pick No. 12 in this year's draft, if O'Connell and company like any passers in this year's draft (Kenny Pickett? Malik Willis? Matt Corral?), they should be able to get one of their top choices.
On the Panthers' side, the math is easy. The franchise needs a serviceable QB, and they won't contend for a playoff spot until they get one. Is Cousins the long-term answer? No. Is he possibly the best they can do for the 2022 season? There's a good chance that's true.
Carolina has a solid offensive line and weapons like Christian McCaffrey, Robby Anderson, and D.J. Moore. It's easy to see how the franchise thinks that even a serviceable QB like Cousins would make them a favorite in the uncertain NFC South.
With all this in play — both positive and negative — it's hard to say if a trade will happen, but there's enough smoke that the Kirk Cousins rumors won't go away anytime soon.
All stats courtesy of Pro Football Reference and contract figures courtesy of Spotrac
RELATED: What the Minnesota Vikings' Plan of Attack Must Be for the 2022 NFL Offseason