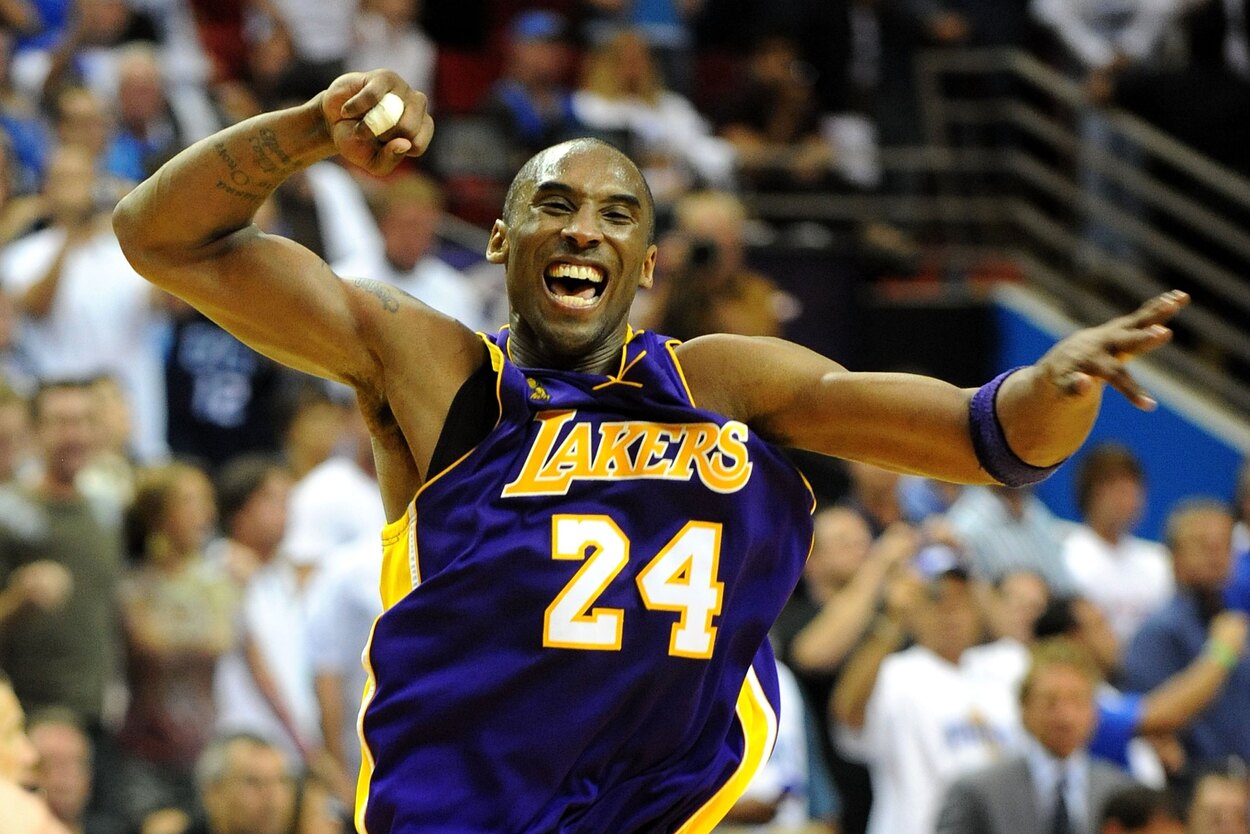 Kobe Bryant Is Not a Top-5 Laker, According to Jason Williams
Kobe Bryant is far down the list of greatest Los Angeles Lakers players, according to former NBA player Jason Williams.
When Kobe Bryant walked away for good in 2016, he ended his 20-year career as perhaps the greatest Los Angeles Lakers player in franchise history.
The Black Mamba spent every one of his professional seasons donning the Purple and Gold. He set numerous franchise records and helped bring five championships to the City of Angels.
That said, those who know Lakers basketball understand the legends that have worn their uniform. While many view Kobe as the greatest Laker, others see Magic Johnson, or Kareem Abdul-Jabbar, or Jerry West, or even LeBron James. There are numerous options to consider as the ultimate Laker. Just ask former NBA point guard Jason Williams, who egregiously kept Kobe out of the top five.
Kobe Bryant holds numerous records for the Los Angeles Lakers
From the time he entered the league in 1996 to the time he exited 20 years later, Bryant was everything the Lakers expected and far more.
Kobe finished his career with 18 All-Star appearances, 15 All-NBA selections, and 12 All-Defensive honors. More importantly, he also closed out his Lakers tenure with two scoring titles, an MVP, and five rings.
In the end, Kobe left a lasting imprint on LA and made a legitimate case as the greatest Laker to ever wear the uniform.
The Black Mamba is the franchise's all-time leader in points, two-pointers, three-pointers, free throws, steals, and games. He also holds the record for the most points in any individual season, scoring 2,832 in his memorable 2005-06 campaign.
Finally, Bryant's five rings with LA are tied for the most in franchise history with Magic, Kareem, Michael Cooper, and Derek Fisher.
Jason Williams isn't sure Kobe is a top-five Laker
Williams, aka "White Chocolate", has plenty of experience against Bryant. The two went head-to-head numerous times when Williams was a member of the Sacramento Kings.
During an appearance on the Players Choice podcast, Williams and the rest of the hosts debated Kobe's all-time ranking. However, the 12-year vet was barely able to claim Bryant was an all-time great Laker, let alone a top-10 NBA player.
"I haven't really thought about where I got Kobe, but Kobe's not as high on my list as people would really think he should be. Like, I'm not even sure he's on the top five of the all-time greatest Lakers."

Jason Williams
Perhaps Williams was burned by Bryant's Lakers one too many times. The late-90s, early-00s Kings were infamously eliminated by the Kobe-Shaq Lakers time and time again, including in two of White Chocolate's three years in Sac-town.
Kobe Bryant is clearly a top-five Laker
There is an excellent case that Magic is the greatest Laker to lace them up. Or Kareem. Or West. But there is no argument for Kobe sitting outside the top-five at absolute worst.
In order to be considered the GOAT for a particular franchise, you need stats and rings. Kobe's clearly got them both. But he also has the 20-year tenure with one team, playing more games in Purple and Gold than any other player in team history.
His success spanned across different eras, as well. The Kobe-Shaq Lakers were playing in a much different league than the Kobe-Pau Gasol Lakers a decade later. But both eras produced multiple rings for LA and the Mamba.
And although it's a sillier argument, Bryant is the only Laker to ever have two numbers retired. His dominance wearing number eight and his excellence in 24 were close enough to warrant the retirement of both, proving just how long his supreme peak lasted.
Williams is entitled to his opinion. But in our view, it's simply the wrong one. No matter how you slice it, Kobe is far closer to number one than number five on the all-time greatest Lakers list.
All statistics courtesy of Basketball Reference.