Kobe Bryant Received an Unforgettable Retirement Gift From a World-Famous Rapper and Lakers Superfan
Kobe Bryant's final game in a Lakers uniform was a spectacle that will live in NBA infamy for the rest of time. Bryant's magical 60-point performance in Staples Center instantly created a lasting memory not just for the numerous celebrities and fans in attendance but also for those watching from home.
One of the celebrities in the seats that day was a famous Los Angeles rapper and Lakers superfan, Snoop Dogg. Inspired by Bryant's legendary NBA career and his heroic final performance, Snoop Dogg gave the Lakers legend an unforgettable retirement gift in 2016.
Snoop Dogg is a lifelong Lakers fan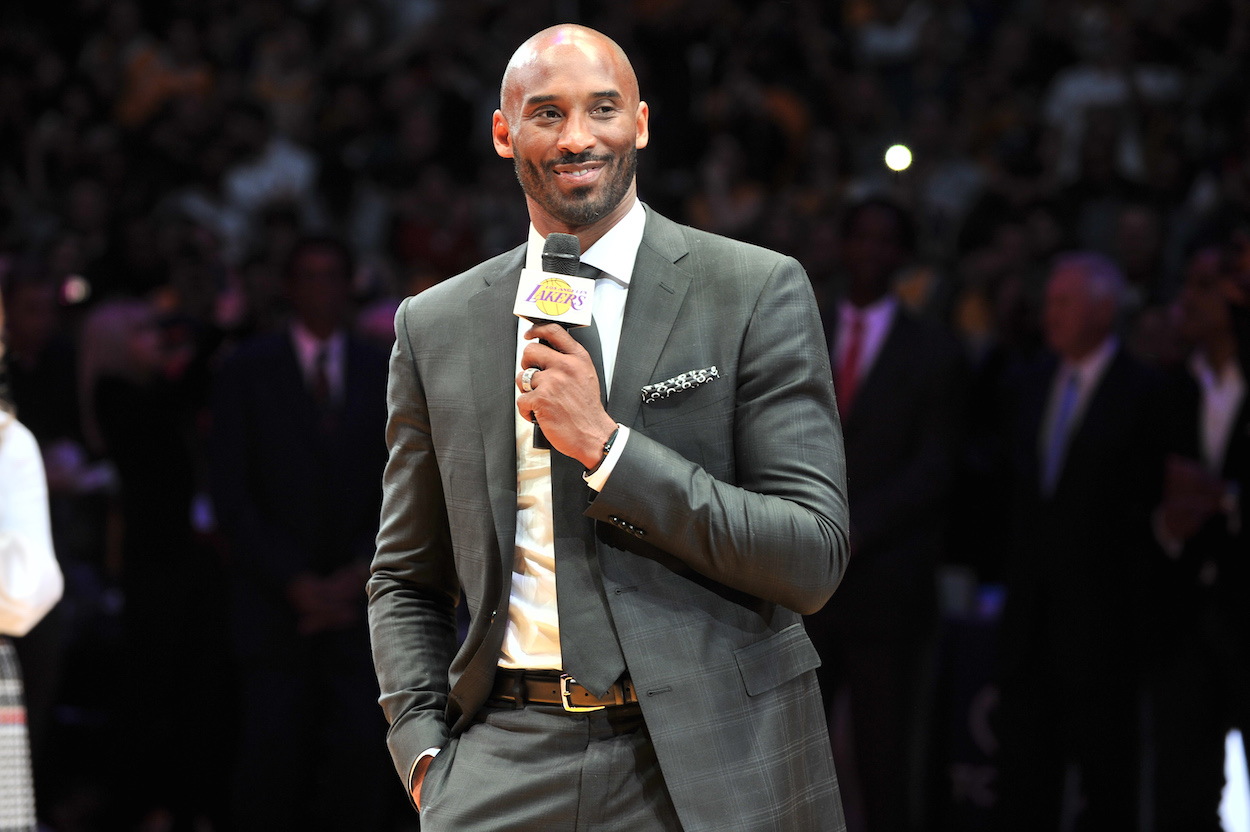 Spike Lee. Jack Nicholson. Drake.
Celebrity fans can give their respective NBA teams an identity from the sidelines. That's exactly what Snoop Dogg provides the Lakers.
Calvin Broadus Jr., more commonly known as his rapper name, Snoop Dogg, grew up in Long Beach, California, as a diehard Lakers fan. Once he rose to prominence in the rap game in the 1990s, Snoop became a regular fixture at Lakers games. He's also rapped numerous times about LA sports and the Lakers specifically, like this bar from his 2011 track, "El Lay."
"Home of the NBA championship, Purple and Gold, homie let the story be told."
Snoop Dogg became good friends with Kobe Bryant throughout his lengthy career in LA. In 2016, Snoop was in attendance at Bryant's last NBA game, and he even went viral for his jubilant celebration from his seat. When Bryant officially retired after that magical game, Snoop decided to go all-out for his retirement gift.
Snoop Dogg gave Kobe Bryant an unforgettable retirement gift
About three months after Kobe Bryant played his final game in Staples Center, Snoop Dogg awarded him with the most unbelievable retirement gift. Snoop surprised Bryant with a purple-and-gold 1967 convertible Pontiac Parisienne complete with a customized Lakers colorway.
The hood of the car reads "Show Time" and features Lakers legends Magic Johnson, Wilt Chamberlain, Kareem Abdul-Jabbar, Shaquille O'Neal, broadcaster Chick Hearn, and Bryant, of course. In the middle of the LA Hall of Famers is Snoop Dogg himself holding the Larry O'Brien Trophy.
The trunk features a similar design with palm trees and Staples Center in the background. The customized car was originally designed by LA artist Brian "Tazroc" Garcia. Check out the full design on Snoop's Instagram page.
"Unbelievable retirement gift from my man Snoop today," Bryant wrote in a Twitter post after accepting the car.
Snoop paid tribute to Bryant at the 2020 ESPYs
Kobe Bryant's death in 2020 hit the basketball world hard. Lakers fans were especially broken up by his passing, including Snoop Dogg.
So Snoop set out to honor Kobe in the best way he knew. The famed rapper wrote a song commemorating Bryant's life and synced it to a touching video that was played at the 2020 ESPYs.
"You the truth boy, greatness in your name," Snoop Dogg rapped in the song. "Enshrine your shine, critically acclaimed. So let it ring out, east side to the west side. This is your city. Much love for the ride."