Kwame Brown's Bold First Words to Michael Jordan Proved He Wasn't the Least Bit Intimidated by the NBA Legend: 'I Heard a Lot About You but I Think I'm Better Than You'
Michael Jordan and Kwame Brown had two very different NBA careers. One player won six titles, five MVP awards, and is considered by many to be the greatest basketball player to ever live. The other averaged 6.6 points per game over 12 seasons in the league and never even made an All-Star team despite being a No. 1 overall draft pick.
But when the two became teammates on the Washington Wizards in 2001, Brown proved he wasn't the least bit intimidated by Jordan by immediately challenging him to a game of one-on-one.
Kwame Brown and Michael Jordan were teammates for two years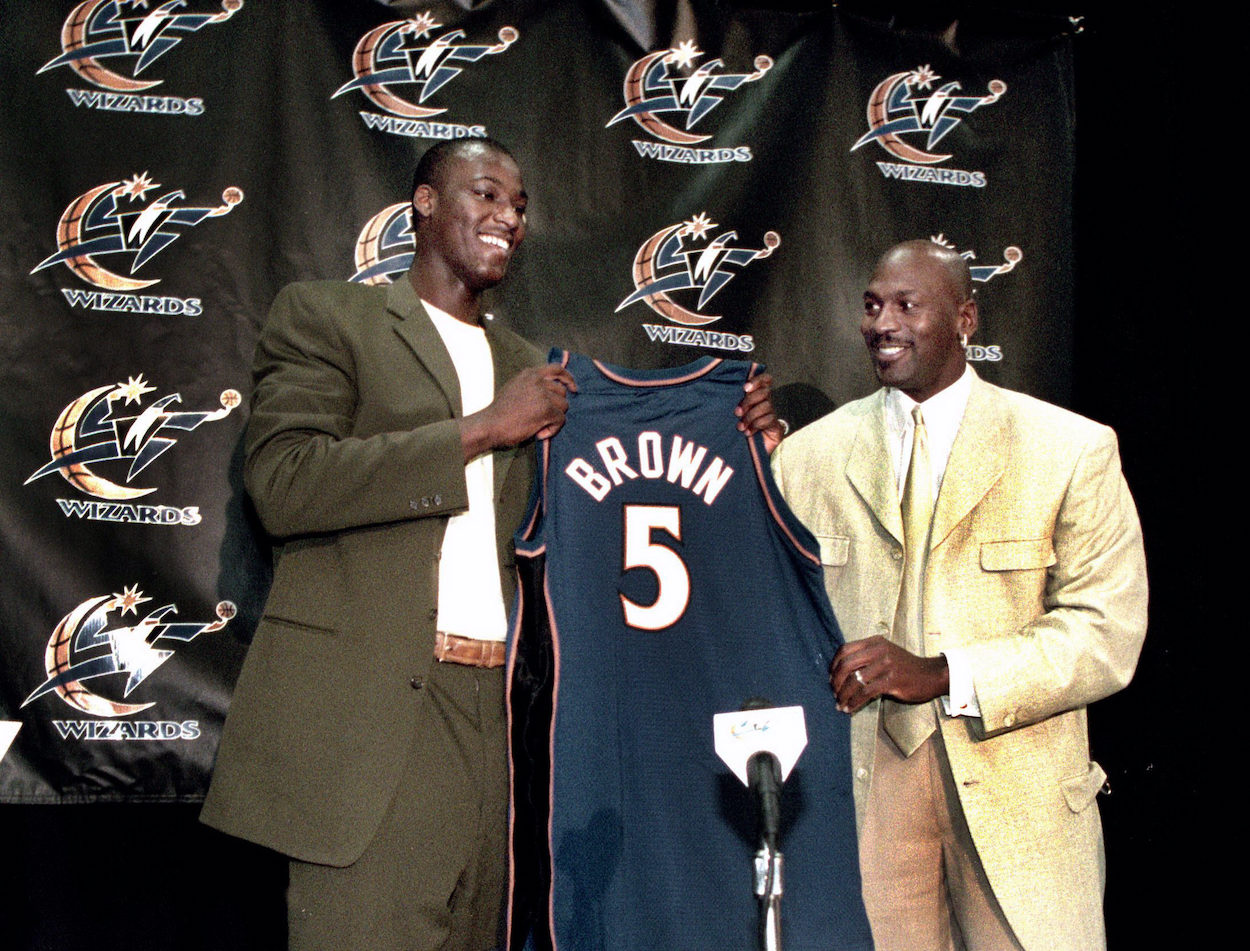 In 2001, Brown was considered the next great NBA superstar. The talented high schooler out of Glynn Academy in Georgia had all the tools necessary at such an early age, and the Wizards took a chance on him with the No. 1 overall pick.
Interestingly, 2001 was also the year Jordan came out of retirement for a second time. Jordan signed with the Wizards nearly two years after becoming the team's president of basketball operations, and he played two seasons in Washington as Brown's teammate.
The two didn't get along too well during that stretch because Jordan thought Brown wasn't a hard enough worker to excel at the NBA level. That assumption proved to be correct, as Brown never scored more than 10.9 points per game in a single year.
Brown's first words to Jordan proved he wasn't intimidated by the NBA legend
When Brown became Jordan's teammate in 2001, he was only 19 years old. He grew up watching Jordan win six championships with the Chicago Bulls, so you would think there would have been some level of intimidation there.
But that wasn't the case at all.
In his very first conversation with Jordan, Brown proved he wasn't the least bit scared by challenging him to a game of one-on-one. He recently told the story during an interview with B High Atl.
It was fun. I beat him in one-on-one, too.

The first thing I wanted to do was play him one-on-one. Just like if I was a boxer, the first thing I wanna do is spar one of those great heavyweights. So the first thing I said was, "I heard a lot about you, but I think I'm better than you." So we ended up playing basketball one-on-one.

Kwame Brown
Now that's bold.
"It was a fun game, good game," he continued. "I jumped out on him quick and then he started doing the MJ thing, fading away everywhere. He wouldn't let you back him down. That's the stipulation."
Contradicting stories?
Brown might've claimed that he got the best of Jordan in their game of one-on-one, but another account of the game told a different story.
In Michael Leahy's 2004 book, "When Nothing Else Matters," he explains that Jordan "humiliated" Brown in a not-so-friendly game between the two.
"Early in the game, believing he had a lunging, jabbing Jordan off balance, the kid dared to say, 'You reach, I'll teach.'
"Jordan snapped, 'You teach, and I'll knock you on your damn ass.'
"He proceeded to humiliate Brown, mocking him while scoring at will, declining to help him up when the teenager fell hard to the floor, winning lopsidedly and, at the end, yelling at Brown to acknowledge his superiority in front of the team: 'You better call me 'Daddy,' (expletive).'"
It's possible these were two separate instances, but this story is much more believable than Brown's for obvious reasons.
Like Sportscasting on Facebook. Follow us on Twitter @sportscasting19.