Kyle Boller Earned $15 Million From the Ravens but Was Glad to Get Away From Football
The Baltimore Ravens drafted Kyle Boller in 2003 hoping they finally found a long-term quarterback who would guide them through the 2000s. Baltimore found a quarterback who eventually did that, but it didn't turn out to be Boller.
Kyle Boller doesn't regret anything about his time in the NFL. Here's why Boller even went so far as to say he was relieved when he retired from the NFL in 2012.
Kyle Boller had a disappointing NFL career
There is an argument that Boller wasn't an NFL draft bust so much as he was a disappointing and mediocre quarterback. The ninth overall pick from California in 2003, Boller went 5-4 as a rookie but threw nine interceptions to seven touchdowns.
Boller led the Ravens to a 9-7 record in 2004, though the Ravens didn't qualify for the postseason.
Boller was 4-5 at the helm in 2005, but had a 4.1% interception percentage and missed seven games because of turf toe. Baltimore finished 6-10 and out of the playoffs.
When Baltimore had the opportunity to acquire a former NFL MVP in Steve McNair before the 2006 season, the Ravens made a move to win now.
In hindsight, the Ravens' decision to replace a young, inconsistent quarterback with an older veteran isn't much different from the Buccaneers swapping Jameis Winston for Tom Brady this offseason.
Winston signed with the Saints and Kyle Boller, for the most part, served as the backup.
Boller's career ended with a whimper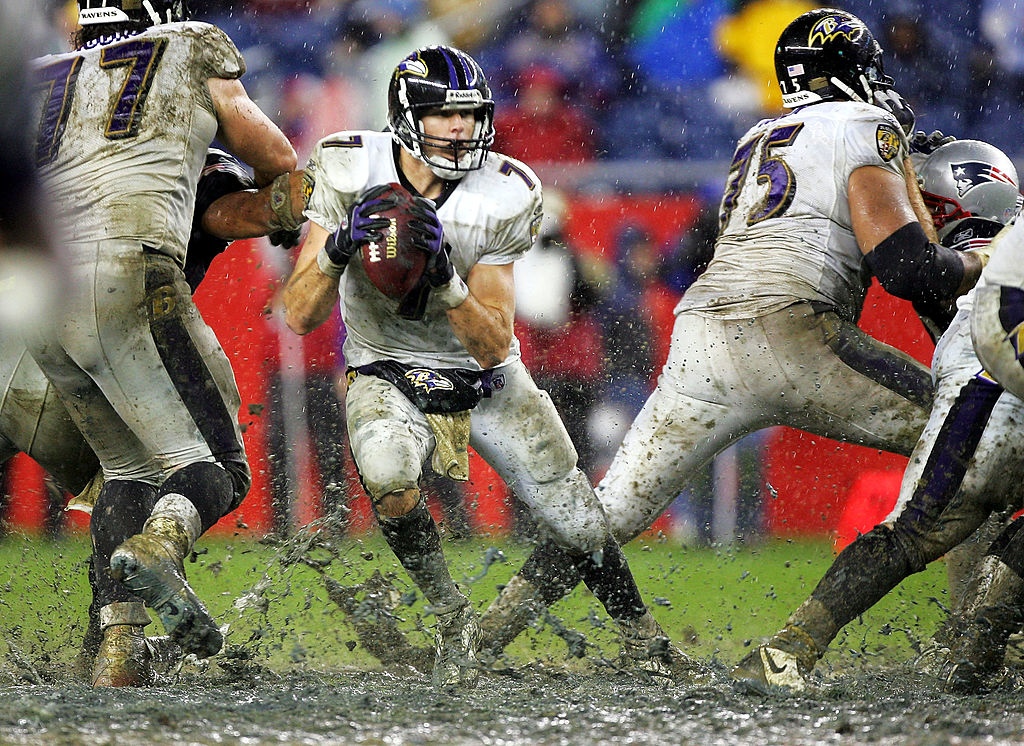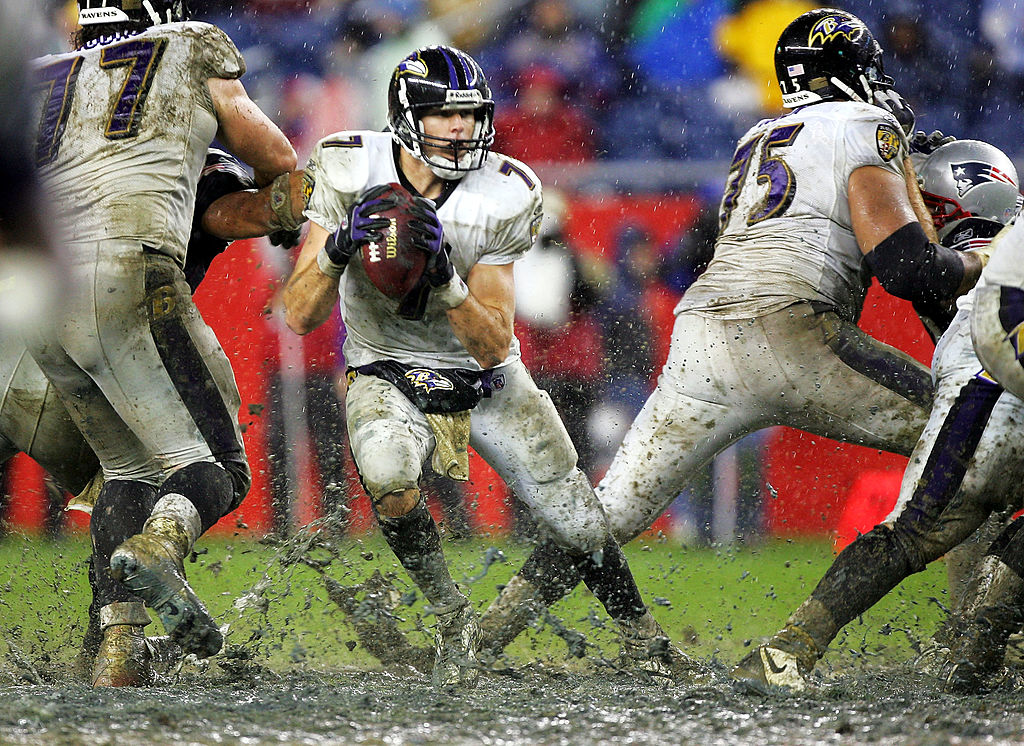 Kyle Boller famously almost led the 2007 Ravens to an upset of the undefeated Patriots on Monday Night Football. Tom Brady led the Patriots' comeback and the Patriots ended the regular season 16-0. That was Kyle Boller's final noteworthy highlight in the NFL.
Boller missed the 2008 season with an injury and, with Joe Flacco entrenched as the Ravens' new starting quarterback, signed with the St. Louis Rams. When Marc Bulger went down for the Rams, Boller went 0-4 as the Rams' starter in 2009.
Boller spent 2010 and 2011 with the Raiders. He started in a 28-0 loss to the Kansas City Chiefs in 2011 when starter Jason Campbell was injured.
Kyle Boller retired after the 2011 season with $17.9 million in career earnings, according to Spotrac, and a 20-22 win-loss record. Boller completed 56.7% of his passes for 8,931 yards, 48 touchdowns, and 54 interceptions.
Kyle Boller admitted he was glad he retired
Many former NFL players will openly admit they miss the camaraderie of the sport and the feeling of playing at a packed stadium. Kyle Boller may miss some aspects of professional football, but not enough for him to get emotional over.
Boller told the Ravens' official website in October 2019 he was "relieved" to leave the NFL.
"For me, the day that I did retire was one of the best days of my life. The world was lifted off my shoulders. When you play that long, I was mentally, physically, , and emotionally burnt out of it.
Never got cut, never got traded. … You go through so much as a player from an emotional and physical and mental standpoint. … [Retiring] was just freeing for me."
Kyle Boller married Carrie Prejean, the former Miss California USA, in 2010. The couple and their two children now live in California.
Kyle Boller's NFL career didn't pan out the way he or the Ravens expected it to. At least Boller found the closure he desired in retirement and is comfortable acknolwedging it.