Kyle Busch's 6-Year-old Son Dodged Controversy at the Tulsa Shootout
Time will tell, but Brexton Busch stands a good chance of growing up to be a cool dude. Papa Kyle Busch, a NASCAR Cup Series driver bound for the sport's hall of fame, and wife Samantha seem to have him on track, figuratively and literally.
An episode over the weekend shed some fresh light on the racing family's next generation.
Kyle Busch and his son gave the Tulsa Shootout a shot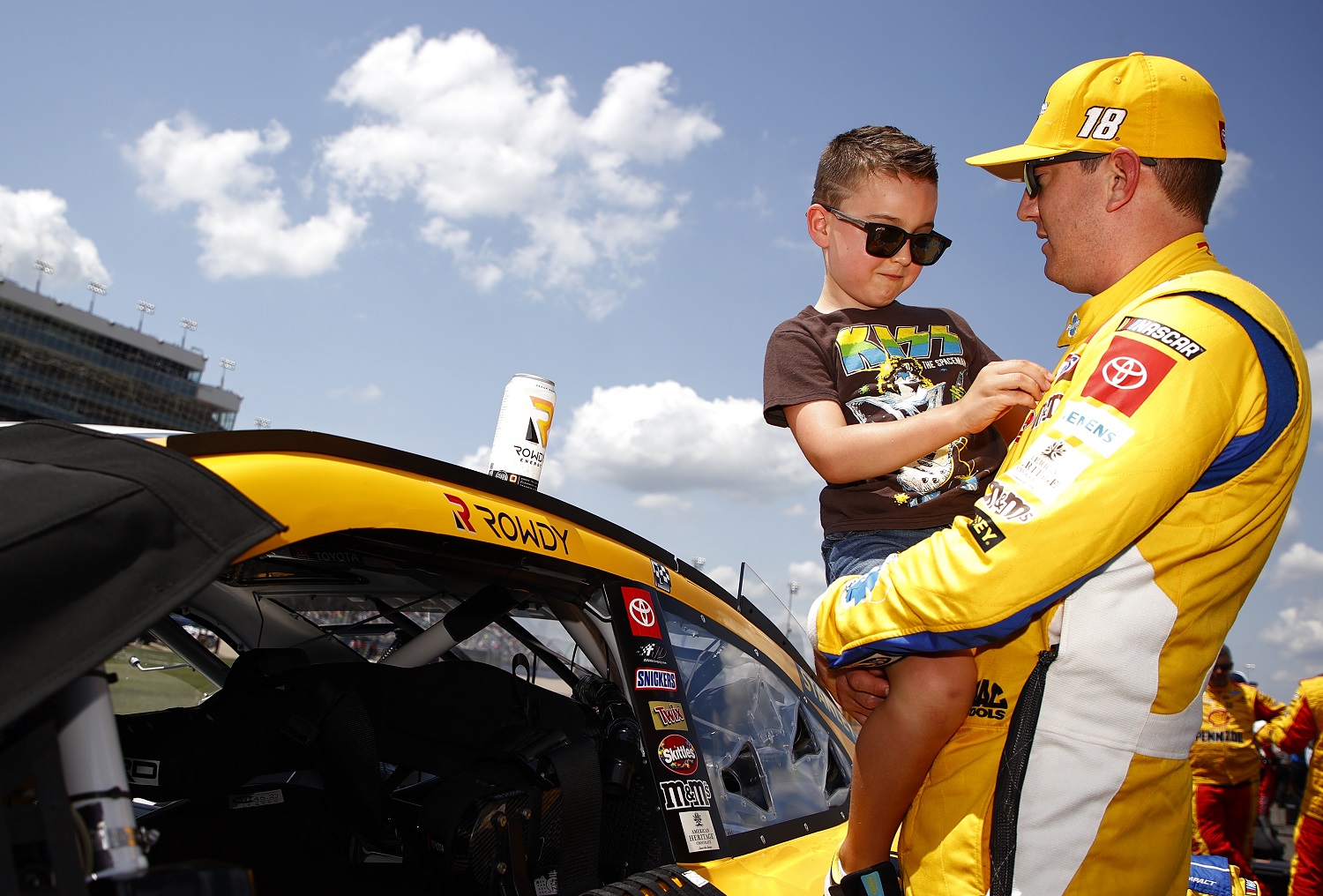 Kyle Busch, 36, has logged more than a quarter of a million laps on NASCAR tracks in a 222-win career. Brexton Busch, 6, has a long way to go to match his father's experience, but he definitely has the racing bug. Together, they made their Lucas Oil Tulsa Shootout debut over the weekend. The Shootout is one of the big dirt-track events of the offseason, though offseason is a misnomer since there's high-quality Midget racing somewhere in the country just about every other day.
Kyle was one of the big names among the more than 1,700 entries. Though he doesn't spend a ton of time on the dirt tracks, he did get off to a nice start in Tulsa with a victory in his opening heat of the Micros. It was downhill from there, however, and he didn't qualify for any of Saturday's main events, according to Racing News.
That doesn't mean he didn't have a good time, and it got better as Busch watched his son do some impressive work. Young Brexton won the C-Main race in the Junior Sprint class on Saturday, which qualified him for the B-Main. Had he not accomplished anything at all in his next race, that would have still qualified as a nice bit of work.
Brexton Busch received an offer for a provisional spot in a big Tulsa Shootout race
After starting near the back of the field in the Junior Sprint B-Main, 6-year-old Brexton Busch did the family name proud by navigating through the traffic to finish fourth. That left him two spots short of qualifying for the field in the main event, but it was nevertheless an admirable effort.
Whether he was conscious of it or not, Brexton attracted a lot of attention because of his father's fame. So, putting up respectable showings at an event attracting so many entries made him a memorable part of the weekend.
The Tulsa Shootout promoters must have thought so, too, because they offered the youngster an unusual opportunity: a provisional entry into the Junior Sprint A-Main. Such offers are rare but not unprecedented. However, they generally happen when a ranked driver fails to advance because of a wreck someone else caused.
In this case, there were no extenuating circumstances. Recognizing the attention Brexton earned, they offered him the 21st spot in what was scheduled to be a 20-competitor race.
Brexton Busch declined the opportunity
At the risk of stating the obvious, Brexton Busch is too young to make any decision more significant than choosing between Cheerios and Corn Flakes for breakfast. Kyle and Samantha Busch call the shots, so it's doubtful that the poll and the decision that showed up on their son's Twitter account (yes, he has a Twitter account) were his work.
The poll asked whether Brexton should accept the provisional spot in the A-Main, and 90% of the votes came back in the affirmative. The sentiment wasn't unreasonable since starting last in a championship field would have made it all but impossible for him to affect the podium.
Still, a lot of people would have seen his participation as just another spoiled rich kid taking advantage of an opportunity that one or more others deserved.
In the end, Brexton (wink, wink) declined the opportunity.
"What an awesome time running in my first ever Tulsa Shootout!! Won my C-Main & drove from 13th to 4th in B-Main," he wrote on Twitter, adding, "The Shootout promoters extended me a provisional invite to run the A-Main, but I politely declined, and will return next year to race my way in!"
That was a great call by all involved, and you have to like the odds of him getting to the big race strictly on merit the next time in Tulsa.
Like Sportscasting on Facebook. Follow us on Twitter @sportscasting19.