Kyle Busch Is the Latest NASCAR Star Getting Down and 'Dirt-y' in the Offseason
NASCAR returned to dirt-track racing last season with a one-off race at Bristol, and it's apparently had a residual effect on drivers. Kyle Busch has already dipped a toe in one extracurricular form of racing recently, and now he is heading to Tulsa to try another this weekend.
NASCAR star Kyle Busch has entered the Tulsa Shootout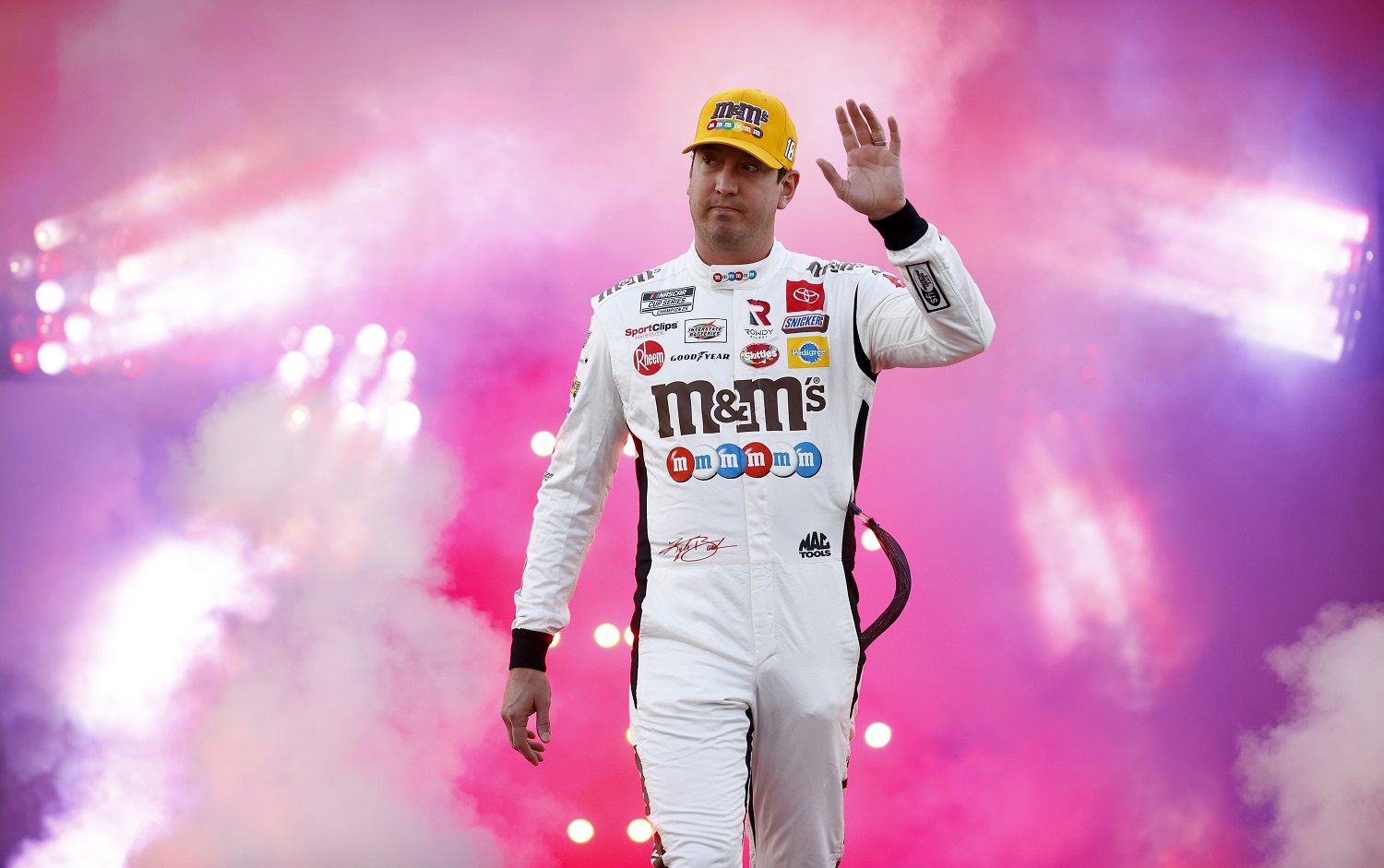 Kyle Busch, eminently successful in the three national NASCAR series for two decades, is a late entry in the 37th Tulsa Shootout in the Tulsa Expo Center, FloRacing.com reported Tuesday. He will try his hand in four of the six divisions: Winged Outlaw, Non-Wing Outlaw, Winged A-Class, and Stock Non-Wing.
It will mark the first time that Busch, 36, has competed at the Tulsa Shootout, which traditionally attracts high-quality fields. Part of Busch's inspiration for trying it this year is that his 6-year-old son, Brexton, will compete in the Junior Sprint class.
Busch isn't having to scramble to prepare. Instead, he'll drive entries fielded by Joe B. Miller, a Micro Sprint star. Still, he didn't have much in the way of recent experience on dirt before finishing 17th at Bristol last spring as NASCAR experimented with taking a Cup Series race off the pavement.
Busch got himself into the right frame of mind for Bristol by running a Super Late Model there the previous weekend and winning a class in between commutes to Atlanta to fulfill his NASCAR obligations.
Before that, his most consistent dirt-track experience came at Tony Stewart's Eldora Speedway in the Prelude to the Dream series from 2007-12. Busch won the event in 2012.
Kyle Busch will have company at the Tulsa Shootout
Kyle Busch will find some familiar faces in Tulsa this week. That's because Joe Gibbs Racing teammate Christopher Bell and Camping World Truck Series drivers Hailie Deegan, 2020 series champion Sheldon Creed, and 2018 series champion Brett Moffitt are also planning to compete in various events.
Bell entered the Winged Outlaw, Non-Wing Outlaw, Winged A-Class, and Stock Non-Wing divisions, which could have him going head-to-head with Busch. He  captured the Winged Outlaw division at the 2018 Tulsa Shootout.
Busch and Bell continue a trend of NASCAR stars, including Kyle Larson and Chase Elliott, who have been competing on the dirt this offseason.
According to Speedsport, the All Star Circuit of Champions' Tyler Courtney, the USAC AMSOIL National Sprint Car Series' Brady Bacon, and the Lucas Oil American Sprint Car Series' Blake Hahn have entered, too. Each is coming off a series championship.
The Tulsa Shootout has announced that the total number of entries has eclipsed the previous record of 1,397.
Is this strictly fun for the driver of the No. 18 Toyota?
It's not as though Kyle Busch needs to pad his credentials to earn a spot in any of the various motorsports halls of fame, so the Tulsa Shootout doesn't qualify as a make-or-break event for him. Remember, too, that he might not even have bothered if not for his son also racing there.
Busch competed in the Nitro Rallycross in Phoenix the week after the wrap-up to the NASCAR Cup Series. However, going to Tulsa over the holidays cuts into what could have been a relatively uninterrupted offseason. That kind of devotion to racing, plus the fact that he'll be up against teammate Christopher Bell, might just inspire Busch to go all-out.
After all, that's the only way Busch knows how to go in NASCAR.
Busch is a two-time Cup Series season champion, scoring 59 victories in 606 starts since 2004. He has scored as least one win per season since 2005.
Busch also won an Xfinity Series crown and has continued to race there occasionally. He won all five appearances in 2021, bringing his career total to 102 checkered flags. In addition, Busch has been running partial truck series schedules since 2001. As is the case in the Xfinity Series, he has gone just one season since 2005 without a victory.
All stats courtesy of Racing Reference.