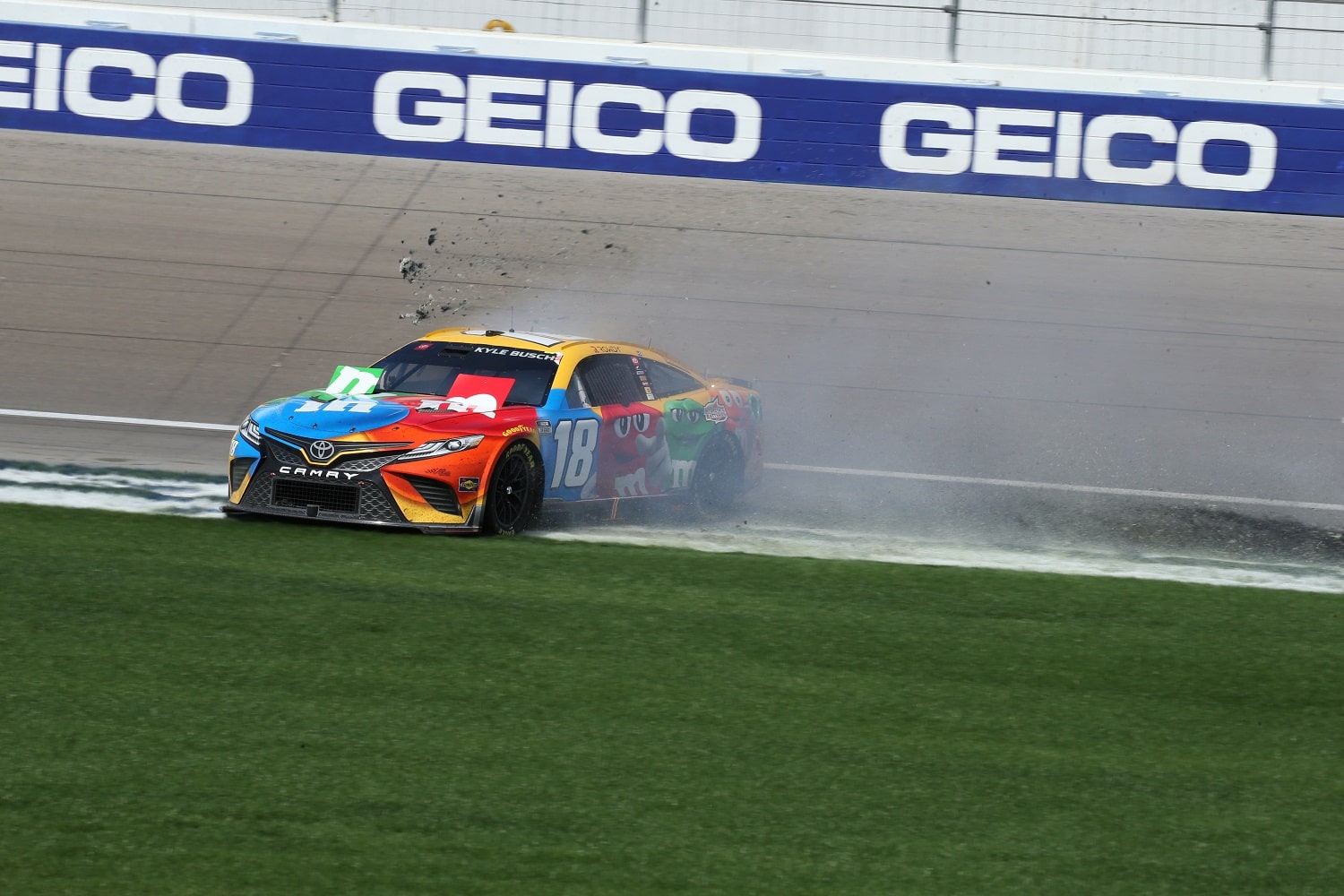 Kyle Busch Takes the Blame for the Mistake Costing Him a Home-Track Victory
Kyle Busch had an eventful day in Las Vegas but accepted blame for a crucial mistake late in the NASCAR Cup Series race.
You have to wonder if there are days Kyle Busch shows up at the track with a list of things to do to make people notice him. That's aside from winning, mind you, since he's always a threat to do that in the NASCAR Cup Series.
Busch packed a lot into 400 miles on Sunday. If the South Point 400 lasted another 10 laps, he just might have completed his day by driving onto Victory Lane.
Another race, another spin for Kyle Busch
It wouldn't be a Cup Series race without Kyle Busch spinning his Toyota at some point, so that development on Lap 78 hardly rated as a surprise. Busch, who qualified 18th the previous day at Las Vegas Motor Speedway, his home track, sliced through the field early and ran as high as fifth in the opening stage.
However, Busch spun off of Turn 4. Fortunately, the car came down the track without hitting anything, instead plowing through the grass. Still, that cost him more than two dozen places, and the No. 18 Toyota was still running in the back half of the field 30 laps later. He finally rejoined the top 10 on Lap 157.
When the checkered flag came down a little more than 100 laps later, Busch finished third for the second consecutive week. That's his best run since late May and gave the Las Vegas native his 14th career top-10 result at the track.
Afterward, his competitive philosophy remained more consistent than his results have been in the two-time series champion's final season at Joe Gibbs Racing.
"Anything short of a win here is a loss," he told the Las Vegas Review-Journal. "We'd love to get another win before the year's out, but just not today."
Kyle Busch takes the blame for a big mistake in the pits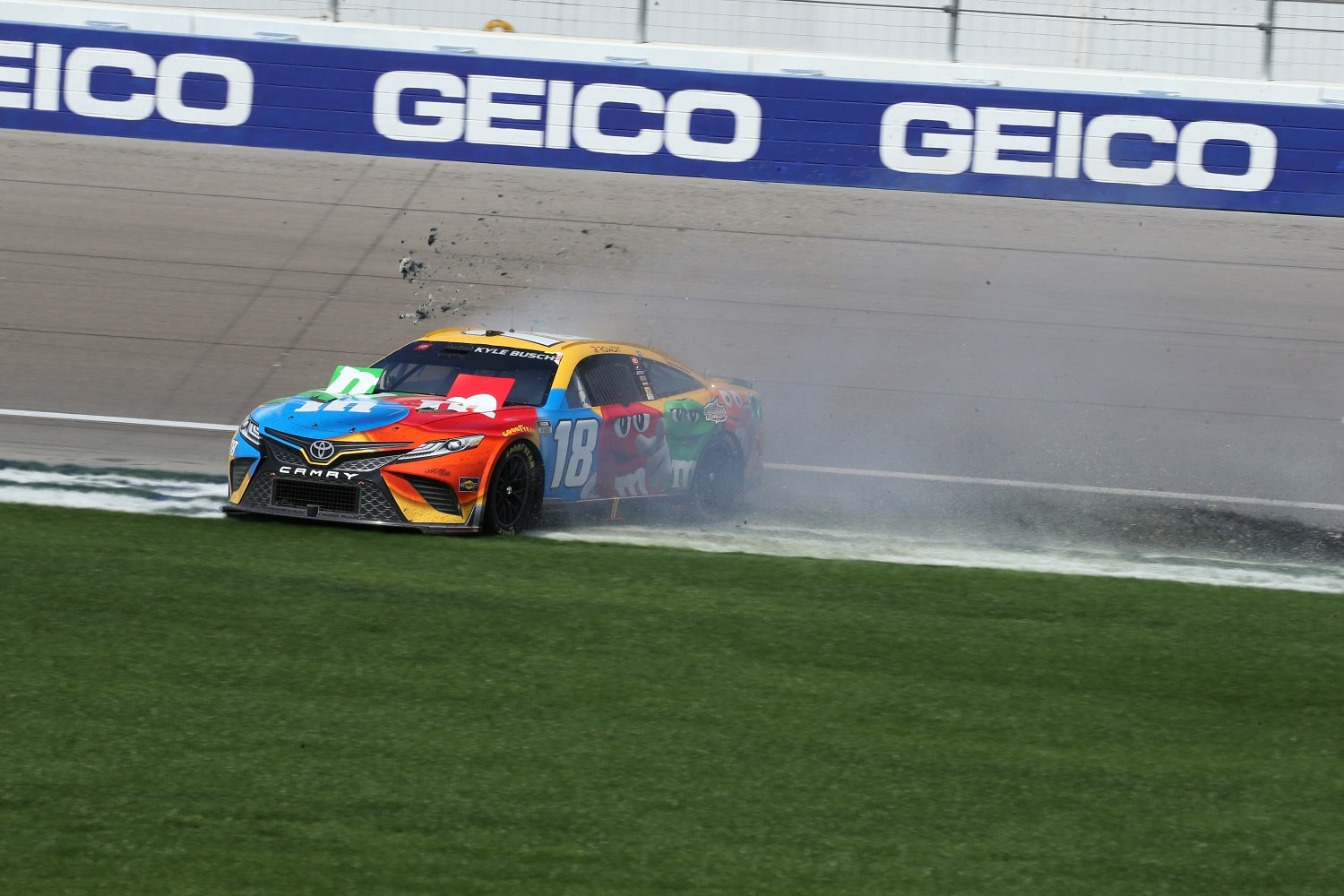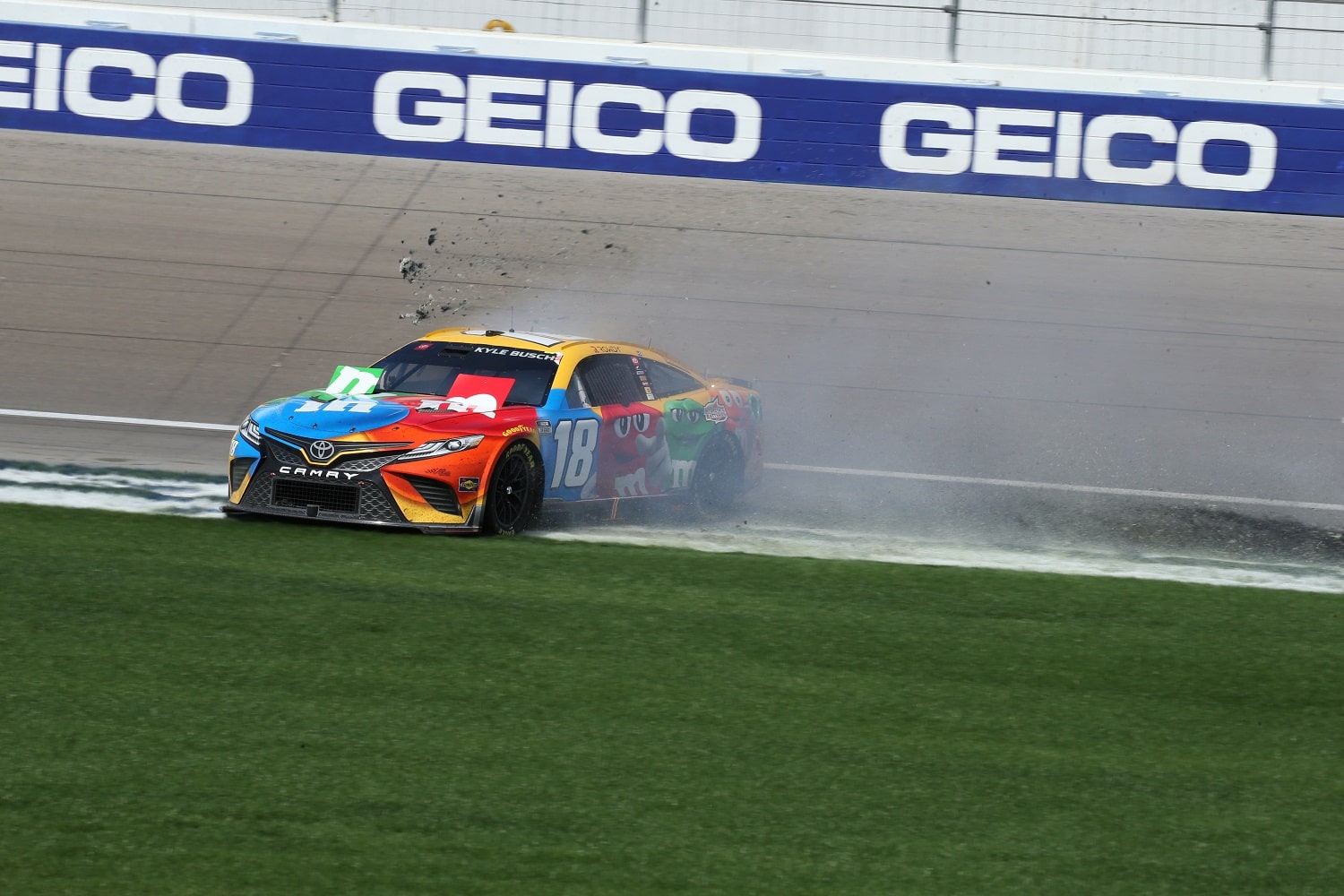 Pit stops have been an issue in the NASCAR Cup Series for the Toyota organizations, both of whom get their crews from Joe Gibbs Racing. JGR has made multiple personnel switches, including a late-season set of changes widely viewed as boosting the No. 23 team of Bubba Wallace at 23XI Racing at the expense of Gibbs' own No. 20, driven by Christopher Bell.
As it turned out, Kyle Busch's early spinout was only his third most interesting moment of the day, ranking behind flipping the bird at Ryan Blaney at one point and later losing a wheel after pitting on Lap 229.
Busch picked up a spot on the tire change, exiting pit row in third place. Unfortunately, he only had three secure wheels when he left. The loose tire quickly started smoking, and the wheel came off on the backstretch. Returning to the pits dropped Busch to 26th, but he kept battling. He came out of the pits 11th on Lap 241 during a caution and fought his way to third place at the end.
Afterward, Busch accepted the responsibility.
"Just salvaged what we could there after a lot of ups and downs," he told NBC Sports. "Thanks to the guys. They had good pit stops all day. I left a little early on that one that we had a loose wheel, but all in all, we had a good recovery."
The penalty could potentially be interesting
The standard penalty for having a wheel come loose in the Cup Series has been a suspension for the crew chief, in this case Ben Beshore, as well as the jackman and tire changer. The suspension normally covers the next four races, but there are only three remaining in 2022: Homestead-Miami, Martinsville, and Phoenix.
If the suspension carries over to next season, those team members would continue paying a price while Kyle Busch has moved on to Richard Childress Racing.
On the plus side, there is precedent for letting exhibitions count toward the suspension. That would mean the jackman and tire changer would miss the Busch Light Clash in Los Angeles. If they have to sit, then that's definitely the race to miss instead of the Daytona 500; if you have to pull off the track for any reason on a quarter-mile track, you're basically done for that heat or race.
Got a question or observation about racing? Sportscasting's John Moriello does a mailbag column each Friday. Write to him at [email protected].
Have thoughts on this topic? Keep the conversation rolling in our comments section below.