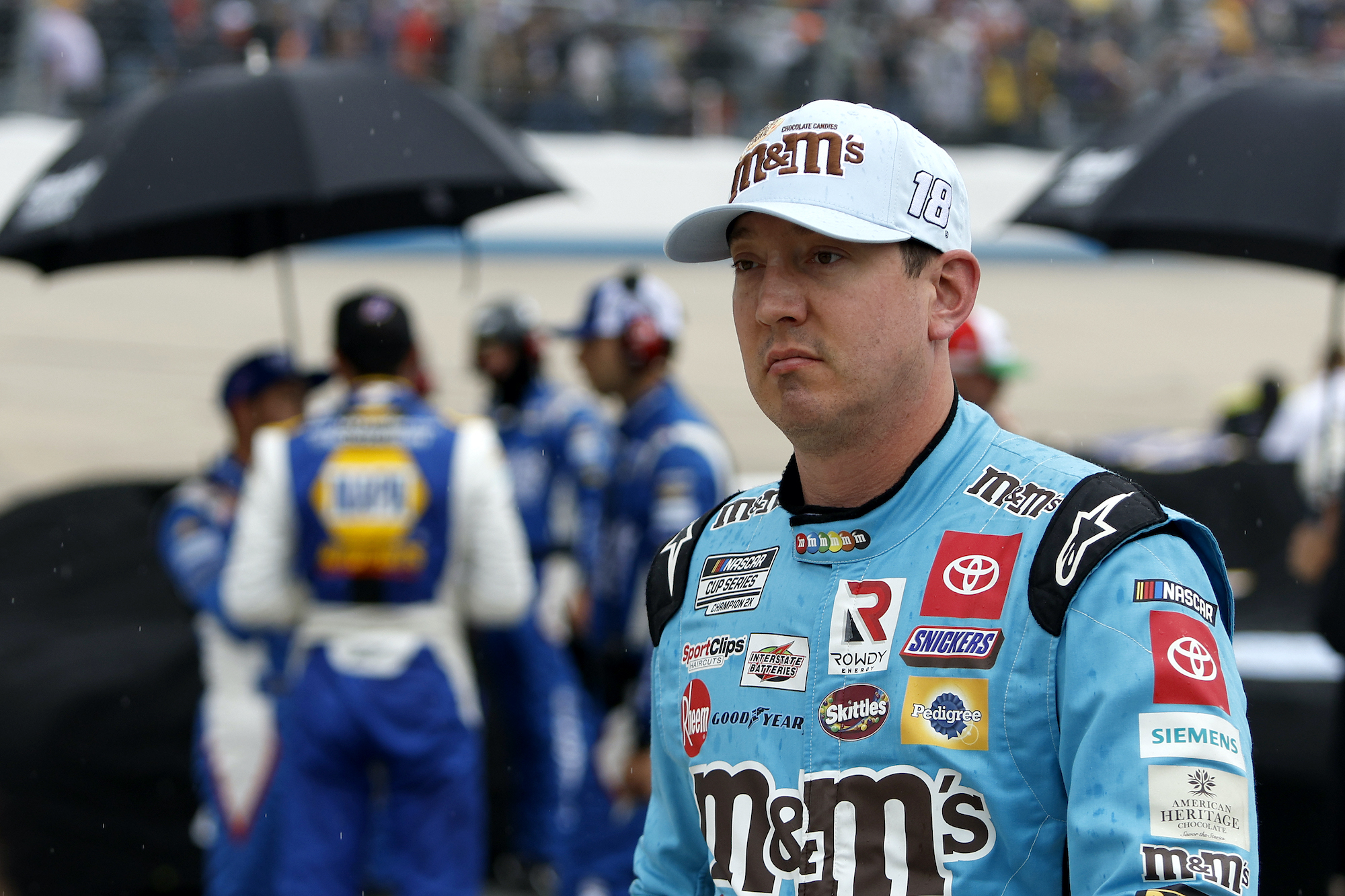 Frustrated Kyle Busch Uses R-Rated Version of Offensive Slur at Dover That Landed Him in Hot Water Last Year and a Trip to Sensitivity Training
A frustrated Kyle Busch didn't like finishing second in Stage 2 at Dover and inexplicably used the R-rated version of an offensive slur that got him sent to sensitivity training last year.
Kyle Busch is a competitor. Even when performing well, he wants more. Take Monday's delayed race in Dover, for example, when he finished second to end Stage 2. Having led multiple laps before a caution came out, the two-time champion was frustrated when Ryan Blaney outlasted him to win the segment on old tires.
Moments after the stage ended, Busch voiced his frustration finishing runner-up over the team radio and used the exact same phrase that earned him a trip to sensitivity training last year, except this time around, he delivered the R-rated version. 
Kyle Busch uses offensive slur last year and attends sensitivity training
Martinsville is known for drivers getting their feelings hurt. Kyle Busch got his feelings hurt late in the race last year when Brad Keselowski hit his left rear and knocked the No. 18 into the wall coming out of turn 4 on the final lap.  
As soon as the cars crossed the finish line, the Joe Gibbs Racing driver turned left into the No. 2 but spun himself out. Several minutes later, Busch visited with reporters and talked about the incident. He didn't sugarcoat what was on his mind.
"Well he drills my ass coming out of 4 for no reason, I mean, where was he going? What was he going to do? Spin me out? He was trying to do a Harvick is what he was trying to do," Busch said. "For what? For second place? To do what? He wasn't going to transfer through with that. It's freaking retarded man. So stupid. I don't understand these guys. I should beat the s*** out of him right now is what I should do. But that doesn't do many any good either… I've already had to pay enough fines in my lifetime. I'm sure I'll get another one." 
Busch apologized for his remarks. NASCAR mandated he attend sensitivity training. 
Busch uses exact same phrase but R-rated version in Dover
Kyle Busch turned 37 on Monday. Birthdays have been good to him in the past. He's got a pair of wins, including last year's victory at Kansas. 
On the second day of racing at Dover, due to the Sunday rain delay, Busch appeared to be the dominant car late in Stage 2, leading numerous laps. However, a late caution involving teammate Denny Hamlin shuffled the front of the field with most cars heading to pit road, including the No. 18, while Ryan Blaney and several others stayed out. 
Most thought on fresher tires the JGR car would find its way back to the lead before the end of the stage. He navigated through several cars, including Harrison Burton, and got close to the No. 12, but could never get past and finished second in the stage.  
Frustrated, Busch used the exact same phrasing over his team radio that he shared with the media following the Martinsville race, except this time around he used the explicit version.
"That's f****** retarded. So stupid," he said over his radio.
Won't help cause in finding new partner
Kyle Busch made headlines last weekend at Talladega when he visited with reporters and expressed uncertainty about his future with Joe Gibbs Racing. The organization is still trying to find a replacement for the M&Ms sponsorship, which has been on board the No. 18 car for years.
His latest comments at Dover certainly aren't a good look and won't help his cause.
Some might suggest his remarks over the team radio come in the heat of the moment, and emotional drivers say emotional things. This is true. But the f-bomb is one thing. The r-word is another. 
If NASCAR is true to its policy, Busch will once again find himself attending sensitivity training in the future. Maybe JGR can get a two-for-one discount with Hamlin also required to attend the training for his offensive tweet directed at Kyle Larson last week.
It's definitely not the birthday present Busch wanted. And he finished seventh.
Like Sportscasting on Facebook. Follow us on Twitter @sportscasting19.