Kyle Larson Is Geared Up for 1 Track in Particular, but It's Not the LA Coliseum
With the Busch Light Clash dead ahead, NASCAR fans, drivers like Kyle Larson and defending champion Joey Logano, and everyone else in the sport are rarin' to go.  But the second edition of the Clash on the quarter-mile track at the Los Angeles Coliseum remains an exhibition that doesn't get competitors any closer to the big prize.
With that in mind, Larson, the 2021 Cup Series champion, has already started zeroing in on a victory at another track, and it's not Daytona for the kickoff of the regular season.
The 2021 NASCAR champion is building a Hall of Fame resume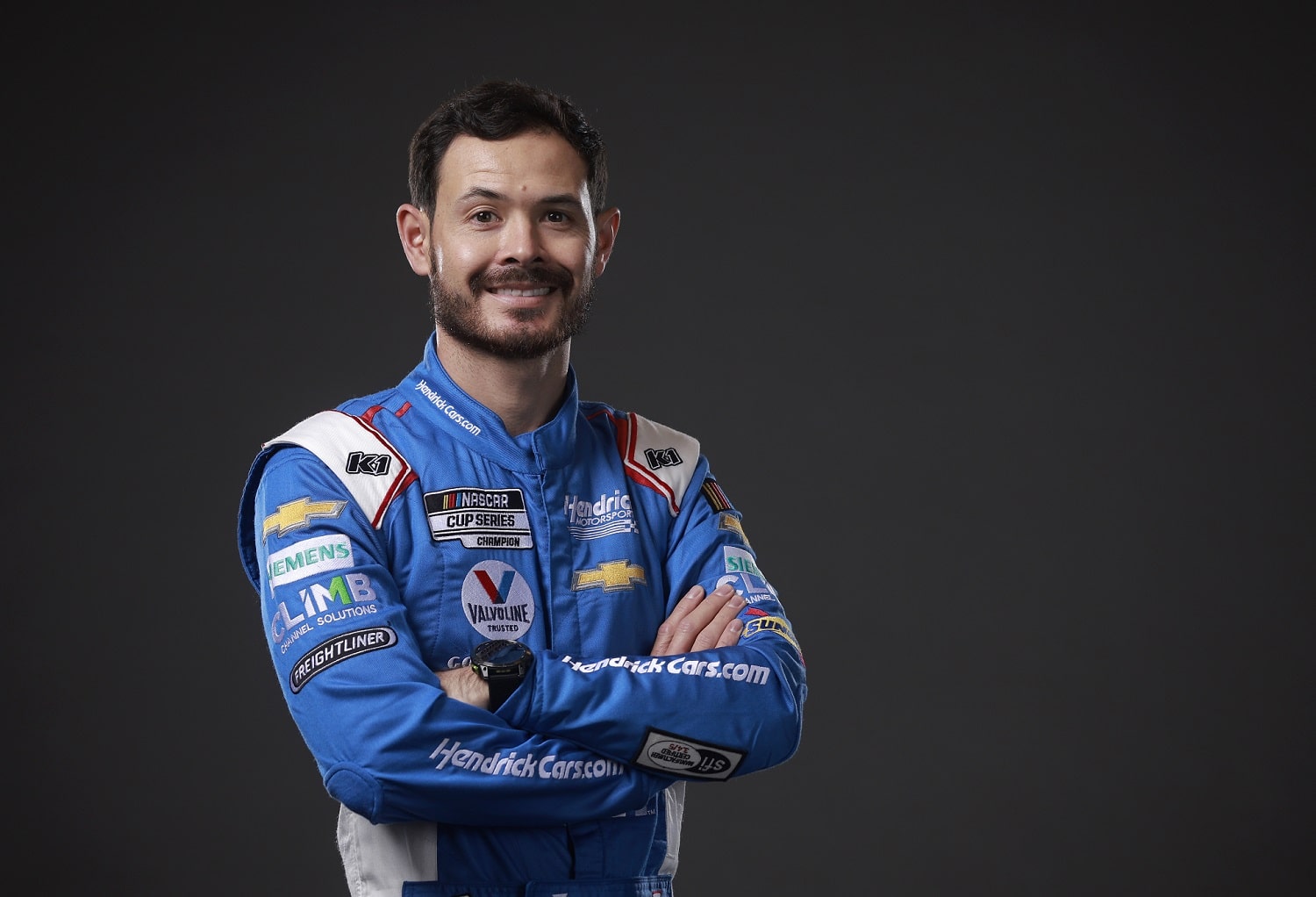 His 19 wins in Cup Series points races and the 2021 season championship have Kyle Larson relatively far down the path toward induction into the NASCAR Hall of Fame. At just 30 years old, he hasn't even reached the prime years of a typical racing career, so many more trips to Victory Lane would seem to be a given.
However, some victories are bigger than others, and Larson does not yet possess signature wins in the Daytona 500, Brickyard 400, or Southern 500. Less significantly, the driver of the Hendrick Motorsports No. 5 Chevy also has not won thus far on a superspeedway.
Still, Larson is off to a decent start in general, having captured the 2021 Coca-Cola 600 and a pair of NASCAR All-Star Races.
Kyle Larson is already thinking about Darlington
There's a reason so many people in the sport refer to Darlington Raceway as "The Track Too Tough to Tame." The 1.366-mile oval in South Carolina attracts cars to the outside wall like a magnet attracts paper clips.
Kyle Larson is one of the drivers who can reasonably argue that's a good characteristic of the track. As demonstrated by the clinic he put on en route to winning last fall at Miami-Homestead, Larson is a master of hugging the wall.
Not surprisingly, he has a history of doing quite well at Darlington. However, he hasn't won there yet despite so many close calls:
Two second-place finishes and a pair of thirds in seven Southern 500s since 2016.
Another third place in the 2021 spring race.
"I always look forward to going to Darlington," Larson said on the Hendrick Motorsports website. "I've always wanted to win at Bristol, and we won a race at Bristol (in 2021). So that track is kind of next on my list. I want to win everywhere, but Darlington is a track that I have been really fast at in the past, so I always get excited for that race."
Kyle Larson has been making his mark on road courses
Though he's yet to nail down a win on a superspeedway, Kyle Larson is proving quite adept on road courses. Four of his 13 wins since the start of the 2021 season have been on the roads: two at Watkins Glen and one apiece at Sonoma and the Charlotte Roval.
If he had to pick one where he can continue to excel, it would have to be Sonoma, a 90-minute trip from his hometown of Elk Grove, California, and a track where he's qualified on the pole four straight times.
"I always love going back home and racing at Sonoma," he said. "I always get to see a lot of friends and family and race fans that grew up watching me race sprint cars around Northern California. 
"I've always qualified really well there. Since I've been with Hendrick, I've raced well there. It's kind of a flowy track. Tires wear out, so you kind of manage your runs quite a bit. It's got a lot of elevation change, and I enjoy all that."
Got a question or observation about racing? Sportscasting's John Moriello does a mailbag column each Friday. Write to him at [email protected]