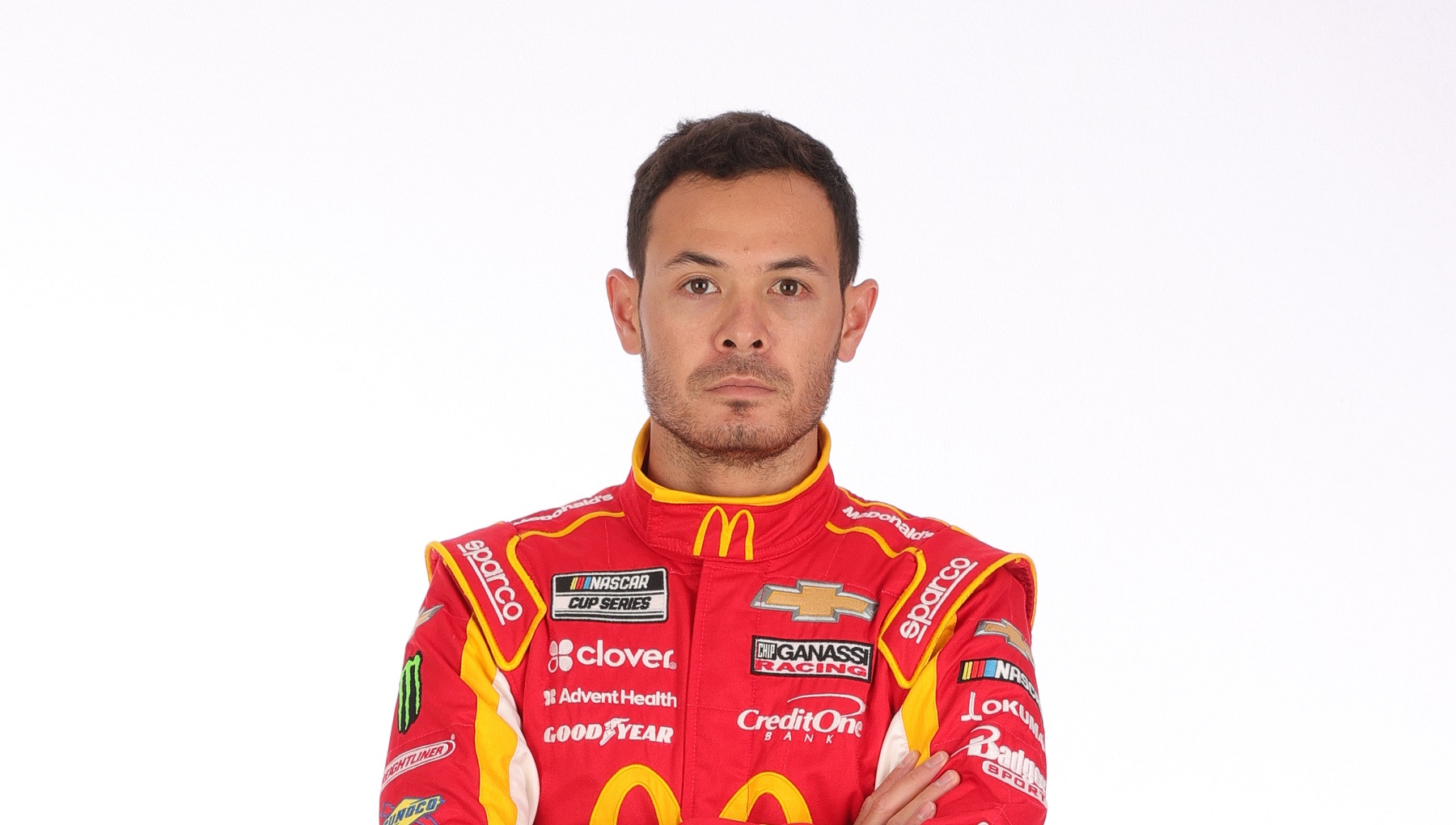 Kyle Larson's Return To NASCAR Just Hit a Nasty Speed Bump
Kyle Larson's anticipated return to the NASCAR Cup Series received a setback when Hendrick Motorsports had to dismiss his team's spotter.
All of the pieces had been coming together for Kyle Larson as he prepared for his return to NASCAR. Hendrick Motorsports hired the talented driver following his exile from the NASCAR Cup series, lined up sponsors, and put together a strong support team around him.
Suddenly, however, Larson finds himself needing to replace one of the most valuable assets that a driver has on race day, whether it's at Daytona's superspeedway or the treacherous Bristol Motor Speedway half-mile.
Kyle Larson's fall from grace in NASCAR has been well documented
Kyle Larson went from a promising NASCAR prospect to a pariah with one intemperate remark during the shutdown brought on by the COVID-19 pandemic last spring.
Larson, who came up through the NASCAR Drive for Diversity program, joined the Xfinity Series in 2013 and finished in the top 10 in 17 of his 33 rookie-season races. From 2014-18, he scored a dozen victories and 42 other top-10 finishes. His solid credentials in NASCAR's second-tier series earned Larson a full-time seat in the 2014 NASCAR Cup Series driving the Chip Ganassi Racing No. 42 Chevrolet.
Larson scored the first of his six NASCAR Cup Series victories in 2016 and followed with four in 2017. With a win and 17 top-10 placings in 2019s, he was setting up nicely for continued success in 2020. That came crashing down in April when he uttered a racial slur after losing communication with his spotter during a streamed iRacing virtual race.
A prompt apology couldn't save his season. With sponsors dropping the driver, Ganassi released Larson from the remainder of the final year on his contract. NASCAR announced that he would have to attend sensitivity training before applying for reinstatement.
The return to the NASCAR Cup Series was going well
While Kyle Larson lost out on the final 32 races of the 2020 season, costing himself a chunk of money, the pieces started coming together again early last fall. Having completed sensitivity training and reiterated how sorry he was in a series of interviews, Larson landed a job with Hendrick Motorsports. With Jimmie Johnson retiring, Hendrick slid Alex Bowman into the iconic No. 48 Chevy and added Larson to its stable of drivers.
Joining Hendrick meant having to shut down his sprint car team on the World of Outlaws circuit so that there would be no distractions, especially since the pandemic seems likely to continue causing disruptions in 2021. The tradeoff, though, is that Larson is now affiliated with another first-class NASCAR Cup Series organization. Chase Elliott is the reigning series champ, and every Hendrick driver gets top-notch support.
In fact, Larson's No. 5 Chevy team inherits Jimmie Johnson crew chief Cliff Daniels, a well-known engineer in the racing business.
Kyle Larson has been hit with an unexpected setback to start 2021
With the Daytona 500 a little more than a month away, Kyle Larson is dealing with a significant setback that came out of nowhere. Hendrick Motorsports has announced that it has dismissed spotter Chris Monez, who had only recently been hired after spending last season spotting for Ty Dillon at Germain Racing.
A good spotter is one of the driver's most valuable assets on the day of a race. Perched high above the track, the spotter is constantly in his driver's ear with updates on what's happening ahead and behind the car. When there's a wreck, it's the spotter making split-second decisions on whether to go high or low to avoid the carnage.
Monez had said on Twitter on New Year's Day that his much-rumored move to the Larson team was official. However, the Hendrick organization announced on Jan. 5 that concerns about Monez's activity on social media had made it impossible for him to stay.
According to Speedway Media, a search of Monez's Twitter timeline turned up some questionable tweets and an interest in QAnon, a conspiracy theory alleging that Satan worshippers operate a child sex-trafficking ring. QAnon supporters have labeled a number of politicians and figures in the entertainment industry as pedophiles without offers of proof.
Arguably more damaging, Monez's account liked an August 2020 tweet by President Donald Trump asking when driver Bubba Wallace would apologize for the noose found at a Talladega trackside garage. The subsequent FBI investigation determined there was no hate crime.
Given Larson's stormy 2020, having his new team facing questions about race would be a significant distraction by the time Daytona rolls around next month. Now, Larson has to scramble to make an important hire.
Like Sportscasting on Facebook. Follow us on Twitter @sportscasting19.