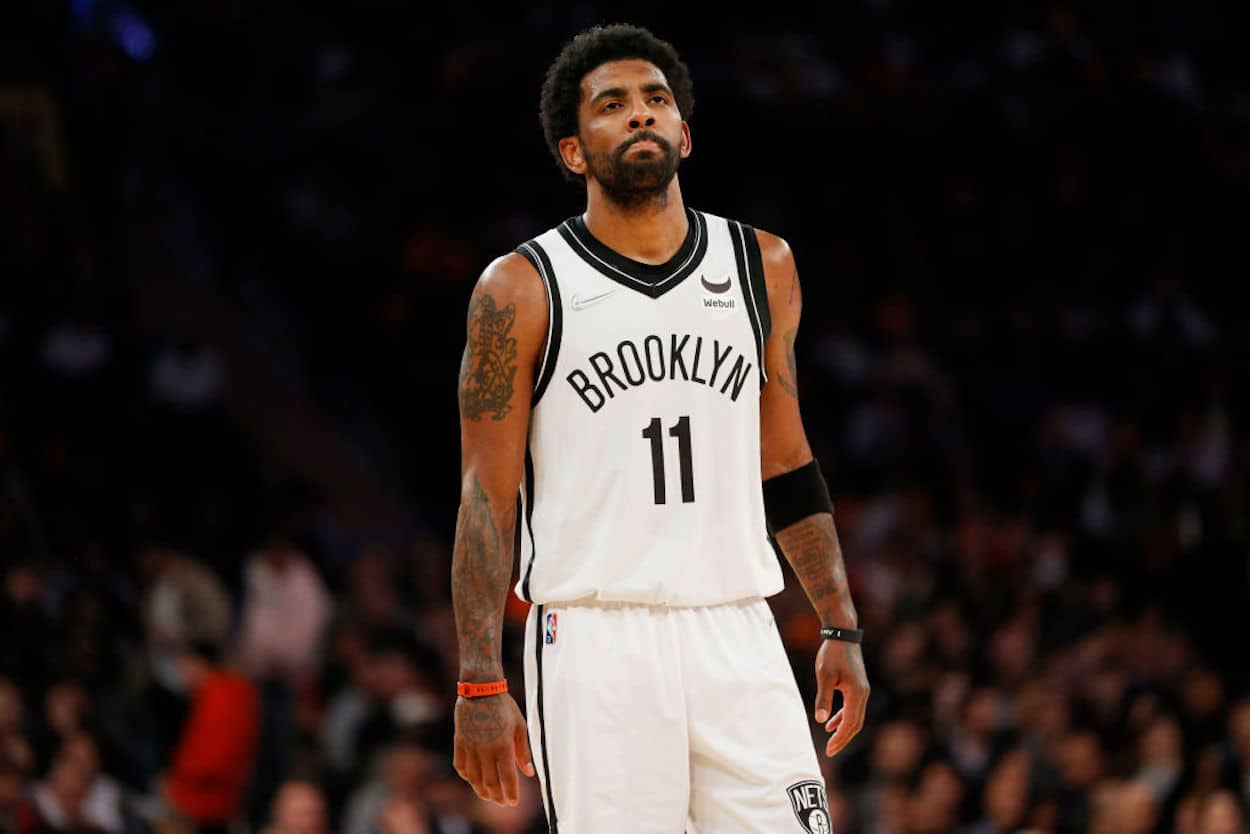 Kyrie Irving Finally Owns Up to a Major Mistake, but He Needs to Practice What He Preaches
Kyrie Irving showed some accountability for his previous mistakes, but it remains to be seen if that's just a one-off interview.
While Kyrie Irving is currently a Brooklyn Net, he burst onto the scene with the Cleveland Cavaliers. He established himself as an elite scorer, and when LeBron James returned to Ohio, the guard became part of a Big Three. The Cavs won one NBA title, and then Kyrie left town for Boston.
Although the guard isn't always the most introspective man around, he recently showed a bit of accountability for how things went in Ohio. During an appearance on the I Am Athlete podcast, Irving even admitted that his behavior kept the Cavaliers from winning multiple rings.
Based on those comments, Kyrie deserves to receive credit where it's due. Moving forward, though, he'll have to prove this wasn't just a one-off interview.
Kyrie Irving owns up to some less-than-ideal behavior in Cleveland
On the whole, professional athletes usually play things pretty close to their chest during interviews. While Kyrie Irving has been known to do things his own way, the Brooklyn Nets guard recently showed a different form of candor. Rather than passing the buck or speaking highly of himself, he owned up to some past mistakes.
"If I was in the same maturity line and understanding of who I am, and I look back, we definitely, definitely would've won more championships, because there would've been a better man-to-man understanding about what I'm going through. I didn't know how to share my emotions," Kyrie explained on the I Am Athlete podcast (h/t Brian Lewis of the New York Post). "I didn't know how to do that. So instead of sharing, I isolated myself."
That isolation wasn't ideal, especially for a team chasing multiple NBA championships.
"I just started pouring myself more into the game — I had one of my better seasons, but I wasn't connecting with everybody as much during the championship year," the guard continued. "So 2017, it was a different year for us. We went against Golden State, we went against a great team. When you're not a great team and not clicking on all cylinders and together, you're easily defeated. You're defeated before you can get to the arena." 
Kyrie also addressed how he left Cleveland and, in a show of some humility, acknowledged that he could have handled things a bit differently when dealing with LeBron James.
"We didn't talk during that time," Irving admitted. "When I look back on what I was going through at that time, I wish I did, because it would've been a good understanding of what the future will hold for both of us, and we know how much power we both had together. Me and him in the league together running Cleveland, and then being able to put a better team together every single year would've definitely been worth it." 
While that's a good start, Irving has to keep it up
Part of the reason why Kyrie's quotes are so striking is because the guard has previously seemed unwilling to accept any accountability for his actions. With that being said, though, one positive podcast appearance isn't enough. Now, he needs to walk the walk.
Irving, for better or worse, will be judged on how the Brooklyn Nets fare moving forward. Assuming he opts into his contract extension — there's no reason to believe that he won't — the guard needs to act like one of the club's leaders and top performers, not a bit-part player. There's no more time for first-round failures.
Away from the court, he'll have to answer questions, too. Can he make it through the offseason without firing off any questionable tweets or otherwise ignoring his role in shaping the narrative around him? When the Nets hit their first hiccup in the fall, can he make it through his postgame press conferences without sounding like he doesn't actually care if the team wins or loses? Will he be able to return to Boston or Cleveland and avoid playing the victim or taking cheap shots at those in the crowd?
At this point, there's no way to know. While these recent quotes do provide a bit of hope that Irving will change his ways moving forward, he hasn't exactly earned the benefit of the doubt.
Like Sportscasting on Facebook. Follow us on Twitter @sportscasting19 and subscribe to our YouTube channel.