Kyrie Irving's Ridiculous Number of All-Star Votes Proves the NBA Needs to Fix Its Broken System
Kyrie Irving has earned seven All-Star selections in his NBA career, and rightfully so, as he has been one of the top point guards playing in the league throughout the last decade.
However, the keyword in that sentence was "playing."
The NBA recently revealed its first fan returns for this year's All-Star voting, and Irving – who just made his season debut this week – was one of the top vote-getters among guards. He ranked above several more worthy players.
Whether you are a big Irving fan or not, you can probably admit that the results are ridiculous, and they clearly show that the league needs to fix its broken system.
Kyrie Irving ranked sixth among Eastern Conference guards in NBA All-Star voting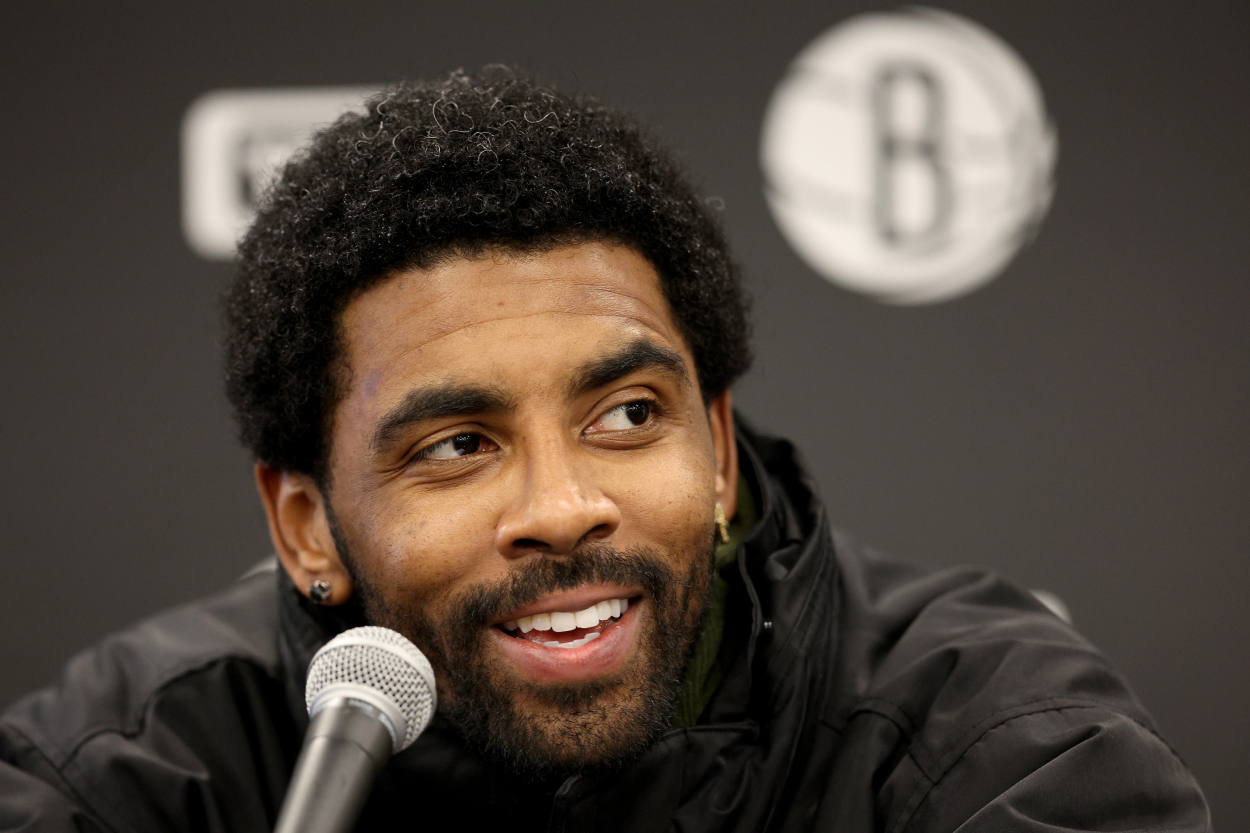 The NBA released its first All-Star voting fan returns on Jan. 6, and while there were multiple question-marks among the results, the biggest came within the rankings for Eastern Conference guards.
Take a look at the top vote-getting guards in the East.
DeMar DeRozan
James Harden
Trae Young
Zach LaVine
LaMelo Ball
Kyrie Irving
Derrick Rose
Tyler Herro
Darius Garland
Fred VanVleet
Irving has received 267,929 votes thus far, as it appears his fans have been busier than he has been this year.
Kyrie just made his season debut on Jan. 5 after refusing to get the COVID-19 vaccine, despite the New York City mandate saying residents must be vaccinated to enter New York arenas. The Brooklyn Nets initially didn't want him playing part-time, but the team changed its mind, leading to his recent appearance. He will now only play in road games.
So, at the time the league released the first returns, Irving had only played in one game all season, while other players had been in the trenches the entire year. Yes, he's a great player, but the fact that he hadn't suited up for his team until just the other day proves that these results aren't fair.
How does Irving deserve honors over players like Tyler Herro and Darius Garland?
The votes just simply prove one thing: The NBA needs to fix its broken system.
The NBA must fix its broken system
According to NBA.com, fan results account for 50% of the total vote to determine the All-Star starters. Players and media members also fill out one ballot, and they account for 25% each. Coaches then chose the 14 reserves, seven from each conference.
While 50% is already way too high for the fan vote, they also get to fill out multiple ballots. Fans can submit one ballot each day on both the NBA app and the league website from Dec. 25 through Jan. 22. They can also vote for up to 10 players each day on Twitter, and their votes count for twice as much during five select days.
So, not only do fans account for a more significant portion of the final result, but they also get multiple ballots, while players and media members only get one each.
Sure, having fans vote is excellent for engagement and marketing purposes. But for the sake of fairness, the NBA should at least decrease the amount of power they have, especially when considering how some fan bases are larger than others.
The NFL has the fan vote account for one-third of the final result, and even they have some ridiculous outcomes sometimes. For example, Indianapolis Colts linebacker Darius Leonard earned first-team All-Pro honors in 2018 but didn't get selected to a Pro Bowl that year.
So, if the NFL still has issues despite its fans not holding nearly as much power, how many undeserving players end up making the NBA's All-Star rosters?
Likely too many.
Several NBA players are more deserving of All-Star nods than Kyrie Irving
The NBA did make the right choice by having the fans only select the starters, so their votes only play a role in 10 of the 24 players. But their power still results in several snubs each year.
Despite making the roster for an injured Anthony Davis, Devin Booker didn't initially make the Western Conference All-Star team in 2021. And in 2020, Kemba Walker was a starter among Eastern Conference guards while Bradley Beal, who averaged over 30.0 points that season, didn't make the team at all.
There could also be several snubs this season, especially if Kyrie Irving's vote total ends up playing a role in the final results.
Irving has more votes than Darius Garland and Fred VanVleet combined. Garland is averaging 19.7 points and 7.4 assists this season, and he has led a resurgent Cavs squad into the thick of the Eastern Conference playoff race. VanVleet, on the other hand, is recording 21.3 points and 6.7 assists per game and is a major reason why the Toronto Raptors are also competing for a playoff spot.
Hopefully, coaches would be smart enough to give guys like Garland or VanVleet the nod over Irving if it comes down to it. But if Irving's fans continue to give him votes, we could see the most undeserving player in All-Star history playing in the big game.
Stats courtesy of Basketball Reference