Lamar Jackson Can Force the Ravens to Hand Him a Blank Check for Christmas by Exposing Baker Mayfield and the Browns as Frauds in Upcoming Series Between AFC North Rivals
Christmas could come early for Lamar Jackson.
While the holiday may be right around the corner, the Baltimore Ravens star has an opportunity to celebrate a little earlier if he takes care of business in the coming weeks. With two games against a struggling, banged-up version of Baker Mayfield on the horizon, the 2018 NFL MVP can not only strengthen his team's odds of winning the AFC North, but also increase his chances of receiving a blank check from the front office.
After all, if Jackson exposes the Cleveland Browns as frauds in their upcoming series, the Ravens shouldn't hesitate to lock up their most important player to a lucrative extension. Unlike Mayfield, Baltimore's big-name quarterback actually deserves to ask for for a blank check from a front office that has an excellent track record of drafting and developing homegrown talent.
Cleveland has quickly gone from being a Super Bowl favorite to struggling to string together wins
Remember when the Browns seemed ready to break through and finally live up to their potential?
Unfortunately for Cleveland fans, the 2021 season has featured more of the same inconsistent play from a team that can't seem to stay on the right track for too long. Coming off an 11-5 campaign that included an impressive 48-37 Wild Card victory over the Pittsburgh Steelers, Kevin Stefanski's squad sits in last place in the crowded AFC North.
Of course, injuries have played a significant role in the Browns' underwhelming 6-5 record. And the drama surrounding Odell Beckham Jr. certainly didn't help, either. Still, it's fair to say Baker Mayfield and Co. have fallen short of expectations. With the 19th-ranked scoring offense (22.2 points per game) and the 17th-ranked scoring defense (22.8), Cleveland doesn't look like a particularly strong Super Bowl contender at this juncture.
After all, since securing wins over the Houston Texans, Chicago Bears, and Minnesota Vikings in Weeks 2-4, the Browns have yet to win back-to-back games.
Meanwhile, they've have watched the Ravens climb back to the top of the division standings despite dealing with injury issues of their own. At 7-3, John Harbaugh's team looks poised to earn a playoff berth for the fourth straight year.
And depending on how the ensuing weeks ago, Lamar Jackson may leave general manager Eric DeCosta with no choice but to hand him a blank check for Christmas.
Lamar Jackson should ask for a blank check for Christmas if he defeats Baker Mayfield in upcoming games against the Browns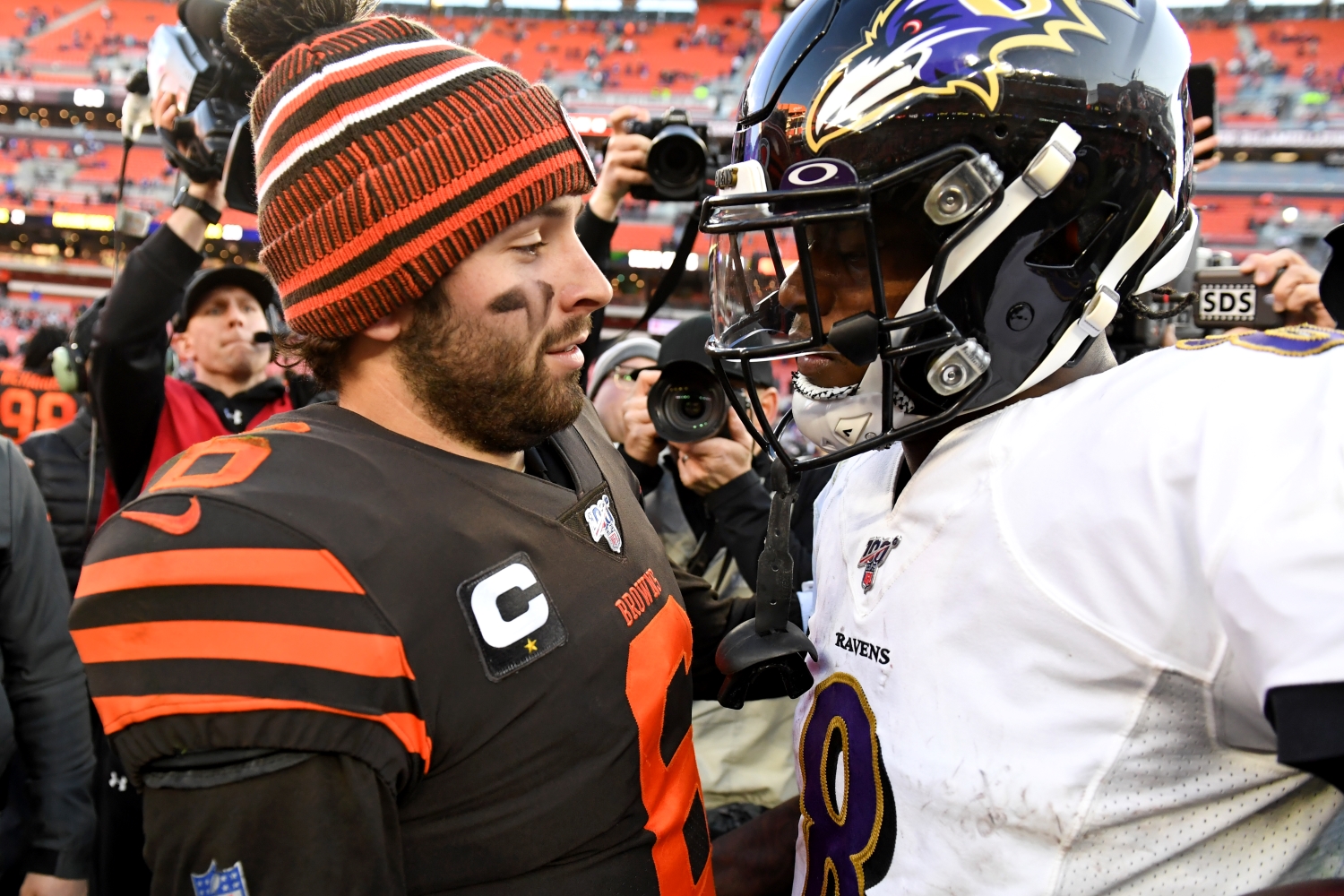 Thanks to NFL schedule makers, the Browns face the daunting challenge of trying to defeat the Ravens twice in a three-week span. They must play at Baltimore this Sunday, and after their Week 13 bye, they will host the current AFC North leaders in what should be a physical battle between two division rivals.
And that's what makes this stretch so important for Jackson and his bank account.
Although the Browns generated ample Super Bowl buzz all offseason, they've reverted back to being the same up-and-down team that's teased fans for years. They can't afford to suffer more losses if they want to just make the playoffs, let alone go on a deep run. But if Jackson utilizes his legs and his powerful right arm to carve up a defense that surrendered 452 total yards to the New England Patriots in Week 10, Cleveland could easily fall out of the hunt for the division title.
Baltimore's electrifying quarterback has two opportunities to cement his case to get paid. Not only does he get to go up against Mayfield in front of a raucous crowd of Ravens fans, but he also has the chance to silence Browns fans on the road. If he manages to get the job done twice, it'll prove he's the superior player and worthy of an extension that'll put him among the highest-paid players at the position.
The upcoming series also carries significant intrigue since the Browns took Mayfield No. 1 overall and Jackson fell all the way to No. 32. While neither franchise has signed its starting quarterbacks to long-term deals, it's obvious the Ravens scored a steal by landing the dual-threat signal-caller with the final pick in the first round of the 2018 draft. If Jackson's unique combination of athleticism and arm talent shines helps Baltimore secure two much-needed victories over an overhyped Cleveland team, why shouldn't he tell the front office exactly what he wants written on that check?
There simply isn't another player in the NFL quite like him. And even though Jackson still has room to improve, he's undoubtedly an elite talent who also commands respect as a leader. If he passes this two-game test and exposes how far ahead he is of Mayfield, what more does he have left to prove?
The Ravens need Jackson to perform at an MVP level down the stretch to secure the AFC North title
While Jackson should have plenty of motivation to play well down the stretch, whether he remains an MVP candidate remains to be seen. After all, Baltimore's schedule doesn't look easy at all.
Following their two-game series with the Browns, the Ravens will face several teams that boast Super Bowl potential.
Besides having to play the always-tough Steelers twice, Jackson and Co. must take on the Green Bay Packers (Week 15), the Cincinnati Bengals (Week 16), and the Los Angeles Rams (Week 17). All three teams possess high-level quarterbacks and skilled playmakers who can inflict damage. Plus, the Packers rank fifth in points allowed at 19.5 per game, and the Bengals rank eighth at an impressive clip of 21.6.
The Ravens will need the 2018 version of Jackson to show up each and every week if they plan to maintain control in the AFC North. And they will need some heroic efforts from a defense that's dealt with injury problems seemingly all season long.
Things can change quickly in the NFL, so if things go south over the coming weeks, Baltimore could just as easily end up near the bottom of the division standings. However, with Lamar Jackson's financial future hanging in the balance, it seems unwise to bet against him or his team.
And if Baker Mayfield keeps getting exposed, it sure will be interesting to see how much the Browns value his services moving forward.
All statistics courtesy of Pro Football Reference.