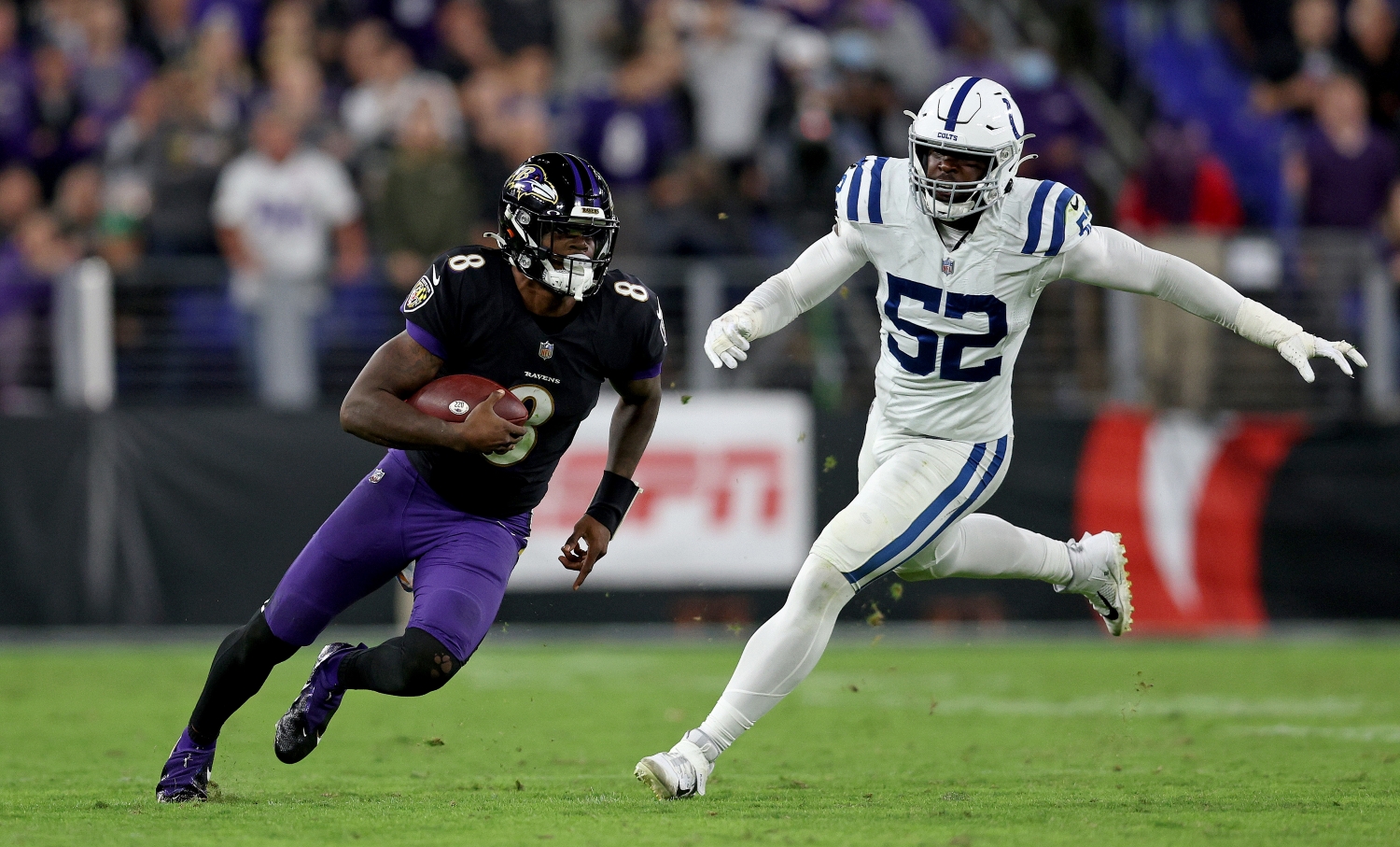 Lamar Jackson's Record-Setting Dismantling of the Colts Could Make the Ravens' Costly Mistake Look Even Worse
Lamar Jackson's record-setting performance against the Colts showed how special he truly is. However, the Ravens may regret not signing their star quarterback to an extension already. After all, Jackson's price is going up.
Lamar Jackson didn't dominate the entire game, but he more than made up for his slow start with a fantastic finish that helped the Baltimore Ravens emerge victorious on Monday Night Football. The dual-threat quarterback inflicted major damage with both his powerful right arm and his lightning-quick legs in the fourth quarter and overtime, which simply caused too many problems for an Indianapolis Colts defense that did a terrific job containing Greg Roman's offense in the first half.
Jackson's record-setting night at the office showed why he's truly a generational talent, and with the way he's played so far, he could very well win MVP honors for the second time in three years. However, with his financial future still hanging in the balance, his thorough dismantling of the Colts could make the Ravens' costly mistake look even worse.
Lamar Jackson's record-setting night helped the Ravens secure a well-earned win over the Colts
It came down to the wire, but the Ravens earned their fourth victory of the season by defeating the Colts by a final score of 31-25. Of course, that would not have happened without a historical outing by their superstar quarterback.
In fact, Jackson set multiple records in what easily ranks as one of the best games of his young NFL career.
With his team trailing by 16 points in the fourth quarter, the 6-foot-2, 212-pound playmaker staged a furious comeback that ended with a game-winning touchdown pass to Marquise Brown. The clutch throw capped off a performance Ravens head coach John Harbaugh described as one of the greatest he'd ever seen.
And when you dive deeper into the numbers, it's easy to see why he gave his quarterback such high praise.
Besides setting a franchise record with 442 passing yards, Jackson became the first quarterback in league history to complete at least 85% of his passes in a 400-yard game. He also became the first player to rack up 400 passing yards, four passing touchdowns, zero interceptions, and 50 rushing yards in a single game.
Oh, he also recorded the highest completion rate (86%) in a 40-pass game of all time.
Jackson obviously had plenty to smile about after his awe-inspiring effort against the Colts. On the other hand, the Ravens' front office may not have felt so chipper after the game given the potential financial ramifications of the team's most important player putting up huge numbers and strengthening his case for a record-setting contract.
Jackson's sensational performance could make Baltimore's costly mistake look even worse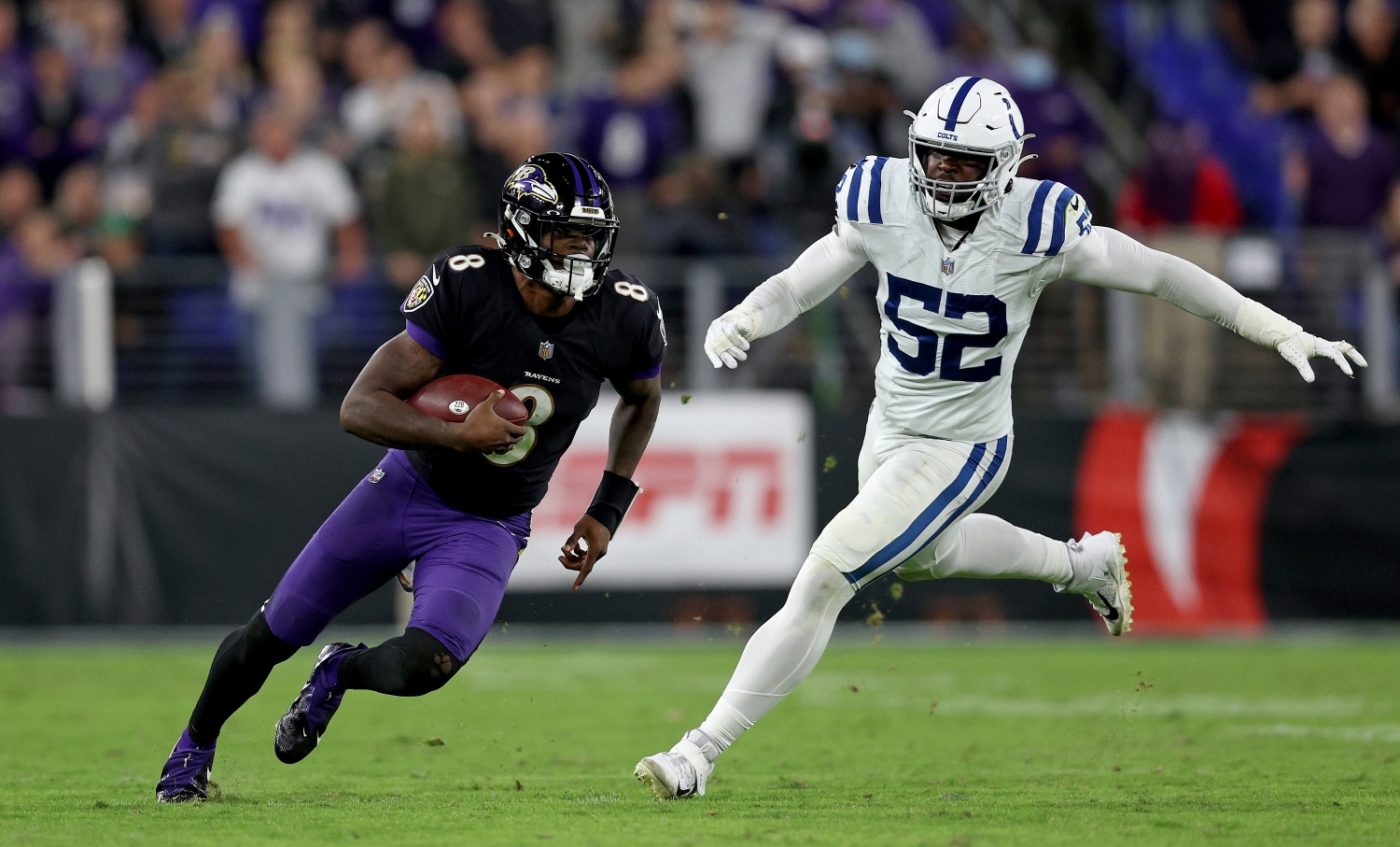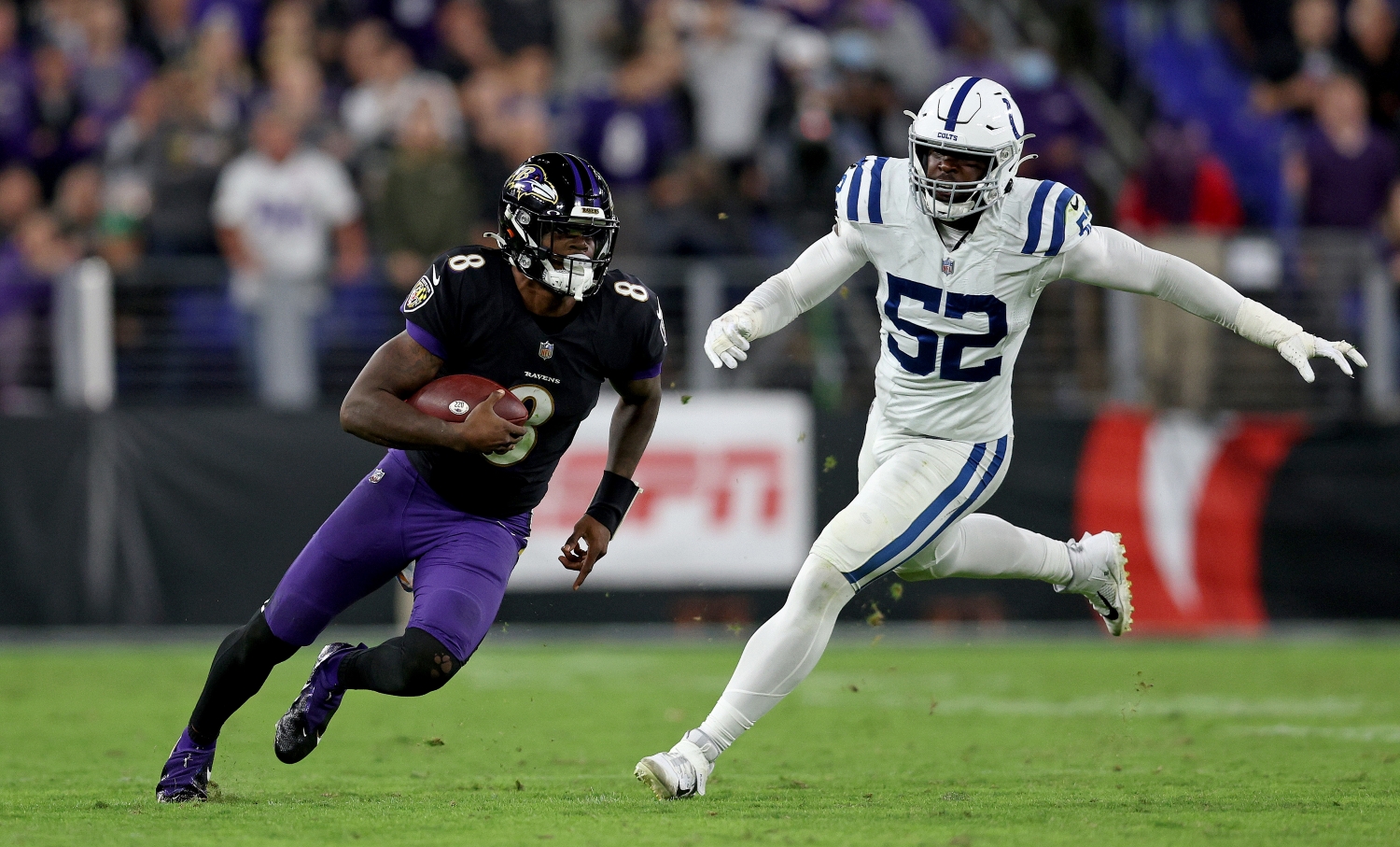 Baltimore landed a franchise-altering talent by trading up to take Jackson with the final pick of the first round of the 2018 draft. And once he took over starting duties on a full-time basis, it quickly became apparent he would cause major problems thanks to his rare athleticism and penchant for making big plays. And by using his array of skills to slice up defenses, Jackson has put himself in a position to cash in on his early success.
However, the Ravens have yet to extend his contract.
Still playing on his rookie deal, the 24-year-old has a laughably low salary of $1.77 million for the 2021 season. While that number will balloon to $23 million in 2022 thanks to the team picking up his fifth-year option, the fact Jackson does not have long-term financial security adds a layer of risk to the equation.
At the same time, though, Baltimore has made a costly mistake by letting the situation drag out. Instead of signing the dynamic signal-caller to a multi-year extension at any point over the past 10 months, the franchise has taken a more cautious approach. But with Jackson breaking records and emerging as a top MVP candidate, will his price tag go up over the course of the season?
Don't forget the Dallas Cowboys refused to meet Dak Prescott's contractual demands and went the franchise-tag route in 2020. When push came to shove, though, Jerry Jones ended up having to spend more money than he would have a year ago, as Prescott scored a $160 million deal with $126 million guaranteed even after he suffered a gruesome ankle injury.
If Jackson remains healthy (he's only missed two games in his career) and continues to showcase the skill set that made him an unstoppable force in 2019, his asking price should increase. Ultimately, the longer the Ravens wait to pay him, the more opportunity he has to prove he deserves a bigger contract with more guaranteed money.
What's a fair contract for a quarterback with such a unique skill set?
Baltimore can't afford to let Jackson leave, but figuring out the numbers for an extension remains a bit of a challenge. After all, there really isn't another quarterback in the league quite like him.
Should he top the 10-year, $503 million extension Patrick Mahomes received following his first Super Bowl victory?
It's tough to put Jackson in that realm due to his lack of playoff success. He's only completed 55.9% of his passes for three touchdowns and five interceptions in four postseason games.
To no surprise, the Ravens lost three of those contests.
However, does he deserve to get paid like Josh Allen?
That seems more than reasonable considering the Buffalo Bills star signed a six-year, $258 million deal despite having a 2-2 playoff record and essentially one season of elite play. Jackson doesn't boast the same size, strength or pure arm talent as Allen, but he offers more as a runner and has a longer track record of success.
Ultimately, there's no reason Lamar Jackson shouldn't become the second or third highest-paid quarterback in the league sooner than later. And if he manages to win his second MVP award and take the Ravens on a deep playoff run, he might just land a record-setting contract after all.
All statistics courtesy of Pro Football Reference. All contract data courtesy of Spotrac.