Patrick Mahomes' $503 Million Contract Could Cause the Chiefs to Suffer a Devastating Blow to Their Defense
The Kansas City Chiefs shouldn't have any regrets about signing Patrick Mahomes to a 10-year contract extension. After all, if you have the opportunity to keep the most talented quarterback in the NFL on your roster for the next decade, you shouldn't hesitate to make that happen.
However, even though they have their superstar signal-caller under contract for the rest of his prime, giving Mahomes a record-setting deal could come back to bite the Chiefs by costing them a key piece of their defense.
Unlike Patrick Mahomes, Tyrann Mathieu faces an uncertain future in Kansas City
Arguably the Chiefs' most valuable defensive player, Tyrann Mathieu has more than lived up to the three-year, $42 million contract he signed in 2019. A premier playmaker and well-respected leader who lines up all over the field, the 29-year-old has totaled 137 tackles, 10 interceptions, and 21 passes defended since he joined Kansas City as a free agent.
Despite his standing as one of the league's top safeties, the three-time first-team All-Pro projects to enter the upcoming season with no long-term financial security.
Mathieu is set to make $14.8 million in the final year of his deal. That may put him near the top of his position group for 2021, but that doesn't change the fact that his future remains up in the air.
Will the Chiefs make a significant multi-year investment to keep one of their biggest stars around? Or could Mathieu find himself playing for another team in 2022?
Both sides would agree that the relationship works. However, that doesn't necessarily mean the dynamic defender will continue to call Kansas City home after the 2021 season.
Mahomes' record-setting contract could cause the Chiefs to suffer a devastating blow to their defense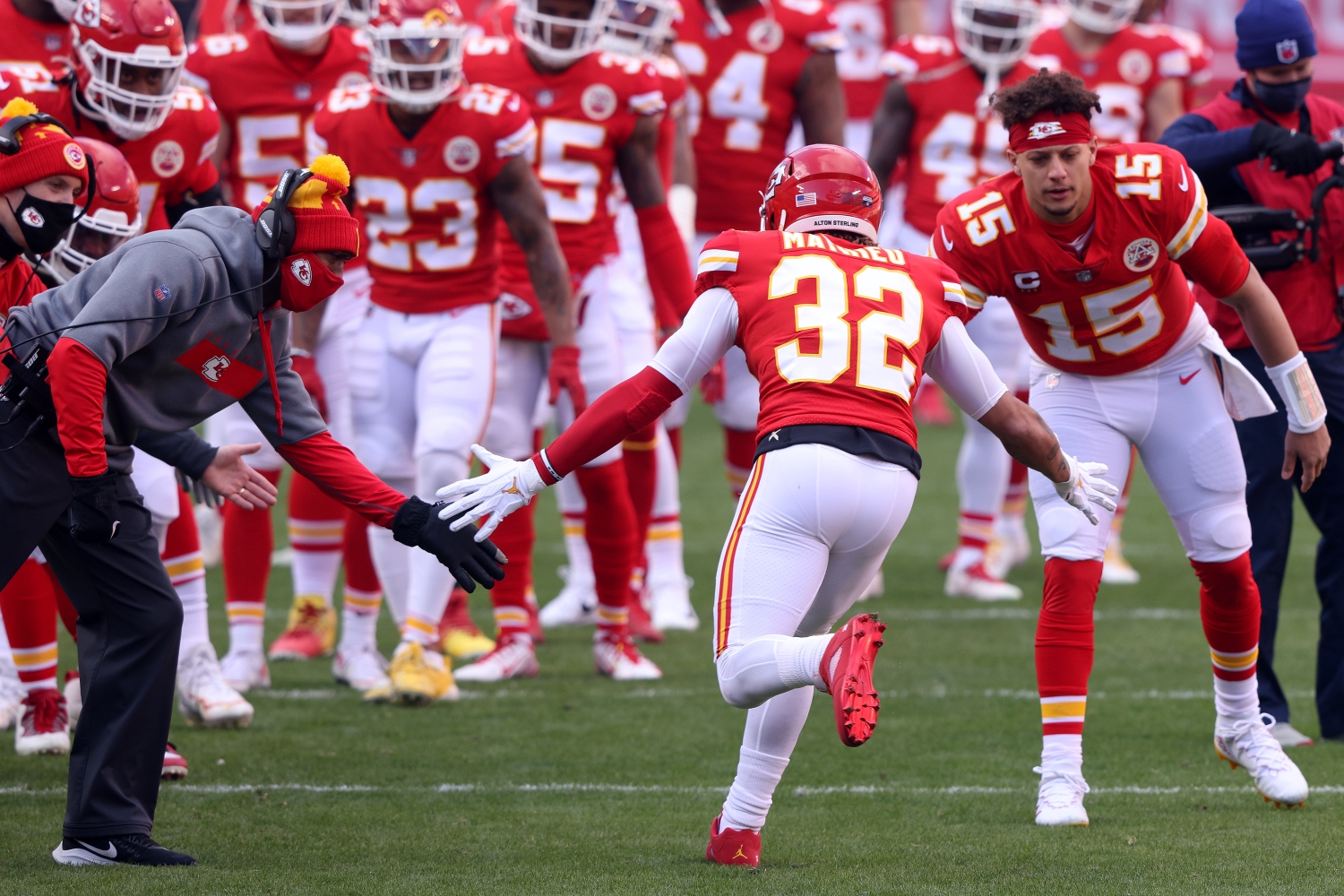 Could Patrick Mahomes end up costing the Chiefs one of their key defensive players?
While Kansas City would undoubtedly prefer to extend Mathieu's stay, that may not be possible. In fact, general manager Brett Veach discussed some of the financial challenges that stand in the way of an extension for the team's star safety.
"The landscape is super tricky," Veach told reporters at training camp, per ESPN. "We're at a $30 million [salary-cap] deficit from what we thought, and next year it's $15 million. Right now some things are out of our control just because of the cap reductions this year and next year. If you look at our books for next year, we're going to be over by a bunch."
He further added, "Right now we're counting Orlando [Brown] on a [franchise] tag, but we think he's going to play well, and we're going to extend him, and that opens up space. Restructuring [with other players] opens up space. Some guys moving on will open up space."
So, how does Mahomes figure into the Mathieu situation?
Luckily for the Chiefs, their best player only counts $7.4 million against the cap this season. Unfortunately for the back-to-back AFC champions, that number balloons to $35.8 million in 2022 and $46.8 million in 2023.
Mahomes' rising cap figures could force Veach and Andy Reid to make some sacrifices with the roster. If Mathieu puts together another All-Pro-caliber season, he should have a strong case to ask for more than $15 million per season on his next deal. The Chiefs may not be able to afford to pay him that type of money, especially if they have to dedicate a significantly higher percentage of their cap to Mahomes.
It will be interesting to see if Veach works some magic to prevent Kansas City from losing a key defensive cog. But Mathieu isn't the only player on the roster who needs a new deal sooner than later.
Brett Veach will have to make some tough decisions after the 2021 season
Getting Mathieu under contract for at least a few more seasons seems like it would be a smart move for Kansas City to make. Whether the franchise will have the financial flexibility to get a deal done remains a mystery.
While locking up their star safety should be priority No. 1, the Chiefs have other players in line for new deals, too.
Starting guard Laurent Duvernay-Tardif and defensive lineman Jarran Reed will become free agents after the 2021 season. Will the Chiefs try to get younger at both positions, or will they retain the two veterans?
Veach also needs to consider what to do about Tyreek Hill. The star wideout signed a three-year, $54 million extension in 2019, so he will hit free agency in 2023. Hill will count $20.7 million against the cap in the final year of his deal, so extending his contract would help open up space for Kansas City to spend money on other players.
Plus, Mecole Hardman and Juan Thornhill — both of whom arrived as second-round picks in 2019 — have contracts that expire in two years. Does Veach see the speedy receiver and the ball-hawking safety in the team's long-term plans?
Clearly, Tyrann Mathieu's contract situation is only the tip of the iceberg for a Chiefs team looking to avenge a bitter defeat in Super Bowl 55.
All statistics courtesy of Pro Football Reference. All contract data courtesy of Spotrac.