After Throwing His Teammates Under the Bus, Patrick Mahomes Deserves Credit for Finally Admitting to the Critical Mistake He Made in the Chiefs' Crushing Super Bowl Loss
Patrick Mahomes thoroughly enjoyed his first Super Bowl experience. After all, he led the Kansas City Chiefs to a 31-20 comeback victory against the San Francisco 49ers in the biggest game of the 2019 season.
However, the superstar quarterback had a challenging outing when the reigning champions took on the Tampa Bay Buccaneers in Super Bowl 55. Despite a gutsy effort by Mahomes, the Chiefs didn't come close to winning back-to-back titles.
In the aftermath of what must have been a frustrating February night, the 2018 NFL MVP surprisingly threw some of his teammates under the bus. However, by making an honest admission about a critical mistake he made against the Buccaneers, Mahomes not only shifted some of the blame to himself, but he also showed impressive humility and self-awareness that deserves praise.
A rough night resulted in some interesting postgame comments from the NFL's biggest star
Let's just say Mahomes and the Chiefs didn't look like themselves in Super Bowl 55. Playing behind an injury-ravaged offensive line, the superstar quarterback seemed out of sync with his receivers and uncomfortable in the pocket. Then again, Mahomes faced consistent pressure from a loaded Buccaneers front seven led by Shaquil Barrett, Jason Pierre-Paul, and Ndamukong Suh.
The uber-talented signal-caller finished the night with two interceptions, one lost fumble, and an uncharacteristically low completion rate of 53%. Plus, the Buccaneers registered three sacks and nine hits against Mahomes.
During his postgame press conference, the 25-year-old surprisingly threw some of his teammates under the bus by making some critical comments. After acknowledging that "we weren't on the same page as an offense" and that he didn't get the ball out on time, Mahomes called out a supporting cast that didn't live up to expectations in the biggest game of the season.
"The receivers were running routes not exactly where I thought they were going to be at," he told reporters. "The offensive line, they were good sometimes, and sometimes they let guys through."
Patrick Mahomes deserves credit for owning up to the critical mistake he made in Super Bowl 55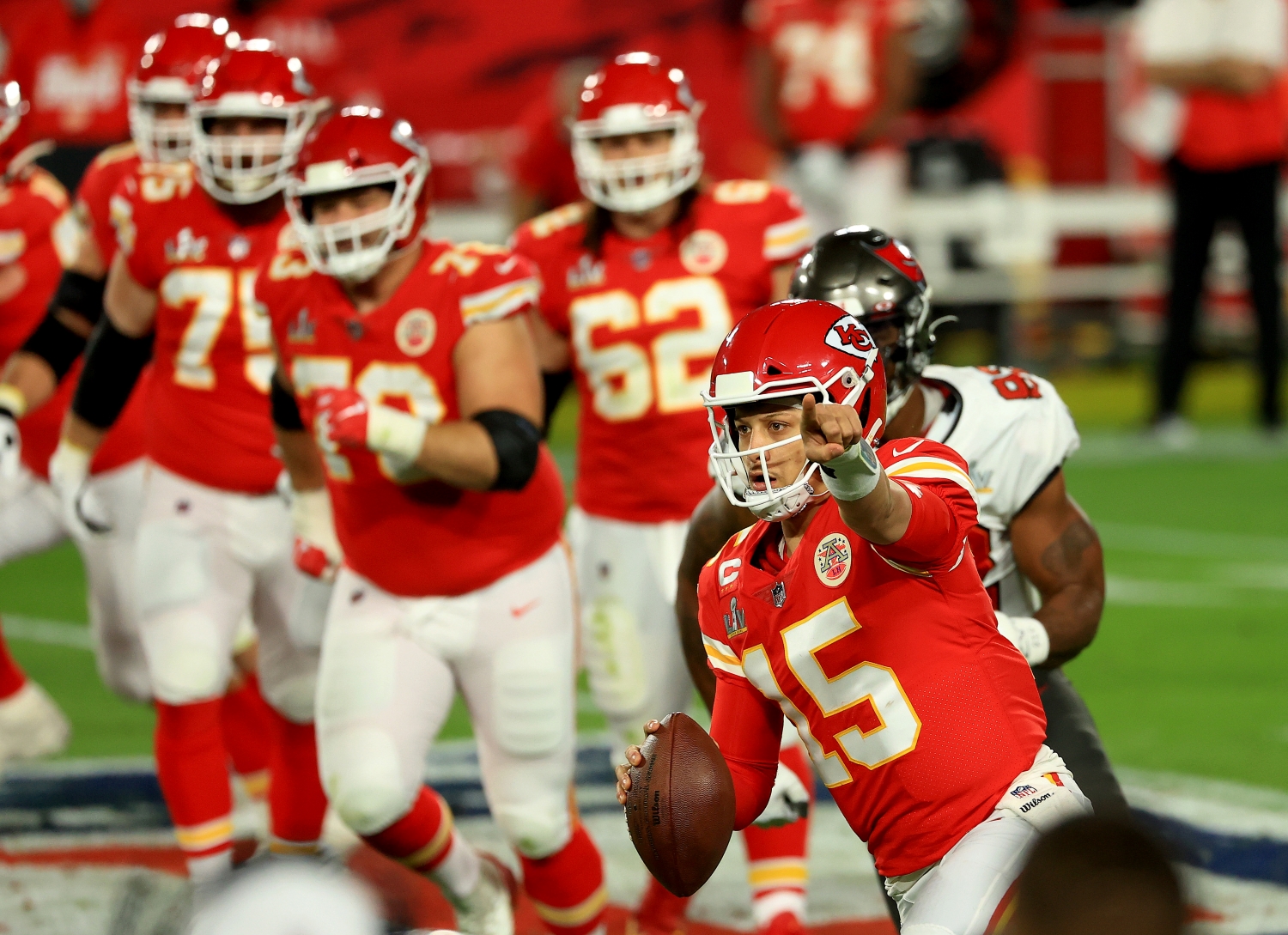 Mahomes wasn't wrong in his assessment of how Kansas City's offensive line performed in Super Bowl 55. Ultimately, the Chiefs' inability to protect their star quarterback derailed their chances of winning the Lombardi Trophy for the second straight season. However, criticizing his teammates — even without mentioning specific names — seemed out of character for a player many regard as an excellent leader.
More than six months later, though, Mahomes has shifted the blame in the other direction. And even though he threw some of his teammates under the bus after the Super Bowl, he deserves credit for taking responsibility for making a critical mistake against the Buccaneers.
"Sometimes, when I get hit early, I don't trust staying in the pocket and going through my reads," Mahomes told Kevin Clark of The Ringer. "I kind of get back to that backyard-style football a little bit too much. And you could definitely see that in the Super Bowl. I mean, there were times that pockets were clean and I was still scrambling."
Obviously, the Chiefs didn't do a good enough job giving their quarterback time to throw. But Mahomes admittedly lost trust and abandoned the pocket too early, so it's entirely fair to say he didn't have a flawless performance, either. For someone who makes magic happen on a routine basis, it was shocking to see him not throw a single touchdown pass.
Should the offensive line shoulder the majority of the blame?
Most definitely.
Did Mahomes play a role in his disappointing final stat line?
By not staying in the pocket and letting everything unfold, he undoubtedly missed out on at least a few opportunities to make plays in the passing game.
Ultimately, though, the fact Mahomes took responsibility for his culpability in the Chiefs' Super Bowl loss shows exactly why he's going to dominate the league for years to come. Having the awareness to recognize his mistakes and understanding the importance of adhering to the principles of success for the position should help the NFL's brightest young star sustain success over the long haul. That type of attitude and sense of humility make it easy to root for Mahomes, whose exciting playing style and fun-loving approach have already made him beloved in many circles.
The Chiefs shouldn't have any issues keeping Mahomes protected moving forward
Luckily for Mahomes, he shouldn't have to worry about getting proper protection this season.
After watching his most important player get beat up in Super Bowl 55, Chiefs general manager Brett Veach made sure to upgrade an offensive line that desperately needed an overhaul. In the span of only a few months, Kansas City completely re-tooled Mahomes' protection squad by making a number of high-impact moves.
First, the Chiefs signed Joe Thuney to a five-year, $80 million contract. The longtime New England Patriots stalwart will man the left guard spot and serve as a key locker room leader.
In addition, Veach went big-name hunting by trading for Pro Bowl tackle Orlando Brown Jr. The towering offensive lineman should keep Mahomes out of harm's way and help open up holes in the running game, too.
Kansas City also added two intriguing players in the draft who have significant upside. Second-round pick Creed Humphrey projects to start at center as a rookie, and he should anchor that position for years to come. Meanwhile, sixth-rounder Trey Smith has the physical tools and raw talent to become a long-term starter at guard.
Needless to say, Veach did everything possible to avoid a repeat of Super Bowl 55.
For Patrick Mahomes' sake, hopefully his GM made some smart investments.
All statistics courtesy of Pro Football Reference. All contract data courtesy of Spotrac.