Patrick Mahomes Vows to Fix the Fatal Flaw in His Game He Noticed While Painfully Rewatching Super Bowl 55
Patrick Mahomes doesn't have many flaws as a football player. The Kansas City Chiefs quarterback has a cannon for an arm, the accuracy of an Olympic archer, sneaky elusiveness that allows him to dodge defenders in the backfield, and a ferocious competitive fire that never goes out.
But while rewatching the worst performance of his young NFL career in Super Bowl 55, Mahomes noticed a glaring weakness in his game — a weakness that he's been working to fix all offseason long.
It's possible we're about to see an even more improved Mahomes this year, which is terrifying news for any NFL team not named the Chiefs.
Patrick Mahomes noticed a fatal flaw in his game while rewatching Super Bowl 55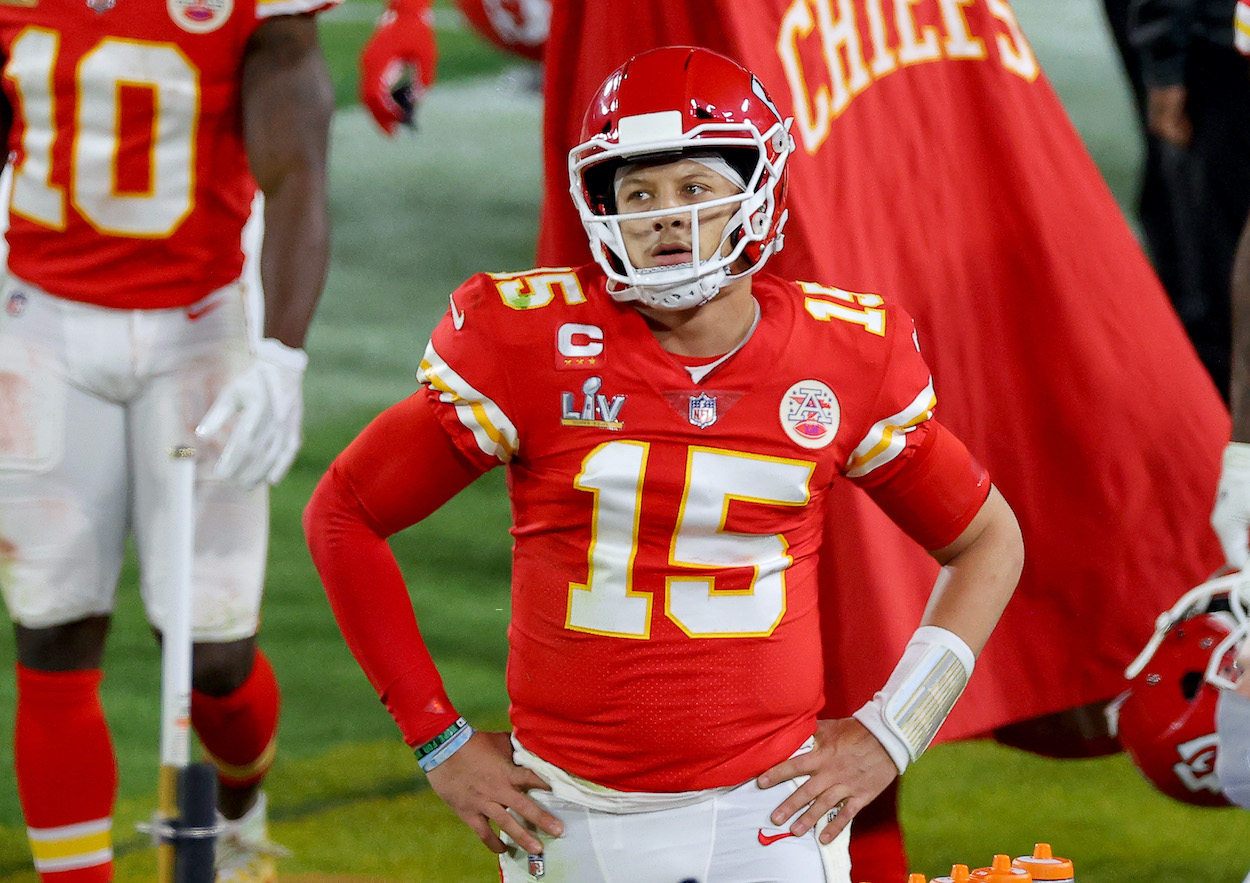 No one expected Super Bowl 55 to unfold the way it did. The Chiefs, who had never lost by more than one score since Mahomes took over the starting QB job in 2018, were thoroughly outplayed from start to finish in a 31-9 drubbing at the hands of the Tampa Bay Buccaneers.
Incredibly, Mahomes' offense failed to score a single touchdown in the game.
The biggest reason for Kansas City's offensive ineptitude in the contest was its inability to protect Mahomes. Tampa Bay ran through the makeshift offensive line missing multiple starters and pressured the superstar QB 29 times in the game, which set a new Super Bowl record.
But Mahomes admits it wasn't all his line's fault. While painfully rewatching the game this offseason, he noticed a concerning tendency that he wasn't at all happy with.
"Sometimes, when I get hit early, I don't trust staying in the pocket and going through my reads," Mahomes told Kevin Clark of The Ringer in a recent interview. "I kind of get back to that backyard-style football a little bit too much. And you could definitely see that in the Super Bowl. I mean, there were times that pockets were clean and I was still scrambling."
With so few flaws in his game to address at this point, Mahomes is putting all his chips into fixing this one.
Mahomes is determined to improve his pocket presence
There's not much Mahomes can still improve in terms of his skillset as a quarterback. He already has maybe the strongest and most accurate arm in the NFL, and his elite playmaking ability gives fans highlights they've never seen before on a weekly basis.
But now that Mahomes has identified a weakness in his game, he's going to do everything in his power to turn it into a strength this offseason.
"I've been going back [working] on that," he told Clark. "Making sure that I trust the guys around me and trust the pocket, make the read within the pocket and not try to make the big play happen.
"We have long drive drills. We're going 15 and 16 plays in a row of stepping up in the pocket and making the right reads and not just relying on scrambling and making all these different throws. That's just stuff that comes with repetition and a lot of hard work that I've tried to put in every single year."
Watch out, NFL. We're about to see a calmer, more patient Mahomes in the pocket this season.
Learning from the living legends
During the same conversation with Clark, Mahomes admitted he studies other star quarterbacks around the league and even goes to them for advice. Tom Brady and Aaron Rodgers have been two of his biggest sources of knowledge so far.
"The way he's able to move within the pocket and find those lanes and still make those big-time throws downfield is something that I think I need to get better at and something that I need to continue to grow with," Mahomes said about Brady.
"I think the biggest thing with Aaron is you see how he's evolved throughout his game," he said of Rodgers. "It's kind of like what I'm talking about, where he used to scramble a lot more, make all the different throws, and now he can just completely dice you up through the pocket."
Both Brady and Rodgers are two of the best in the game at maneuvering the pocket and staying patient in the face of pressure. If Mahomes can improve that part of his game, it's over for the rest of the league.