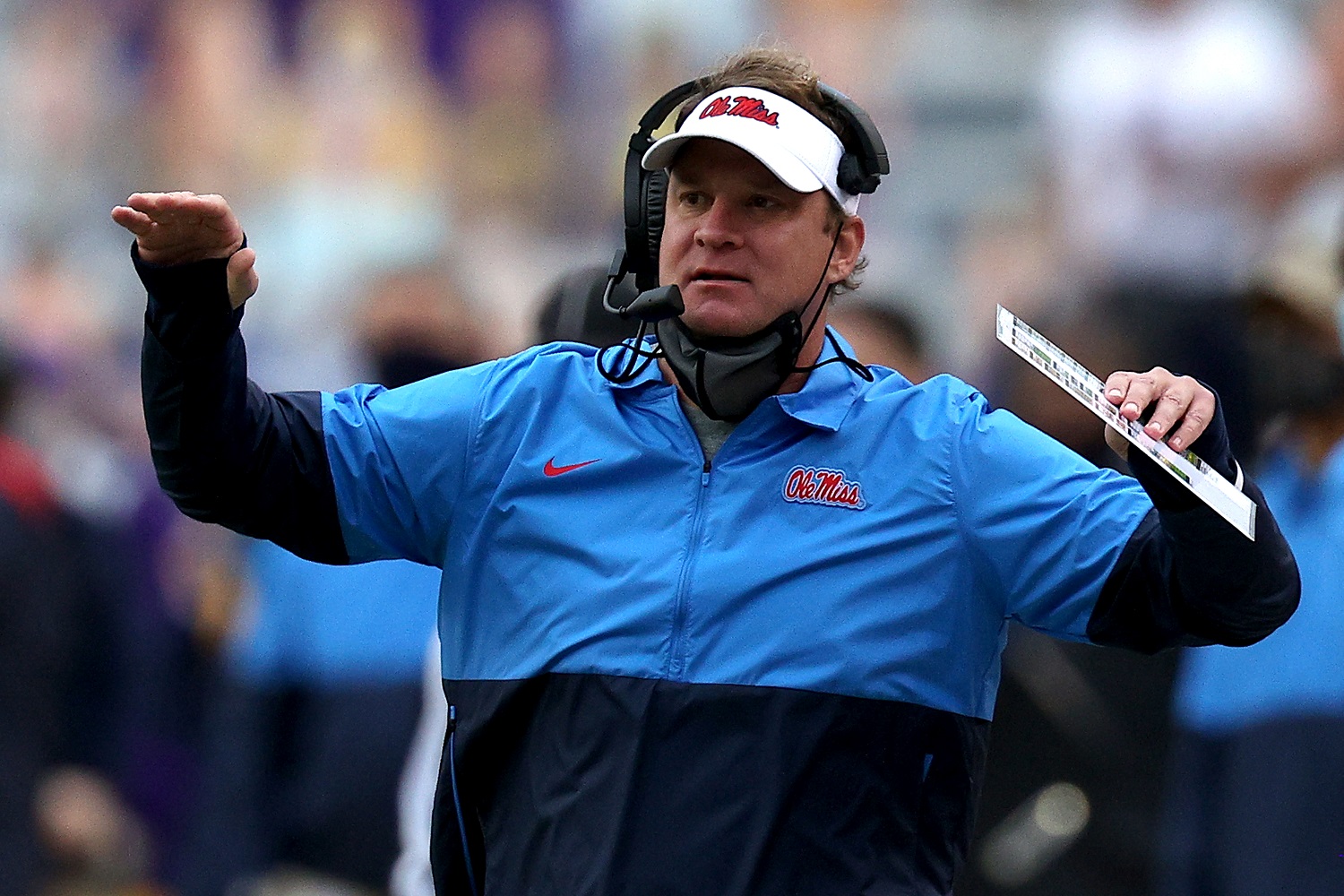 Lane Kiffin Got Busted for Showing Arch Manning He's the Only Quarterback Ole Miss Covets
Ole Miss football coach Lane Kiffin is pushing hard to land star quarterback recruit Arch Manning, even at the risk of alienating his current Heisman Trophy candidate.
Ole Miss football coach Lane Kiffin knows about awkward relationships. Working for Al Davis, even briefly, is a graduate-level course in the subject all by itself. The time a Rhodes Scholar fired him the tarmac practically qualifies as a doctoral thesis on the subtleties of bad breakups.
It might seem, then, that Kiffin, now 46, would know better than to rock the boat unnecessarily with his starting quarterback. Fortunately, junior quarterback Matt Corral seems to have a healthy sense of humor.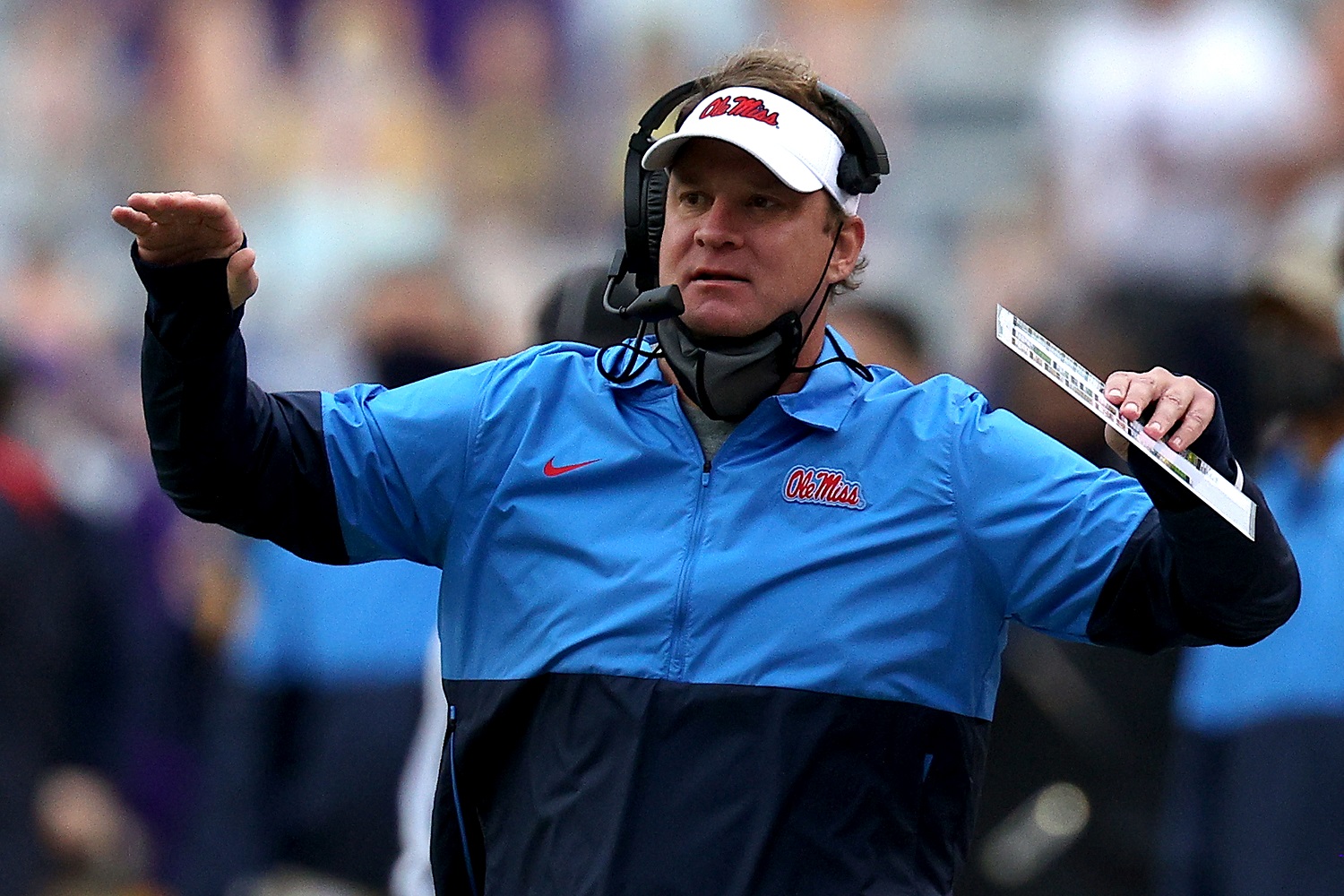 And, regardless of the initial optics, even Kiffin's critics must acknowledge that this week's episode confirms that the man knows how to recruit every bit as well as he runs an offense. Like many of his FBS peers, Kiffin is pushing hard for high school quarterback Arch Manning, the nephew of Eli and Peyton Manning, and he may have pulled off the move that puts him in the recruiting lead.
The background:
Kiffin is a football veteran. The University of Mississippi is his eighth school since starting on the Fresno State staff in 1997, and that doesn't include two brief stints in the NFL, one of which ended with Davis firing Kiffin early in his second season as head coach.
The Ole Miss job is a challenging one because playing an SEC schedule all but guarantees the team will take four or more losses before the season even starts. However, Ole Miss might have something brewing. The Rebels started Kiffin's first season with four losses in five games, including wild shootouts with highly regarded Alabama and Florida. Though they couldn't play a lick of defense, they did manage to finish the year at 5-5, beating Indiana in the Outback Bowl.
With Corral in his third season as the starting QB, Ole Miss is off to a 3-0 start and averaging 52.7 points a game on a bye week before an Oct. 2 showdown at Alabama. Corral threw for 29 touchdowns passes but also tossed 14 interceptions a year ago. This fall, he has accounted for 997 yards and nine touchdowns through the air with no interceptions. He has also rushed for 158 yards and five more scores. At 6-foot-1 and 205 pounds, he may not have quite the size that NFL teams covet, but he still potentially has nearly two full seasons to make an impression and has officially entered the Heisman Trophy discussion.
The trouble with college QBs, however, is that they graduate or even leave before they run out of eligibility. It's up to the coaches to make sure the program is stocked with successors, and that's where Arch Manning comes in.
Manning is the son of Cooper Manning, whose brothers played long and productive careers in the NFL. He's also a high school quarterback in Louisiana and one of the most coveted juniors in the country. Manning's grandfather, Archie Manning, and uncle Eli played for Ole Miss. Landing a third-generation QB from the family theoretically launches Kiffin and his program into the upper echelon of the SEC.
Kiffin wants the young Manning to know just how important he is to the Rebels' future plans. To that end, he is the only person Kiffin was following on Instagram … until this week.
Once the story about Kiffin's clever gimmick to emphasize Manning's significance to Ole Miss recruiters started making the rounds, the incumbent quarterback indicated he was feeling a bit unloved.
"Dont even follow your own qb.. outrageous," Corral joked on social media.
Kiffin responded in a since-deleted tweet: "Now this is funny!! You jealous @corral_matt??"
However, the coach is no dummy. He now follows two quarterbacks on Instagram, representing his present and what he hopes will be his future team leader.
Like Sportscasting on Facebook. Follow us on Twitter @sportscasting19.