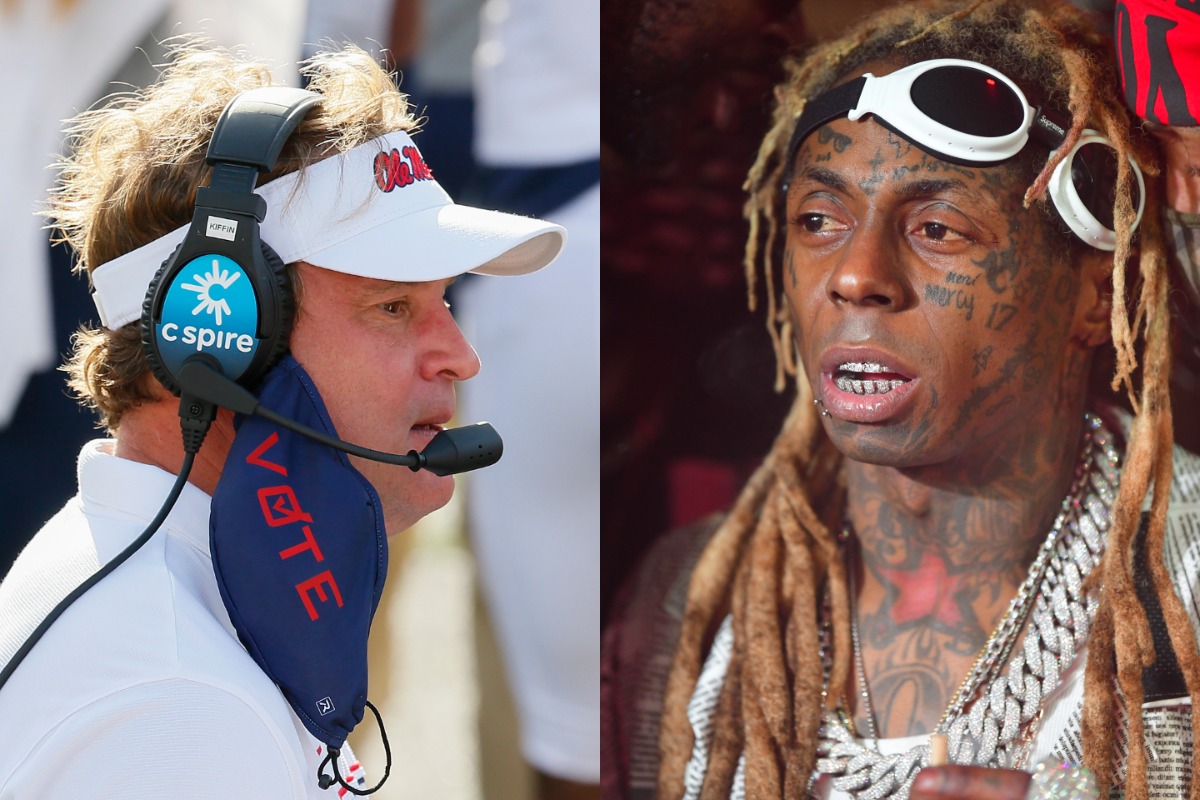 Lane Kiffin Once Quoted a Lil Wayne Line About Himself in a Pivotal Recruiting Pitch
Ole Miss head football coach Lane Kiffin is one of college football's greatest characters. Kiffin once quoted Lil Wayne in a recruiting pitch.
Ole Miss head football coach Lane Kiffin is as unique a football character as they come.
The son of legendary Tampa Bay Buccaneers defensive coordinator Monte Kiffin, Lane has done everything from recruiting middle schoolers to winning nearly everywhere that he has gone in a long college football journey.
Kiffin spent several seasons as Nick Saban's offensive coordinator at Alabama. While with the Crimson Tide, Kiffin found an interesting way to quote rapper Lil Wayne during a recruiting pitch.
Lane Kiffin has had a wild college football journey
Lane Kiffin certainly has had a long and busy journey over the last two decades.
Originally a quarterback at Fresno State who backed up future No. 1 overall pick David Carr, Kiffin began his coaching career there in the late 1990s. Kiffin rose to prominence in the mid-2000s at Southern California, where he eventually became the offensive coordinator in 2005.
With Matt Leinart at quarterback and the running back duo of LenDale White and Reggie Bush, USC made the national title game after the 2005 season. Texas quarterback Vince Young's late rushing touchdown gave the Longhorns a championship.
Al Davis and the Oakland Raiders hired Kiffin before the 2007 season, but fired him four games into his second campaign. Kiffin went 7-6 at the University of Tennessee in 2009 before returning to USC and replacing Pete Carroll, who took the Seahawks' head coaching job.
Despite dealing with NCAA-imposed sanctions from the last staff, Kiffin went 28-15 in three-plus years at USC. The Trojans fired Kiffin midway through the 2013 season after a 3-2 start.
After three excellent years as Alabama's offensive coordinator, Kiffin took the Florida Atlantic head coaching job in December 2016. Kiffin went 26-13 in three years with the Owls and won two Conference USA championships.
Ole Miss went 5-5 last season under Kiffin and defeated No. 11 Indiana in the Outback Bowl.
Kiffin is one of college football's greatest characters
Visor on his head and hands jubilantly raised after a long touchdown, Lane Kiffin is among college football's most popular head coaches.
Kiffin's social media activity has placed him in that club, especially as he was mostly away from the national spotlight while at FAU. Kiffin tweets about everything from his football team to fishing on his boat to a reminder that, yes, he has won several trophies.
During his time at FAU, Kiffin once ignited a social media firestorm when he joked that he had punter Ryan Rickel intentionally take a safety for gambling purposes. FAU closed at -6.5 favorites over Marshall on Nov. 3, 2017, and won 30-25.
As of Feb. 2, 2020, Kiffin had nearly 500,000 followers on Twitter.
Lane Kiffin uniquely used Lil Wayne on a recruiting visit
The world of sports and rap music often cross over with one another, something that Kiffin realized firsthand in the fall of 2009.
Kiffin was in his lone year at Tennessee when rapper Lil Wayne shouted the head coach out in a song, "Banned on TV." Wayne included the lyric, "smoke weed, talk s— like Lane Kiffin" in the freestyle.
Kiffin surely noticed the shoutout he received. In an August 2014 interview with 247 Sports, Jacques Patrick — a high school running back who Alabama was pursuing at the time — said that Kiffin referenced Wayne's lyrics when the two met.
"I told him I was listening to a song and Lil Wayne gave him a shout out. He quoted it for me, he knew it. I was like, 'that was pretty cool.'"
The shoutout didn't make much difference in the end. Patrick signed with Florida State instead of Alabama.
Patrick ran for 1,790 yards and 17 touchdowns in four seasons at FSU. The 24-year-old spent the 2020 season on the Cincinnati Bengals' practice squad.
Like Sportscasting on Facebook. Follow us on Twitter @sportscasting19.