Larry Bird Was Ailing but Still Managed to Secure a Legendary Triple-Double in the Final Month of His Career: 'Forget One Leg, He Was on Half-a-Back'
To this day, few players in NBA history have topped the career of Larry Bird. In 13 seasons, Bird secured three MVP Awards and three championships for the Boston Celtics, among many other accolades. Yet his career is often a reminder you can't play forever.
While a guy like LeBron James is putting up MVP numbers into his 19th NBA season, Bird managed to last just 13 seasons in large part due to back problems that plagued him for multiple years. His pain was more evident with every passing season until he called it quits in 1992. Yet for one night, mere weeks before his final professional game, the 35-year-old put up one more performance for the ages.
Larry Bird secured his last triple-double in a double OT thriller
Perhaps it was simply the luck of the Irish. But on March 15, 1992, two days ahead of St. Patrick's Day, the Celtic great put on a show.
Bird and the Celtics were hosting the Portland Trail Blazers, who entered the matchup at an impressive 46-18. The Hall of Famer had been battling his back all season, succumbing to it for two months before returning on March 1. He had also been struggling at times, entering the game only four days removed from a measly 10-point night on 4-of-15 shooting.
But vintage Larry Bird had one more spectacular game left in him.
In a marathon that required not one, but two overtime periods, Bird scored 49 points on 19-of-35 shooting in 54 minutes. The Hick from French Lick, who was wearing a plastic back brace, also pulled down 14 rebounds and dished out 12 assists, earning him his 59th and final triple-double. He also grabbed four steals and a block, for good measure.
Boston managed to pull off the epic 152-148 win, but the story of the night was Larry. It was his highest-scoring triple-double ever, surpassing his previous high of 47 against none other than the Trail Blazers on Valentine's Day of 1986. But that's not all. It remains the most points any Celtic has scored in a triple-double performance. And since then, only James Harden and Russell Westbrook have been able to notch a triple-double with 49 or more.
Former Boston Celtics forward Rick Fox described what seeing Bird was like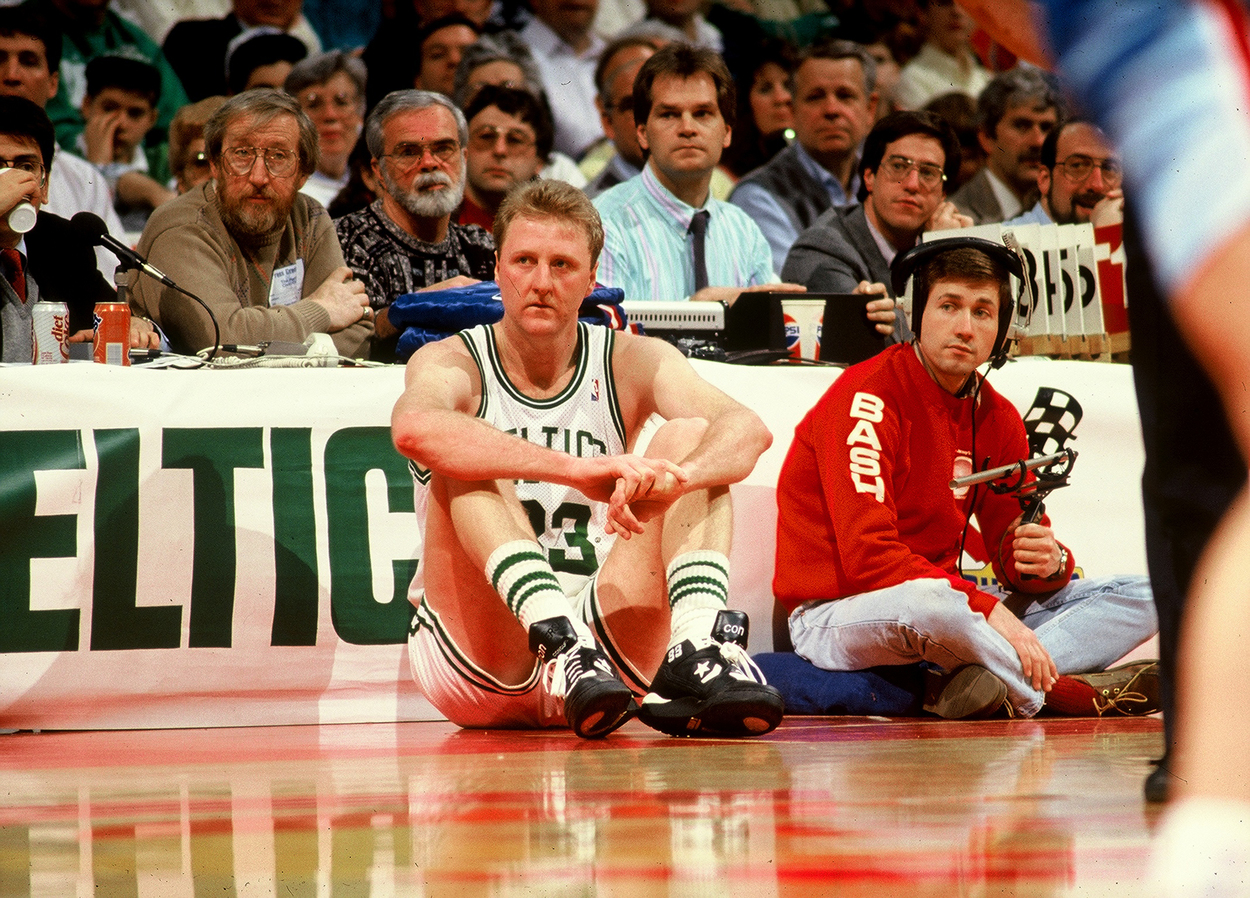 Rick Fox, who's primarily remembered as a three-time champion with the Los Angeles Lakers, was drafted in the first round by Boston in 1991. The 13-year veteran was able to get a first-hand look at everything Larry was going through, particularly when it came to his ailing back.
"I was Larry's rookie so I got to see him actually fight through a back that was falling apart," Fox said on The Dan Le Batard Show with Stugotz. "Forget one leg, he was on half-a-back. And I think to even get ready for that game he must've run around the Boston Garden just trying to loosen it up. And then he went for a triple-double."
Fox, who wore Celtics green for six seasons, then recalled how meaningful it was to see the Hall of Famer fight through his pain and play a career-high 54 minutes.
"It was just the most magical NBA experience for me as a rookie because I had watched Larry be Larry on television for years but I hadn't witnessed it in person," Fox explained. "It was the thing I was looking most forward to from playing with [the Celtics]. But he was just not at the point physically where he could do that every night. But he did it for that night, man, and it was special."
Despite a career cut short, Larry Bird goes down as one of the game's greatest players
Ever the competitor, Bird was forced to miss six of Boston's 10 playoff games in 1992. His final game came on May 17, when the Celtics great managed just 12 points in a Game 7 loss to the Cleveland Cavaliers. But his toughness is just one of the reasons why Larry Legend is one of the best to ever put on a uniform.
Bird made the All-Star Game 12 times in 13 seasons, with the lone exception coming in 1988-89 after a procedure to remove bone spurs in his heels cost him all but six games. He also managed to make 10 All-NBA teams, nine of them First Team, as well as three All-Defensive Second Team selections.
The Indiana native ended his career with a trio of MVPs and rings, a pair of Finals MVPs, and a Rookie of the Year award. He remains third on the Celtics' all-time scoring list with 21,791 points, even though he's only played the eighth-most games in franchise history. Bird is also second in win shares behind the 11-time champion Bill Russell, cementing his place as one of Boston's all-time greats.
By the time his career was coming to a close, Bird was far from the player he used to be. But on that one unforgettable night against Portland, Larry Legend reminded everyone just how special he was.
All statistics courtesy of Basketball Reference.