Larry Bird, the Cadillac of Boston Celtics, Was Outshined in His NBA Debut by a History-Making Ford
Boston Celtics fans waited a long time. Larry Bird was selected with the sixth overall pick in the 1978 NBA Draft, but he didn't make his pro debut until 1979. Unable to come to a contract agreement, Bird elected to return to school for another year. He finally worked out a deal and played his first game on Oct. 12, 1979.
The Boston Garden was rockin' with a rare sellout. The anticipation of seeing Bird in Green was sky high. When it was all said and done, te storyline of the game revolved around Celtics shooting guard Chris Ford.
Rookie Larry Bird was the talk of the town in Boston
Negotiations to bring Bird to Boston were heated between Celtics president Red Auerbach and player agent Bob Woolf. After Boston selected Bird in 1978, the sides were far apart in negotiations as Auerbach said the Indiana State star was not a franchise player and shouldn't be paid like one.
"Larry Bird can help, but he's not a franchise," Auerbach said to Woolf, according to Sports Illustrated. "Geez, you got to keep your self-respect. After all, he can't play by himself."
It came down to June 1979, the month of the draft. If no deal was struck, Bird would re-enter the draft. The two sides finally came to an agreement with Bird inking a five-year deal worth $650,000 per season.
Excitement ran rampant around Boston. Tickets sales jumped 25% and the Bird watch was on. Finally, there was some hope for Celtics basketball.
Larry Bird made his NBA debut on Oct. 12, 1979, but Chris Ford made history in the game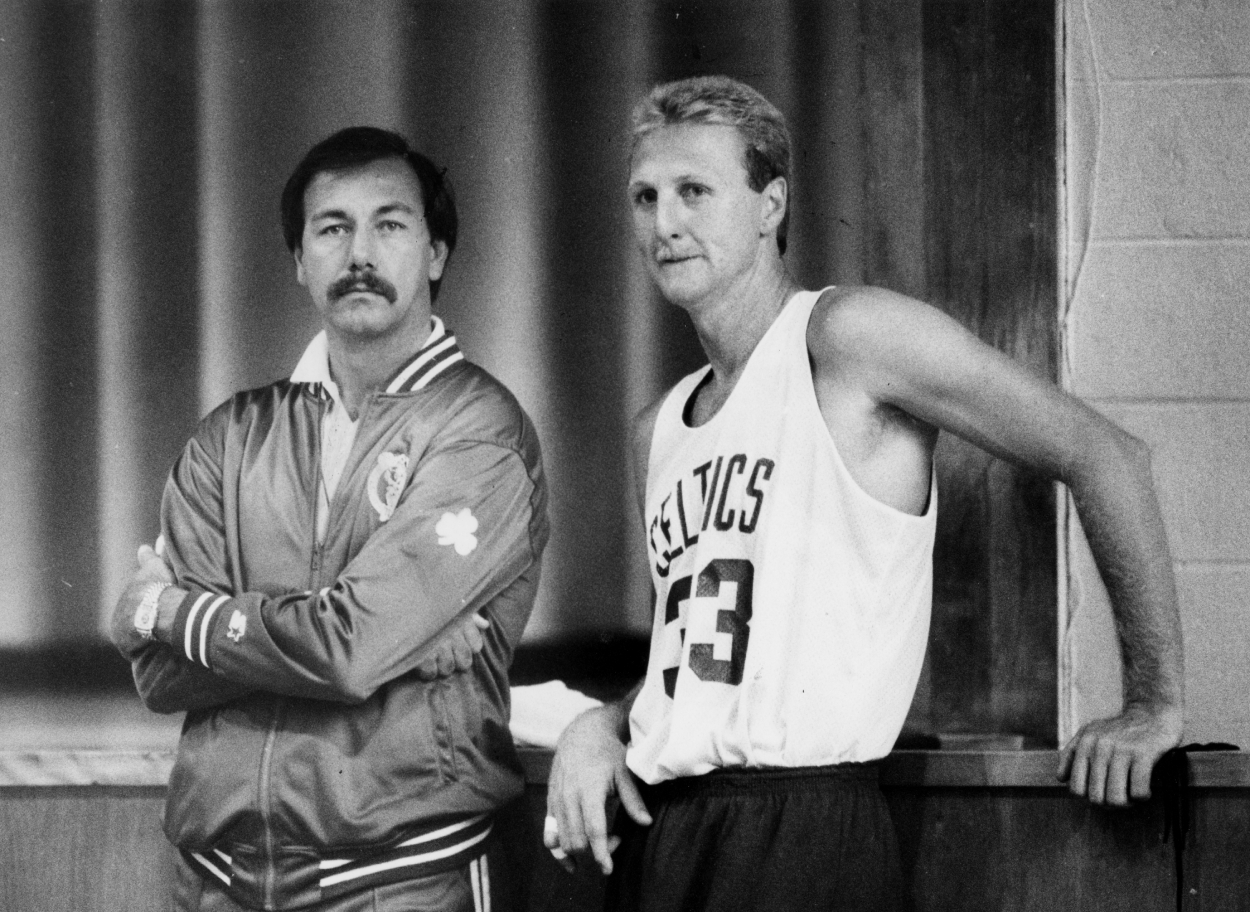 In front of a capacity crowd of 15,320 at the Boston Garden, Bird made his NBA debut on Oct. 12, 1979. The Celtics hosted Moses Malone and the Houston Rockets and were looking for a quick start to the season to improve on their 29-53 mark the previous year.
Bird didn't disappoint, but he was hardly spectacular. He finished with 14 points and 10 rebounds in a 114-106 victory. He played 28 minutes and was 6-for-12 from the floor and made both of his free throws.
While all eyes were on the rookie, much of the postgame talk centered around shooting guard Chris Ford. Ford played 27 minutes and finished with 17 points. He went 7-for-15 from the floor and 2-for-2 from the line. Ford made NBA history with one of his field goals when he connected on the first 3-pointer in NBA history.
Ford's long-range shot was the only one the Celtics made in the game. They attempted three total, with Bird and Dave Cowens missing their attempts. The Rockets were a little more aggressive in their 3-point shooting but only connected on one as well. Rick Barry accounted for Houston's as the team finished 1-for-10 from long distance.
Chris Ford went on to serve as head coach of the Boston Celtics
Ford made 70 3-pointers during the 1979-80 NBA season. He shot 43% from long range, going 70-for 164. He played two seasons after that and finished his career going 126-for-336 from beyond the arc.
When his playing career was over, Ford was an assistant coach with the Celtics from 1983-1990. He took over the head coaching job for the 1990-91 season. In his first two seasons, he led the Celtics to 50-plus win seasons and first-place finishes in the Atlantic Division.
Ford coached five seasons with the Celtics, finishing with a 222-188 record. He also served as head coach of the Milwaukee Bucks, Los Angeles Clippers, and Philadelphia 76ers. His career coaching record is 323-376.
All stats courtesy of Basketball Reference.