Larry Bird Doesn't Have Fond Memories of His 60-Point Performance: 'It Wasn't That Good of a Game'
For the most part, NBA players are a confident bunch. That was especially true of Larry Bird. While the Boston Celtics star kept things rather simple in his personal life, he was an unstoppable force on the court. Larry Legend had such faith in his own abilities that he was known to tell the defense exactly how he planned to score before following through. He was simply that good.
Through that lens, Bird's memory of his legendary 60-point performance makes perfect sense. While other men might talk about feeling great or being in the zone, the Hick From French Lick does things a bit differently. In his mind, the game wasn't to his liking.
Sound unbelievable? That's Larry Bird for you.
Larry Bird remembers his 60-point performance as a sloppy night that wasn't to his liking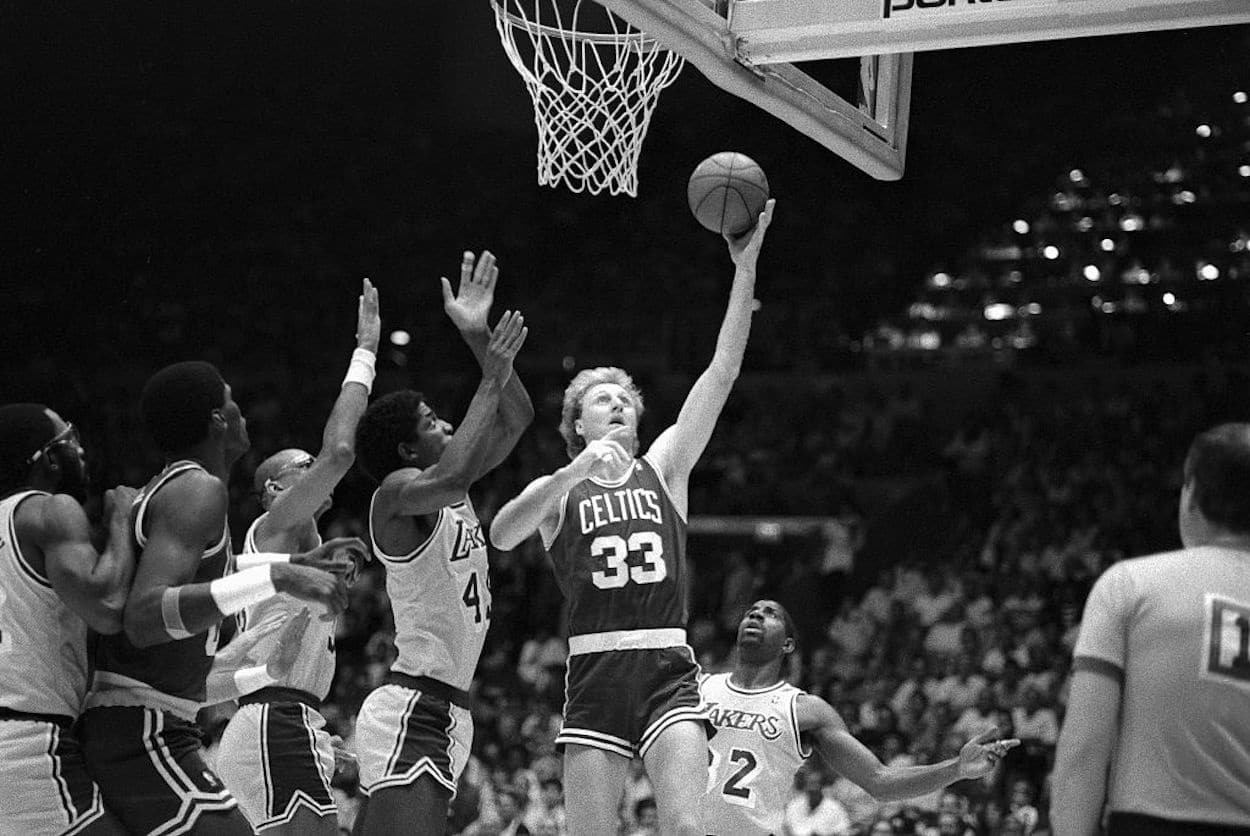 While Larry Bird produced his fair share of epic performances over the years, his 43 minutes of work on March 12, 1985, sit near the top of the list. On that day, the Boston Celtics faced off against the Atlanta Hawks in New Orleans' Lakefront Arena.
Although the 126-115 scoreline doesn't seem remarkable, the box score reveals that something truly special happened. Bird scored an incredible 60 points, shooting 61.1% from the floor (22-26). He only made one three-pointer, but sunk 15 free throws, in addition to pulling down seven rebounds and dishing out three assists for good measure.
Flashing forward in time, the famous forward was asked about his memories of that contest during a 2015 ESPN interview. If you were expecting Larry Legend to wax poetic and talk about things in glowing terms, you're sure to be disappointed.
 "It wasn't that good of a game," Bird told Mike Mazzeo. "I like the hard-fought, scrappy games, pound it inside. It was just a loosey-goosey game. It was a pretty close game, as I remember. We weren't up 20, 25, but we were up 10 the whole way, and it just wasn't a good game. I ran a 5-mile race two days before that, and actually, I was very sore. My legs were really sore. I wasn't tired or anything, but I was really sore."
As if that wasn't enough, the three-time NBA champ doubled down. If you weren't clear, he didn't consider that game to be enjoyable.
"I knew I was gonna play that night," Bird continued. "I just didn't know how effective I was going to be. But once I started going, I was making shots. But it just wasn't a fun game to play in. It wasn't my type of game."
Fun or not, some iconic pieces of Larry Bird lore emerged from that game
While Bird's response may be a bit anticlimactic, that's not the entirety of the story. While he may not remember the game very fondly, that outing did produce some stories that have become key parts of his legacy.
First, as mentioned above, Larry Legend had a knack for trash-talking. That was true on March 12, 1985. At one point, he apparently used the phrase "in the trainer's lap." While the rest of the Celtics assumed that he was simply predicting a deep three-pointer, things became a bit more literal.
After releasing a jumper, Atlanta's Rickey Brown bumped Larry Legend into the Hawks' bench. The shot, of course, hit the bottom of the net, and Bird found himself in the trainer's lap. Was it a coincidence? You'd have to think so, but with Bird, you can never be 100% sure.
And, on the subject of the Hawks bench, another piece of the puzzle involves them. Dominique Wilkins remembers having to fine some of his teammates because they were cheering on the bench whenever Bird made a big shot. Again, that speaks to the sheer magnitude of Larry Legend's performance; even the opposition knew they were witnessing something special.
Lastly, let's consider Bird's lead-up to the game. On March 3, Kevin McHale broke Bird's scoring record when he dropped 56 points against the Pistons. As the story goes, the power forward asked if he could re-enter the game, and Larry Legend quipped that he should push for the 60-point plateau since 56 wouldn't last for long.
As it turns out, the record lasted for nine days before Larry Legend set the new high-water mark. Again, was it just chance that those two games happened in quick succession? Probably, but anything is possible when Bird is involved.
In a way, the forward's non-plussed memory of that fateful game in New Orleans only adds to the legend. It's one thing to drop 60 points and be thrilled; it's another to score 60 and remember how disappointing that game was.