Larry Bird Had a Perfectly Understated Response While Discussing His NBA Legacy
While everyone has their own favorite NBA players, it's impossible to argue with Larry Bird's position in the all-time basketball pantheon. The famous forward might not have been the most athletic man ever to hit the hardwood, but that wasn't a problem. Not only did he possess the skillset to thrive, but he had more than enough confidence to put any opponent in their place.
In retirement, though, Larry Legend managed to take things down a notch. While he didn't change who he was — if anything, the Hick from French Lick was remarkably consistent — he had an incredibly low-key take when it came to his own legacy.
Larry Bird has an incredible NBA resume, but he's not going to sing his own praises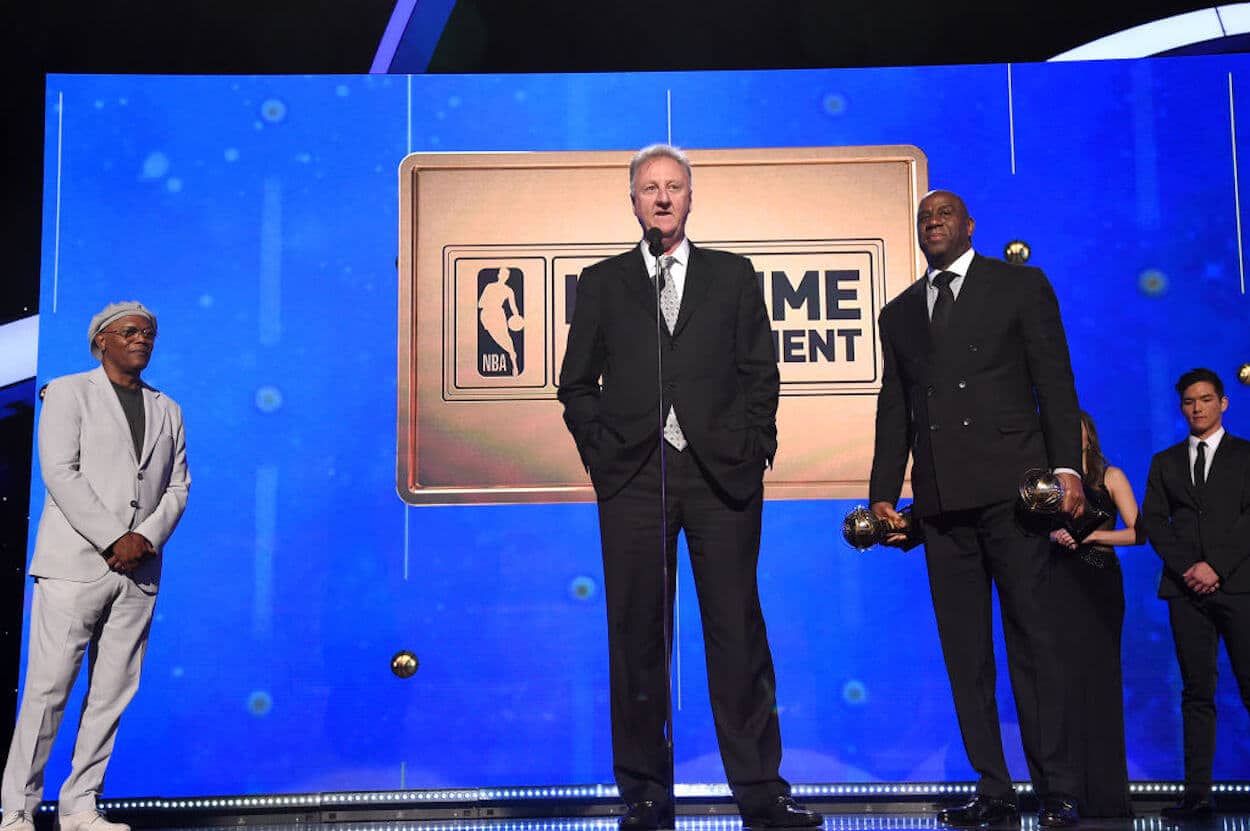 One of the ongoing debates within the world of sports centers around how you define greatness. Is it tied to championships? Should individual honors and scoring records take precedence? No matter which side of the aisle you find yourself on, though, Larry Bird has you covered.
At the risk of boring you with a list of his all-time accomplishments, we'll run through an abbreviated version of Bird's body of work. At the macro level, the famous won three titles with the Boston Celtics. In terms of individual honors, he won the 1979-80 Rookie of the Year title, claimed three MVP crowns, and earned two NBA Finals MVP nods. From a statistical perspective, he also averaged 24.3 points, 10.0 rebounds, and 6.3 assists across his career.
And, as if that wasn't enough, Bird found success after hanging up his sneakers. He shone as a head coach and executive for the Indiana Pacers; in fact, he's the only man in history to win Rookie of the Year, MVP, Finals MVP, All-Star MVP, Coach of the Year, and Executive of the Year. 
While that body of work would give anyone the right to too their own horn, Larry Legend took a different course of action. When discussing his legacy with Brian Mahoney of the Associated Press (h/t the Daily Hampshire Gazette), Bird didn't take much time to sing his own praises.
"I'm not a guy that talks about my past because I always look to the future, but you really sit down and look at it, I've been involved in a lot, it's pretty nice," the forward simply explained.
That might seem unbelievable — this is coming from a man who famously asked his Three-Point Contest peers who was coming in second — but it largely fits within Bird's character. Even when he found fame and fortune, the NBA star never forgot his humble roots. He was still one to wear what he wanted, enjoy the simple pleasures of life, and, in this case, refuse to hype up his own accomplishments.
And, to be clear, he came by it honestly. Bird's mother, Georgia, once said that she couldn't fathom he son's NBA salary and, despite his earning power, insisted that she wasn't out buying expensive clothes. "I'm kind of country," she explained.
Some things, it seems, never change.