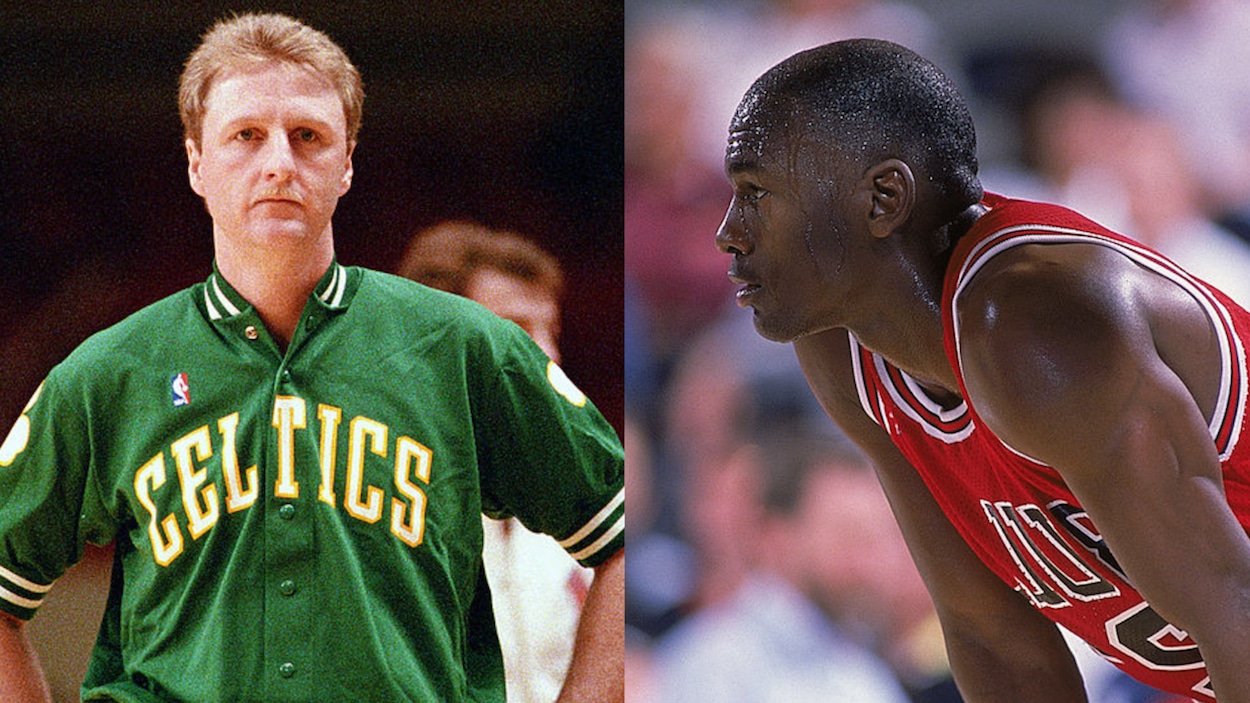 Larry Bird Had an 'Unbelievable' Memory of Michael Jordan's Jumping Ability: 'His Knees Almost Hit Me in the Chin'
If you ever find yourself wondering about how impressive Michael Jordan really was, just listen to Larry Bird's early memory of His Airness.
Once an NBA player retires, their reputation can become a bit skewed. Take someone like Michael Jordan, for example. While many fans saw His Airness play with their own eyes, each day moves us further and further away from the last time the living legend hit the hardwood. If all you know of MJ is highlights, maybe you're only getting half the story. He's obviously great, but was he really all that?
Larry Bird wouldn't equivocate. If you asked him for his take on Jordan, he'd tell you in his straightforward style that, yes, the Chicago Bulls star was truly something special.
Don't believe us? Let's consider what Bird had to say on that exact subject.
Larry Bird remembers just how naturally gifted Michael Jordan was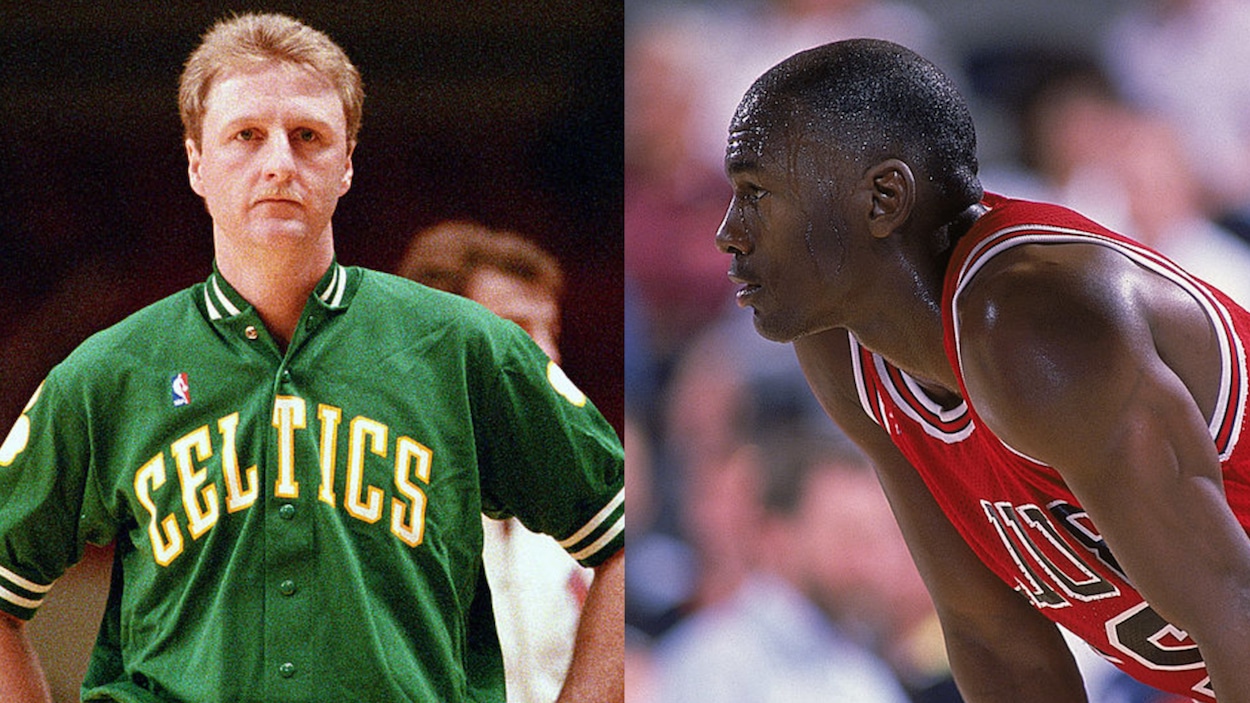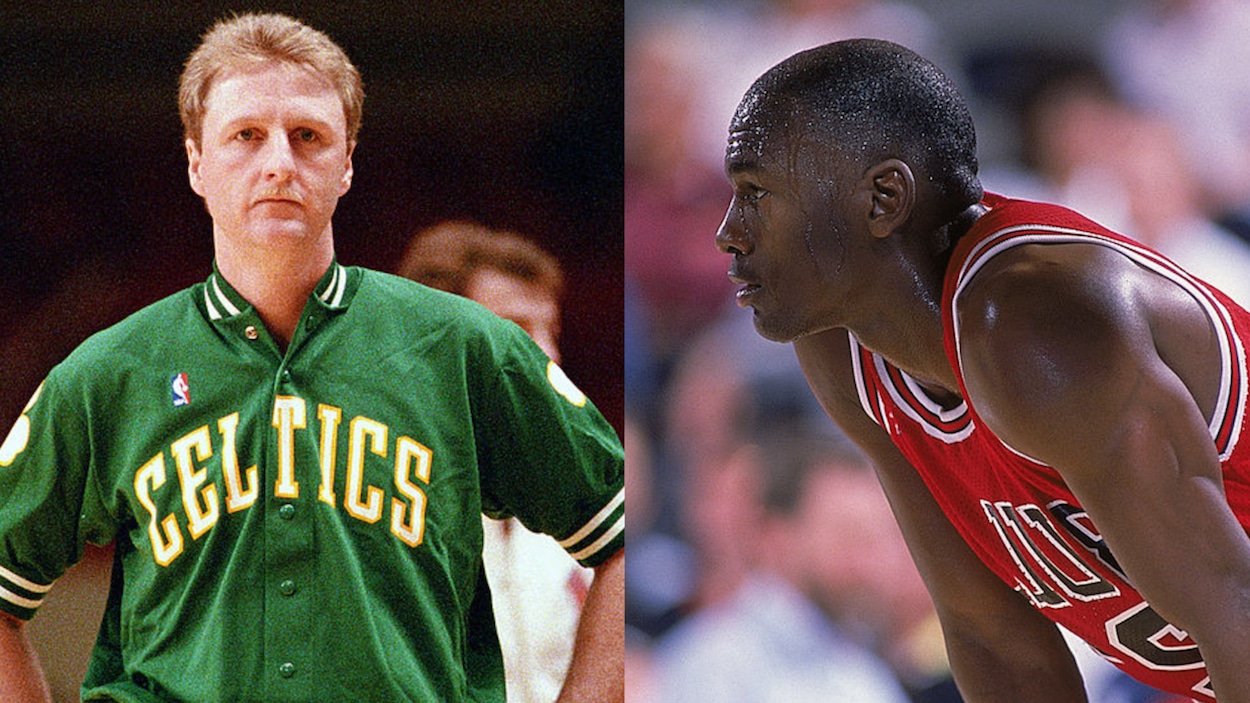 During their respective times on the NBA hardwood, Larry Bird and Michael Jordan had their share of Eastern Conference encounters. Those experiences, along with some collaboration on the international stage, left the Celtics star with an unshakable take on His Airness.
"If I said, 'Michael Jordan,' what would you say," Magic Johnson asked Bird during a conversation that's preserved on Youtube. "I think 'unbelievable,'" the forward simply responded.
Thankfully for us, though, Larry Legend wasn't done there. He went on to recall one moment that perfectly illustrated just how outstanding of an athlete MJ truly was.
I can tell you some things that happened in the games against us. One time, I turned, I jumped, and he still went, his knees almost hit me in the chin. And that's when I realized that this guy's pretty special for his jumping ability. Cat quick. He closed down a pass lane as fast as anybody I've ever seen. And just a phenomenal player.

Larry Bird
And, just to underscore how impressive that feat is, let's crunch some numbers. Bird clocked in at 6-foot-nine. Even if he didn't have the greatest jumping ability, we can assume that, mid-leap, his chin would be at least six feet off the ground. If we take the forward at his word, Jordan's knees were nearly that high, too.
That, quite simply, is a gift.
Jordan had a contrasting memory of Bird, although he used it to sing the Celtic's praises
If Michael Jordan could soar through the air like a real-life superhero, Larry Bird wasn't as lucky. For all of the forward's confidence, he wasn't ever going to take off from the free-throw line and throw down a slam dunk. MJ, as you might expect, knew that, but it didn't decrease his respect for Larry Legend.
"He can't jump, and he's not quick," Jordan said of his Eastern Conference foe in 1987. "But you can't increase your jumping ability or your quickness. He makes up for it by using his head, analyzing the opponent. It makes him better than the competition. Consequently, he doesn't have a weakness."
Even if MJ wasn't at the height of his powers just yet, that's still a rather high compliment coming from such a fierce competitor.
And, while those two different accounts can seem a bit jarring — How could one legend be so athletic and the other not? — they do serve to highlight one of the joys of sport. There are multiple ways to thrive, and every team and player can find their own way to succeed. Whether you can jump out of the gym or can barely get off the ground, there's a way forward.
No one, after all, is going to argue with Michael Jordan and Larry Bird when it comes to basketball.