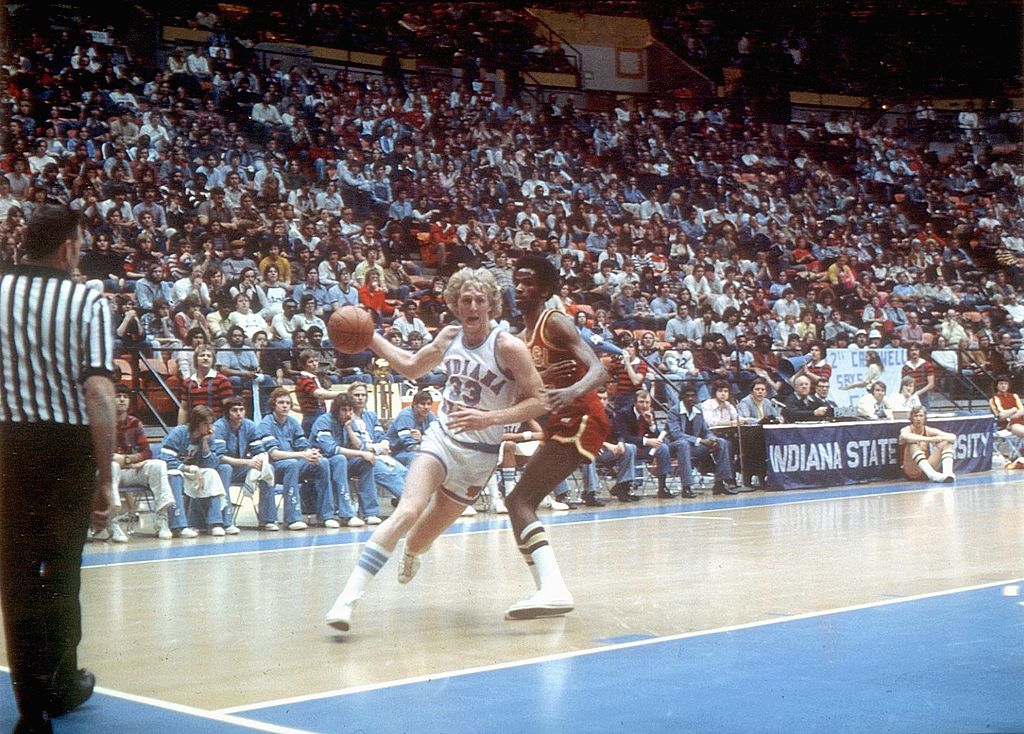 Larry Bird Joined His College Baseball Team To Prove He Was a Real Man
Larry Bird was a basketball star at Indiana State, but he also joined the school's baseball team to prove that he was a real man.
Every basketball fan knows Larry Bird. 'The Hick from French Lick' burst onto the scene at Indiana State before starring for the Boston Celtics. While he now stands as one of the best players in basketball history, he didn't always receive universal praise and adulation. In fact, one college coach even questioned the forward's masculinity.
That exchange prompted Larry Bird to suit up for the school's baseball team in an attempt to prove his toughness. Not only did he stand up to his coach, but he put in a solid showing on the diamond.
Larry Bird's college basketball career
While Larry Bird didn't have the best family life growing up, he found the home on the basketball court. After a dominant senior year of high school—he averaged 31 points and 21 rebounds per game—the forward headed to the University of Indiana on a scholarship.
Bird, however, wouldn't lead the Hoosiers to prominence. He found the crowded campus to be incredibly overwhelming and left school before playing a single game. The forward eventually gave college another shot, though, and headed to Indiana State University in Terre Haute.
With the Sycamores, Bird burst onto the national stage. While his college career is most remembered for leading his team to the 1979 NCAA title game against Magic Johnson's Michigan State squad, the forward starred for three-straight seasons. Bird averaged 30.3 points and 13.3 rebounds per game for his college career, taking home the Naismith College Player of the Year Award as a senior.
Facing a challenge from a coach
Despite Bird's on-court success at Indiana State, he and wasn't untouchable. One day, the school's baseball coach called him out in the trainer's room.
"You're a real wuss," Sycamore's baseball coach Bob Warm told Bird, according to the Indianapolis Star. "Every night, I see you. You're just here in the training room icing."
The next day, Warm saw Bird again; this time, he issued a challenge.
"I told him, 'You know? Real men play games with balls this size.' " Warn said, forming his hands into the shape of a baseball. "I said, 'Anybody can play games with balls this size.' " Warn formed his hands into a basketball. " 'You just have to have a large basketball or you can't do it.' "


"I could do that," Bird simply responded. "I could play baseball."
Larry Bird's college baseball career
On April 28, 1979, Indiana State faced Kentucky Wesleyan in a non-conference doubleheader. While there was some challenge finding a uniform that fit him, Larry Bird eventually took the field.
Although his appearance was more of a publicity stunt than anything else, Bird did spend some time at first base, recording nine putouts. He also went 1-for-2 at the plate; despite batting "like he was swinging a slow pitch softball bat," he recorded a two-RBI single in his second at-bat.
Bird was eventually removed from action after colliding with his own catcher trying to field a pop-up, but he had made his point. He could play any sport, with any size ball, and still come out on top.
"All the time I'd been playing basketball, I've never been knocked out," Bird said. "One baseball game, and I get it. I was really hurt. So, end of career — one for two, .500 average, two RBI. I figured I couldn't do much better than that."