Larry Bird and Kevin McHale Took Confidence to the Highest Level With the Boston Celtics
Larry Bird and Kevin McHale had the upper hand on many of their competitors even before stepping onto the basketball court. The Boston Celtics teammates, who won three NBA titles together, were mentally strong. Not only was the Boston duo a talented twosome, but you'd be hard-pressed to find any other players in the league more confident than those two.
Larry Bird and Kevin McHale won three NBA championships together with the Boston Celtics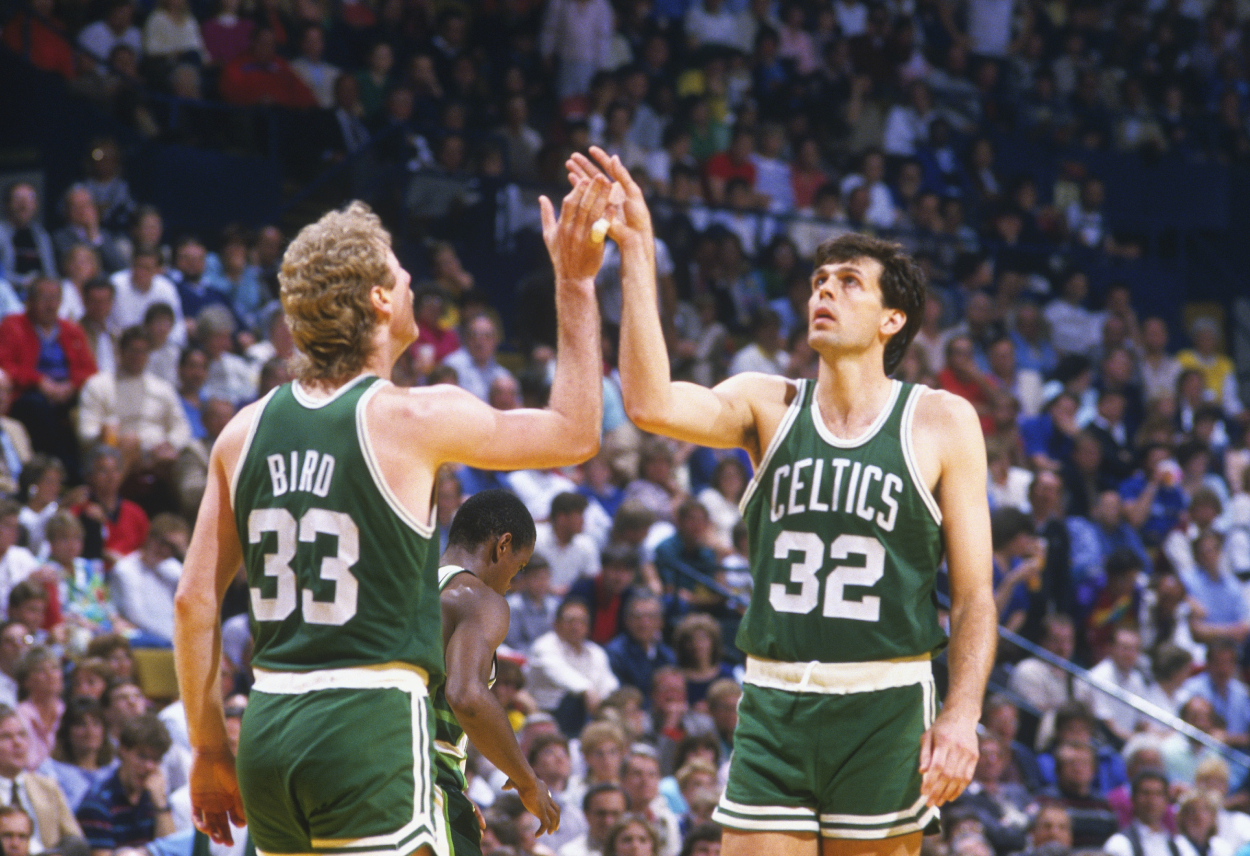 McHale may have been spoiled as a rookie in the NBA. In his first year with the Celtics, he joined a team with a young Bird and a quality center in Robert Parish, just acquired in a trade with the Golden State Warriors. Not only did he hook on with a promising franchise, but he helped guide them to a championship in his rookie year.
McHale came off the bench in 81 of the 82 games he played his first season, averaging 20.1 minutes per game. The 6-foot-10 forward out of Minnesota put up 10.0 points and 4.4 rebounds as a rookie. He, Bird, and Parish would eventually become arguably the best frontcourt trio in the league, possibly in NBA history.
The Celtics won titles again in 1984 and 1986, defeating the Los Angeles Lakers and the Houston Rockets, respectively. Bird and McHale each played 13 seasons in the NBA, combining for 19 NBA All-Star appearances.
Confidence was never a problem for Larry Bird and Kevin McHale
Even when he was a rookie, McHale never believed anyone he was guarding was better. That went a long way during his Hall of Fame NBA career. In 1991, he spoke about his high level of confidence. The topic came up after his young teammate, Dee Brown, won the NBA All-Star Slam Dunk Contest.
"That dunk contest will be great for that kid because the one thing he lacked was confidence," McHale told Sports Illustrated in 1991 about Brown. "I know Dee looks confident on the outside, but you can tell the way he hangs his head out there once in a while that he isn't completely confident. He talks it, but he doesn't walk it."
McHale should know. He and Bird may have been the two most confident players in their careers.
"I don't know what it was with guys like Larry and me — maybe we were sick or something — but we didn't go through that," McHale said. "Larry didn't, and I know I didn't. I felt every single night I was out there, I was better than the other guy. Even when I was a rookie."
Bird's confidence was borderline cockiness
Bird's confidence was always evident. He was one of the best trash talkers in his day and most often backed it up. He thrived on the crowd. The louder the opposing crowd was, the more it fired him up.
Such was the case in Seattle on Feb. 12, 1991, when Boston was in town to visit the SuperSonics. With time running out, Bird was fouled and his team ahead 112-111. He went to the line as the hostile crowd did whatever it could to distract him. Seattle's Eddie Johnson did his part, waving to the crowd to fire up the fans.
It didn't work. Bird sank the two free throws, and Boston won 114-111.
"I learned a long time ago to drain out crowd noise," said Bird postgame. "I don't hear it."
He said he hadn't taken many free throws recently (he only took one earlier in the game), but that didn't matter.
"I didn't feel that comfortable at the line because I hadn't shot many free throws recently," the ever-confident Bird said. "But I'd rather have me at that line than anybody else."