Larry Bird Knows the Exact Moment When He Lost All Privacy Forever: 'My Life Was Never the Same'
While being an NBA player seems like a pretty sweet gig, there are certain tradeoffs. Chief among them is the lack of privacy and the general challenges of living life in the public eye. Is that reality worth making millions of dollars per season? You can decide that for yourself, but there are some expert perspectives to consider. Larry Bird, for example, experienced that conundrum firsthand.
While his basketball stardom made him a national celebrity, Larry Legend never changed. At his core, he remained the same person that he always was. He did, however, come to realize the exact moment when everything changed, at least from a publicity perspective.
Larry Bird believes that his famous 'Sports Illustrated' cover changed his life forever
While print media has declined over the years, there was a time when landing on the cover of Sports Illustrated was a big deal. During his junior year at Indiana State, Larry Bird earned that honor with his outstanding play. The experience, however, proved to be less than ideal.
"I can pinpoint the day when I lost my privacy forever: when Sports Illustrated put me on the cover of their magazine and called me college basketball's best-kept-secret," the famous forward wrote in his 1999 book, Bird Watching. "At the time, our Indiana State team was surprising everyone. I was a junior, I had never felt better about my game, and it should have been an exciting time. But that cover took care of that. My life was never the same."
What changed for the worst? Well, for one, Bird found himself receiving national attention.
"Within days, the phone at the school was ringing off the hook," he continued. "Everyone in America wanted an interview. Back then I was sort of self-conscious, and I really didn't want to talk to anybody."
Beyond that, Bird also came away from the experience with a more humorous (although very on-brand) sentiment. After one photo shoot, he was already sick of photographers.
"The other thing I couldn't believe was how long it took those photographers to get the shot they wanted for the magazine," the forward added. "We were there for 10 hours with Sports Illustrated. I don't know why anyone would need so many pictures. They kept taking them and taking them. The one they decided on for the cover was me in my uniform, surrounded by cheerleaders who were saying, 'Ssshh,' because I was this secret weapon. But they took pictures of me in a lot of different poses. In one of them, they had me run through a hoop. I told our sports information director I would never pose for another magazine cover — ever! When I got to the pros, my rule was "One hour. If you can't get what you need by then, you're out of luck."
Even at the height of his stardom, Bird didn't change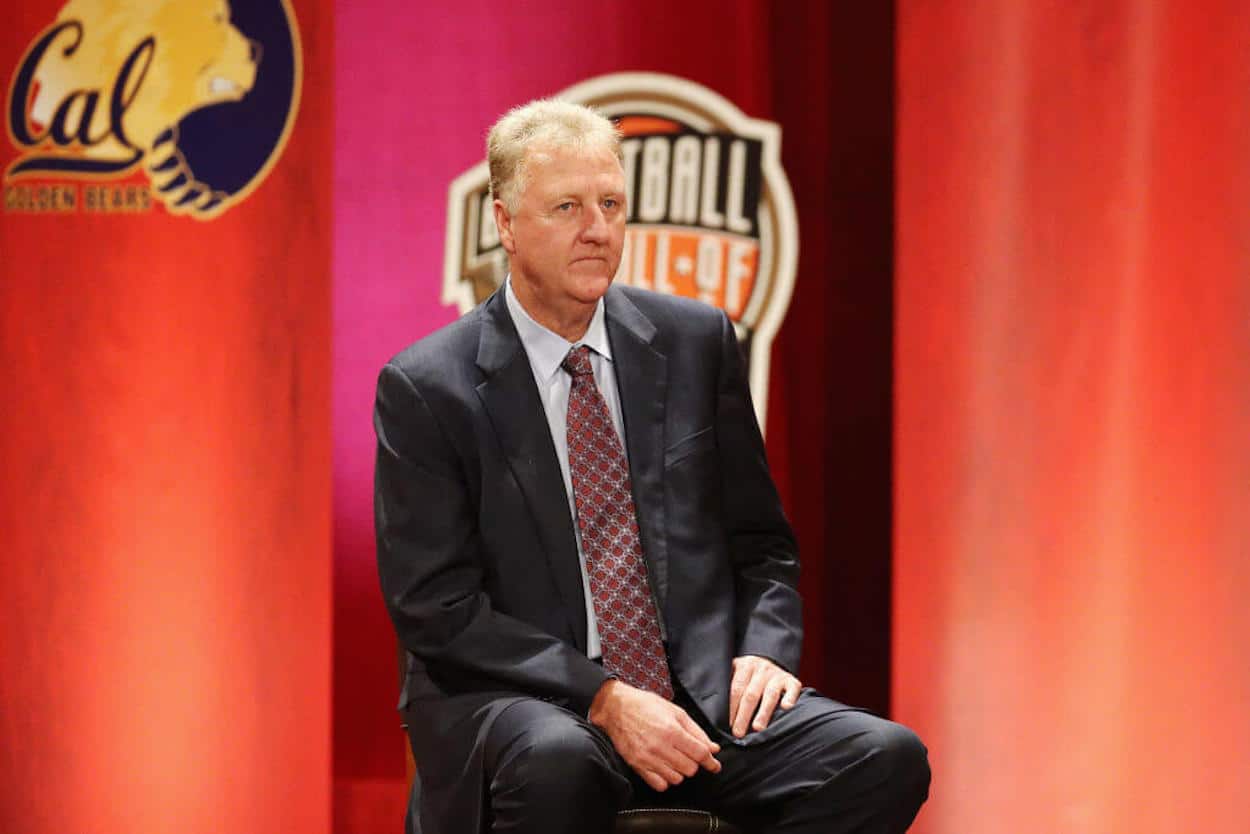 While there aren't any other anecdotes to confirm how firmly he stuck to that rule in the NBA, it certainly seems well within Bird's character. Even as he became one of the most famous basketball players on the planet, he preferred to keep things simple.
Consider, for example, the time that Bird collected one of his NBA MVP trophies wearing jeans and a short-sleeved shirt. While that move didn't sit well with everyone, the forward noted that he was on vacation, which wasn't a time for formal attire. He was going to wear his summer clothes, whether mowing the grass or accepting a prestigious prize.
Alternatively, look at how the living legend ended his career. Bird was plagued by a nagging back injury that he picked up while building a driveway for his mother. Could the star have paid someone to shovel the gravel? Of course, but that wasn't the way he did things.
At the risk of evoking a lofty comparison to classical myth, every hero has one tragically fatal flaw. Michael Jordan's competitive fire, for example, is both a gift and a curse. For Larry Bird, the double-edged sword was his unwillingness to ever change. That made him great but also put him somewhat at odds with life as a professional athlete.
Just ask the photographers about that.