Larry Bird Used to 'Get Sicker Than a Dog' Before Hitting the Hardwood, but Then He'd Flip a Switch
At this point, part of the Larry Bird mythos is confidence. While plenty of pro athletes are confident — you have to be when millions of people are assessing your every move — Larry Legend took things further than most. Whether he was refusing to change out of vacation attire or telling the defender exactly what he planned to do, no one was going to make the Boston Celtics star change his mind.
That doesn't mean he didn't get nervous, though. In fact, Bird had a rather human experience before he stepped onto the court.
Believe it or now, the famous forward admitted to being nervous to the point of feeling physically ill ahead of his games. Once the first whistle blew, however, everything changed.
Let's check it out.
Larry Bird experienced some serious nerves, but the anxiety vanished when the game began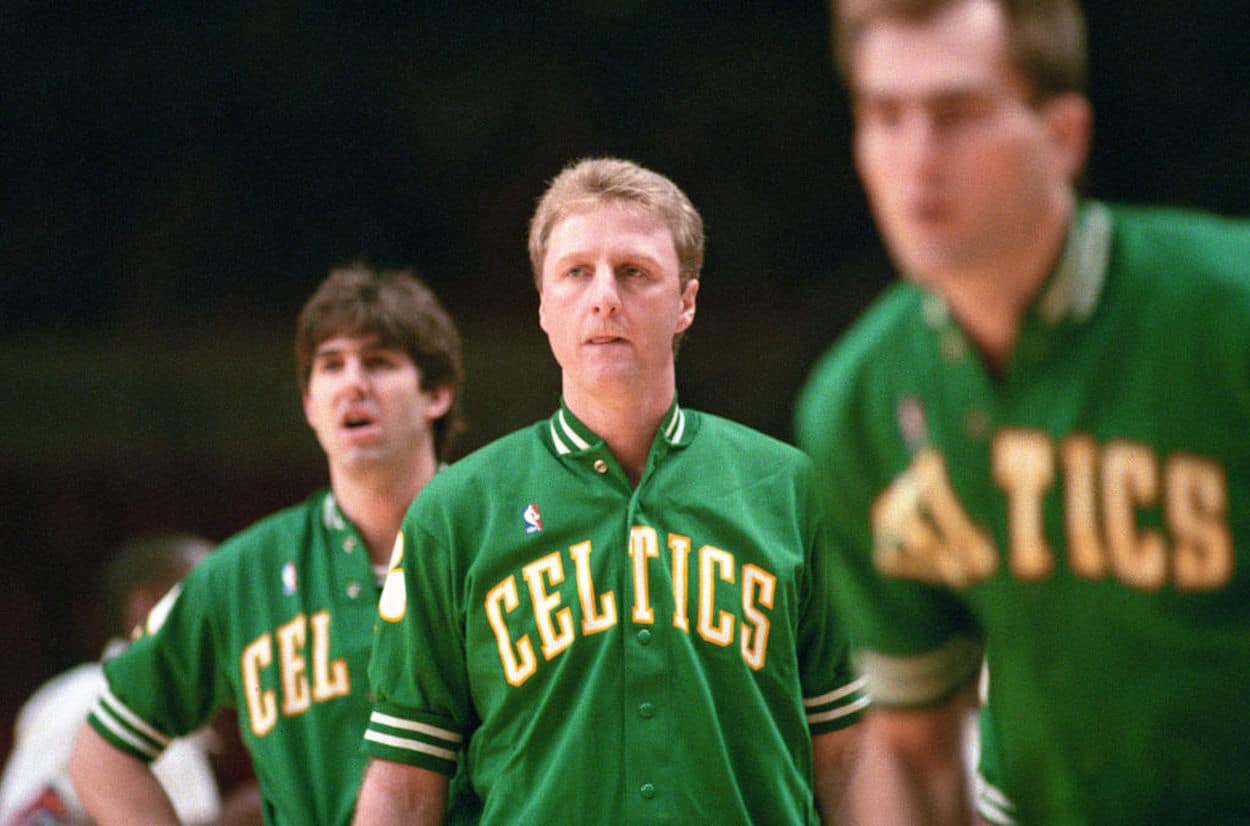 When you do something over and over again, it eventually becomes second nature. Larry Bird, however, never completely got over his pregame nerves.
In his 1999 book, Bird Watching, the legendary forward reminisced about his playing days and the emotional rollercoaster that he'd experience before tipoff. While things eventually settled down, he'd feel some pretty strong anxiety before getting down to business.
"When I was a player, I was never nervous during a basketball game, but I'd get sicker than a dog before games," he explained. "I used to feel like I could throw up at any time. I used to walk out after shootarounds a nervous wreck. Every day. I hated it. It was like that in college, too, and it drove me crazy. That's why I used to always sleep in the afternoons, so I wouldn't have to deal with all the nervousness."
While that sounds less than ideal, there was a silver lining. For all of his nerves, Bird felt differently when the big moment finally arrived. At that point, he was in his element.
"The good thing was, as soon as I walked out there and stepped on that court, it was gone," Larry Legend continued. "One of my better memories as a player is when we used to run out of the tunnel at Boston Garden onto the court. It's awesome. I used to love it on tape, us coming up the ramp with the camera behind us. We're charging out of that chute, hitting the floor, and Grant, the retired cop who guarded our bench, would be waiting, giving us high fives and low fives. It was the best."
That experience makes Bird a bit more human, and he's not the only athlete to feel sick before a game
When you consider his incredible talent and unshakable confidence, Larry Bird barely seems human. His memories about being anxious, however, strike a different tone.
At the risk of painting with a broad brush, we've probably all felt stressed before a big moment. Whether that's a big presentation at work or taking an exam at school, just about everyone has experienced that all-too-familiar feeling. In a way, it's incredibly humanizing to know that Bird, an incredibly confident professional athlete with a knack for coming through in the clutch, felt similarly.
And that experience is more universal than you might think. Over the years, there have been plenty of big-time athletes, ranging from hockey's Glenn Hall to the legendary Celtic Bill Russell, who got physically ill before the game. In a more modern example, Buffalo Bills quarterback Josh Allen told Von Miller how throwing up has become a key part of his preparation.
So, the next time you're feeling stressed out before a big moment, remember that you're in good company and strive to be like Larry Bird. He might have felt sick before games, but once it was time to get to work, he was unstoppable and having the time of his life.