Larry Bird Went From Playoff Triple-Double to Hospital Traction the Same Night: 'That's Some of the Gutsiest Playing I've Ever Seen'
Larry Bird missed 14 shots from the floor in a first-round playoff game against the Indiana Pacers on April 26, 1991. Although the shooting was atypical for the Boston Celtics star, the performance wasn't. He finished with a triple-double, diving all over the court, in a 127-120 Celtics victory. Moments after his postgame press conference, Bird found himself in traction at a local hospital.
The 1990-91 season was the beginning of the end for Larry Bird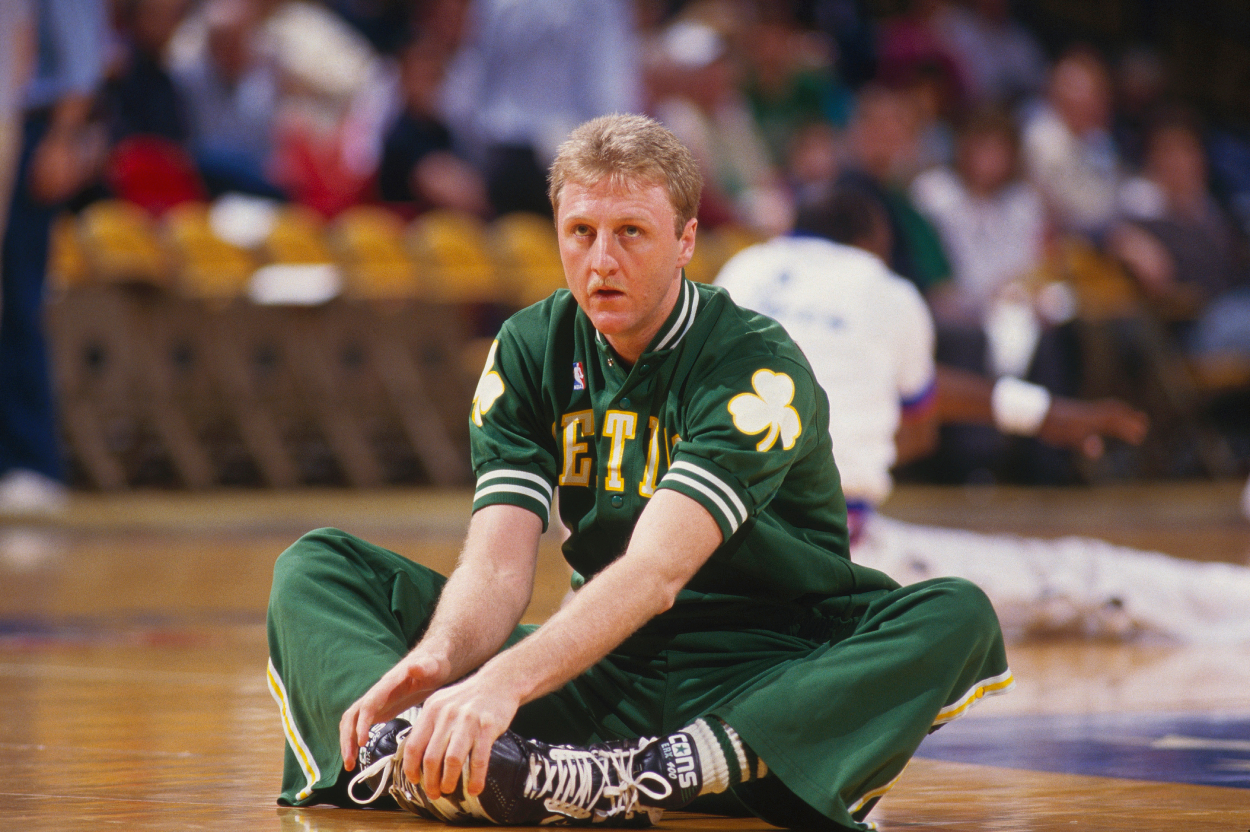 Bird missed 22 games during the 1990-91 season because of a compressed nerve root in his back. Bird had led the early-season charge that saw the Celtics jump out to a 29-5 record before he missed time. The Celtics opened the season 26-5 with Bird in the lineup and then won the next three games without him, improving to 29-5. They then lost four straight and five of their next six without their star.
Boston still managed to win the Atlantic Division and finish with a record of 56-26. The Celtics were getting old and worn down as Bird was in his 11th season and battling those nagging back injuries. Kevin McHale was in his 10th season, and Robert Parish had 14 years of NBA experience under his belt.
The Celtics earned a first-round playoff matchup with the much younger Pacers and struggled in their best-of-five series, winning 3-2. Boston was then ousted by the Detroit Pistons in six games in the Eastern Conference Semifinals.
After the season, Bird had surgery to remove a disc in his back. Those back problems plagued him again the following season as he missed 37 regular-season games and more time in the postseason. Bird retired because of those back issues after the 1991-92 season.
Larry Bird gutted it out in Game 1 against the Indiana Pacers
Bird missed seven of the last eight games of the regular season and the previous four practices before Game 1 of the opening round of the 1991 playoff game against the Pacers. Nobody played more minutes in that opener than Bird, who gave all he had with a 21-point, 12-rebound, 12-assist effort in Boston's seven-point victory.
Bird struggled with his shooting, making six of 20 shots, but he said under the circumstances he was dealing with, he'd take that.
"I'm pretty happy with six of 20," he said after the game, according to The Los Angeles Times. "If I had done that in the regular season, I would have been angry.
"I didn't know what to expect because I never missed that much (time) coming into a playoff situation. I haven't been feeling good all week."
Not only did Bird gut it out, but he also came up big when needed most. He had four points and three assists in a 10-0 spurt that snapped a 110-110 tie. He had 11 of his 21 points in the fourth quarter.
"I don't know if everyone got the full effect of what Larry Bird did," Boston coach Chris Ford said. "That's some of the gutsiest playing I've ever seen."
After his press conference, Bird headed straight to the hospital
While Celtics fans, players, and coaches celebrated the victory, Bird headed straight to the hospital, where he was placed in traction. A team spokesperson made a brief announcement on Bird's situation.
"It's not a medical emergency," said the spokesman, per UPI. "It's just to help him relax." The spokesperson added Bird aggravated his back, but there was no new trauma.
Bird's performance generated a lot of respect from his players and opponents. "That's Larry Bird," said teammate Brian Shaw. "He's still, without practice, one of the best players around."
"Larry wasn't getting it done, but he came back down the stretch and made some big plays," said Pacers star Chuck Person. "That's what great players do."
Unsurprisingly, Bird came back and played in Game 2. He played 40 minutes, finishing with 18 points and 10 assists in a 130-118 loss.
In the Game 5 series-clincher — a 124-121 Boston win — Bird led the Celtics with 32 points.