LeBron James and Kevin Love Insulted Kyrie Irving While Remembering Cavs' Championship
It's been a little more than five years since the Cleveland Cavaliers captured the franchise's first championship. But before anyone cues up Barbra Streisand's classic "The Way We Were" for tear-jerking effect, there are still some raw nerves associated with the 2016 Cavs. It may not have been intentional, but Kevin Love and LeBron James left a high-profile former teammate out of a recent remembrance.
That Cleveland team has a remarkable legacy, especially the 2016 edition. That year, the Cavaliers became the first team in NBA Finals history to come back from a 3–1 deficit to win the championship. And they did it against the team with the best regular-season record in history, the 73–9 Golden State Warriors. But there are still some hurt feelings left over from how the Cavs' Big Three of Love, James, and Kyrie Irving broke up.
Kevin Love and Kyrie haven't always seen eye-to-eye
Kevin Love's arrival in 2014 finalized the Cleveland Cavaliers' Big Three along with LeBron James and Irving. In the three seasons they played together, they went to three straight NBA Finals and won the 2016 title. After Irving forced his way out of The Land with a 2017 trade request, James and Love took the Cavaliers back to the Finals in 2018.
The 2018 NBA Finals were the last episode in one of television's longest-running shows, The Cavaliers and the Warriors in the Finals Yet Again. It aired for four years on ABC/ESPN.
While the relationship between Love and Irving has never been openly hostile, the last of the Big Three remaining in Cleveland hasn't been shy about criticizing Irving.
Last December, Love took Irving to task after his former teammate took a swipe at the media in a statement. Irving wasn't talking to the press, and the last line of his press release referred to them as "pawns." That did not sit well with Love, per ESPN.
"I think that calling anybody a pawn is a sure sign of disrespect."

Kevin Love
In the same comment, Love also pointed out his fondness for Irving, but a recent social media post turned many heads.
It seems Love and LeBron James left someone out
In a recent tweet, Kevin Love referred to several of his former teammates with the Cavaliers. While he didn't name everyone he's played with for Cleveland, the omission of one player resonated.
Love specifically referenced LeBron James, J.R. Smith, Tristan Thompson, Channing Frye, and Richard Jefferson. All of them played for the 2016 championship team. But there was no mention of Irving.
In a reply, James tweeted a line from the British crime drama Peaky Blinders. James didn't name anyone in his post, so Irving was conspicuous by his absence from the conversation.
One former teammate of the trio has talked about the tension between Irving and James while they were in Cleveland. Kendrick Perkins played one season with the Cavs and said he felt some jealousy from Irving about James, per the New York Post.
Irving cited James as an inspiration for his Finals-clinching shot in 2016, so there were good times as well. In December 2020, James admitted being bothered by comments Irving made on Kevin Durant's podcast about the pair's time together in Cleveland. So, there's baggage aplenty to carry around.
Kevin Love and LeBron James weren't always a natural pairing, either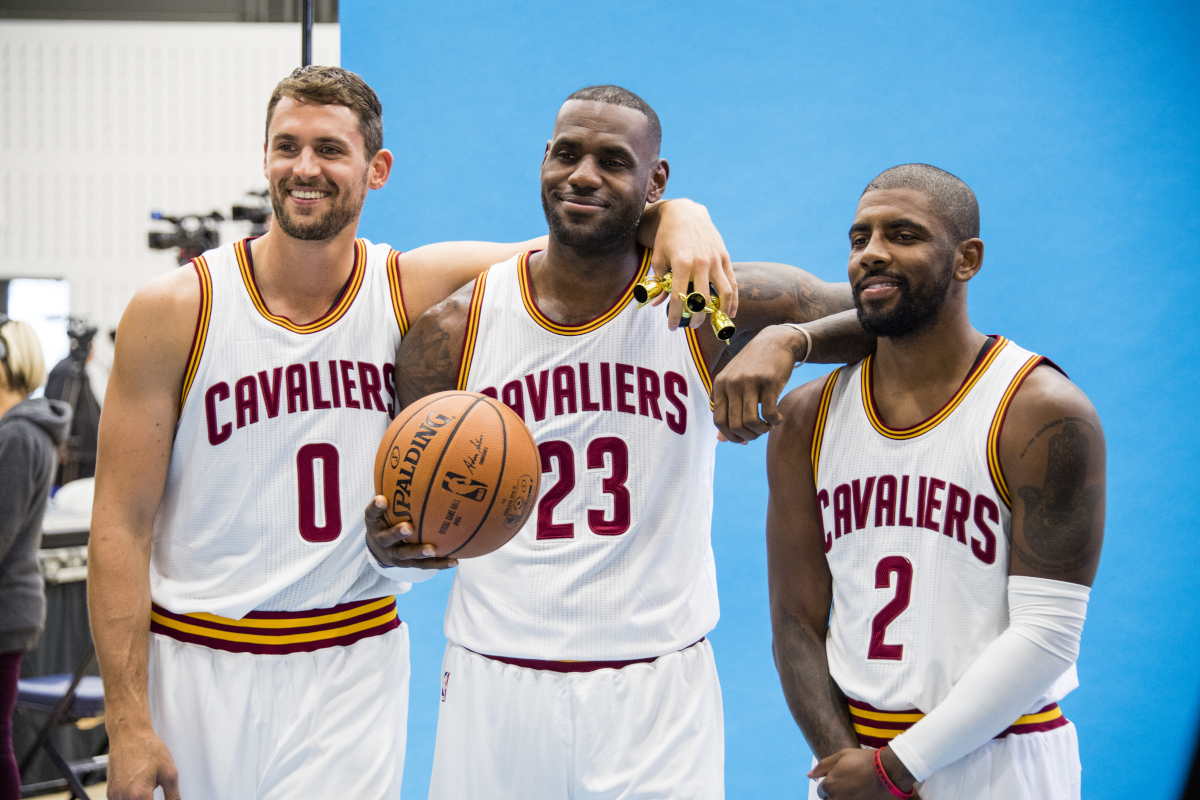 For several years leading up to the blockbuster trade that sent Kevin Love to the Cleveland Cavaliers, Love was The Man for the Minnesota Timberwolves. After the trade, he was the third option behind LeBron James and Irving.
Love admitted he had to entirely change his game to play with the other two stars while appearing on J.J. Redick's The Old Man and the Three podcast in August 2020
"That was a hell of an adjustment period for me, from going from a guy that shot almost 20 shots a game … to them being basically relegated as a 3-point shooter."

Kevin Love
During their first season together, James dropped a tweet that Love took personally.
"I think on one end, it was extremely passive-aggressive and silly. But at the same time, I feel like I did have to find my way and fit in. But it wasn't an easy process for me."

Kevin Love
Love sacrificed stardom to be part of a winner, and he wanted that sacrifice to be recognized.
Not every championship team is tight. The 1970s New York Knicks, noted for being a selfless unit on the court, were said to go different directions off it.
Maybe in time, LeBron James, Kevin Love, and Kyrie Irving can patch things up. Otherwise, it could make those reunions every five or 10 years in Cleveland pretty awkward.