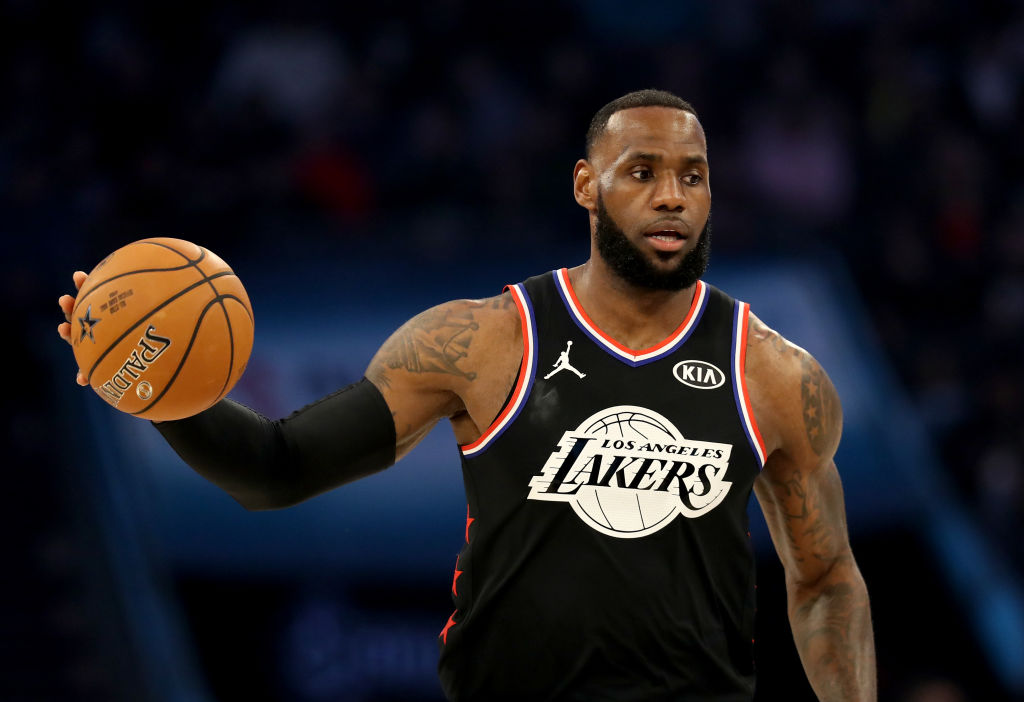 LeBron James Can't Break Kobe Bryant's Record Without Help
There's a record points total that NBA superstar LeBron James could technically eclipse all by himself, but the idea is to do it as part of a tandem.
The amazing LeBron James has shown he can do just about anything on an NBA court. Still only 35 years old, he's averaged 27.1 points and 7.4 rebounds a game for his career while often resembling more of a point guard than a small forward, and he's the leader in assists per game for the current season.
Some will look at the talent around him during his first tour with the Cleveland Cavaliers and say that James had to do it all by himself at times. That's debatable, but there's a record out there that the Los Angeles Lakers star can't break by himself.
We know so because Kobe Bryant couldn't do it either.
Fathers and sons making their mark in the NBA
It was nothing extraordinary in itself for Stephen Curry to score 29 points for the Golden State Warriors in a victory over the Phoenix Suns in an October 2018 game, but it did move him up an all-time list.
That performance made Stephen Curry and his father Dell Curry the NBA's No. 2 father-son scoring tandem (the numbers for brother Seth Curry aren't included) of all time at 27,226 points.
The Currys passed Dolph and Danny Schayes that night. They had previously moved up to third in February 2018 by climbing past the 26,883 points of Rick and Brent Barry.
Dell Curry accounted for 12,670 of the points before retiring in 2002 after 16 NBA seasons. Stephen Curry has lost most of the 2019-20 season to an injury, but the father-son total is up to 29,089 points.
It'll be a long haul to reach the record of 38,895 combined points, but it can be done if another current player doesn't get there first with help from his son.
LeBron James technically can't do it alone, but …
LeBron James is up to 34,087 points all by himself. Given his generally good health and history of scoring production, James could climb past the record all by himself, but that violates the spirit of the accomplishment since it's supposed to be a father-son achievement.
Naturally, that raises the question of whether James' son will reach the NBA someday. Bronny James is one of the best-known high school basketball players ever, owing that in part to his own impressive skills but also the notoriety of his father.
Bronny James, who plays for Sierra Canyon in Chatsworth, California, is 6-foot-4 but only a freshman. His father may have already all but assured the record by the time Bronny turns pro – if he should be so fortunate.
Joe and Kobe Bryant are still atop the list
LeBron James moved up to the No. 3 spot on the NBA's individual scoring list earlier this season, eclipsing the 33,643 points by Kobe Bryant from 1996-2016. Like James, Bryant entered the NBA straight out of high school.
The NBA Hall of Fame player was following a family tradition in the sport. His father, Joe "Jellybean" Bryant, was a LaSalle University star drafted by the Golden State Warriors in 1975 but quickly dealt to the Philadelphia 76ers.
He ended up playing eight NBA seasons with three teams and scored 5,252 points (averaging 8.7 a game) before heading overseas for a successful nine-year career in Europe. Combined with Kobe's 33,643 points, the Bryants hold the No. 1 spot on the all-time NBA father-son list at 38,895 points.