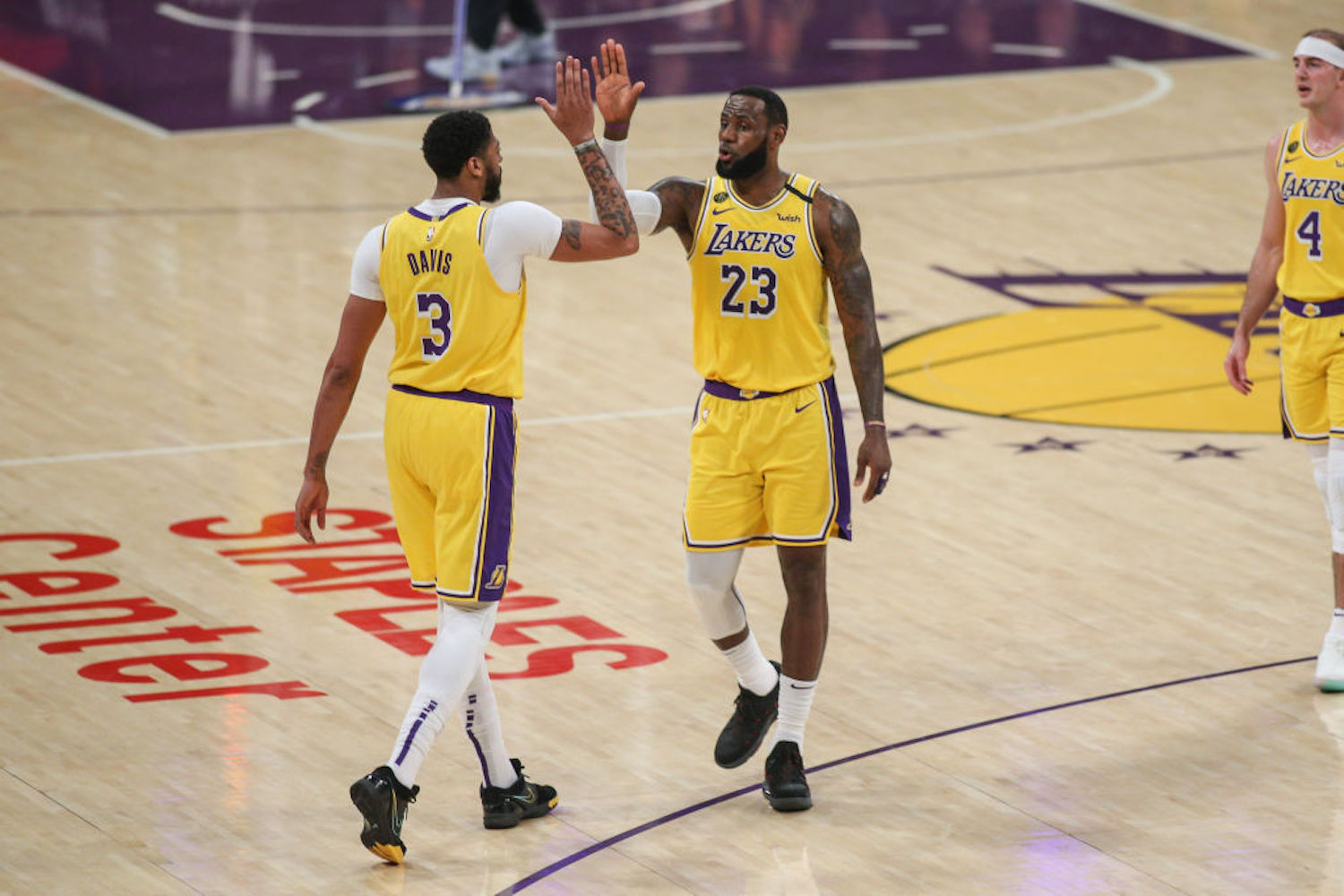 LeBron James Is No Longer the Best Player on His Team For the First Time in His Career
LeBron James has been considered the best player on every team he's played for, but he just passed the torch to a teammate for the first time.
LeBron James has been considered the best player in the NBA for most of his career. In turn, he's been the best and most valuable player on his team every season since his rookie year. A surefire Hall of Famer and already an all-time great, James has been largely responsible for his team's success in nearly every season as a pro.
This year, though, that's finally changed. For the first time in his career, James isn't the star of the show on his own team.
LeBron James has been his team's MVP for 16 years straight
LeBon James has played 16 full NBA seasons in his professional career. In all 16 of them, he's been the consensus best player on his team. Even as a rookie in 2003, James was miles better than anyone else on the Cleveland Cavaliers' woeful roster.
James averaged 20.9 points, 5.5 rebounds, and 5.9 assists per game as a rookie. Those are great numbers for most NBA players in their prime, but James accomplished that at 19.
As impressive as James' rookie numbers were, they turned out to be the lowest of his career across the board. James now averages 27.1 points, 7.4 rebounds, and 7.4 assists per game over the course of his career.
When he left Cleveland for Miami, James was still the most valuable player on the Heat ahead of Dwayne Wade and Chris Bosh. After returning to the Cavaliers and eventually landing with the Lakers, James averaged the most points on every team he's ever been apart of. Until this season.
LeBron James is being outscored by a teammate for the first time in his career
After 16 straight years of leading his team in scoring (and basically every other category), the king has finally relinquished the throne.
Anthony Davis is the Los Angeles Lakers' leading scorer in 2020, and he's been their best player all season. James is still averaging a respectable 25.4 points per game, but Davis is pouring in 26.8.
James has upped his assist numbers this year in his new role, but Davis is besting him in points, rebounds, steals, blocks, and shooting percentage. The Lakers wouldn't be where they are today without James, but the same can be said about Davis.
Anthony Davis is the best player on the 2020 Lakers
Besides overtaking James in numerous statistical categories, the advanced stats support Davis also overtaking James as the most valuable player on the team in 2020.
This season, James has 9.7 win shares in 63 games played. Davis actually has 11.0 in five fewer games. Win shares is an advanced stat that measures exactly how many wins a specific player is responsible for in a given season. Despite playing less games and fewer minutes, Davis has led the Lakers to more wins than James in 2020.
While James has struggled in the NBA bubble so far, Davis has thrived for the Lakers. He's averaging 30 points per game, and he just led LA to a decisive win against the Utah Jazz with 42 points and 12 rebounds.
Normally, LeBron James-led teams would go as far as he could take them. This season, however, it might come down to how far Davis can take James.
All stats courtesy of Basketball Reference