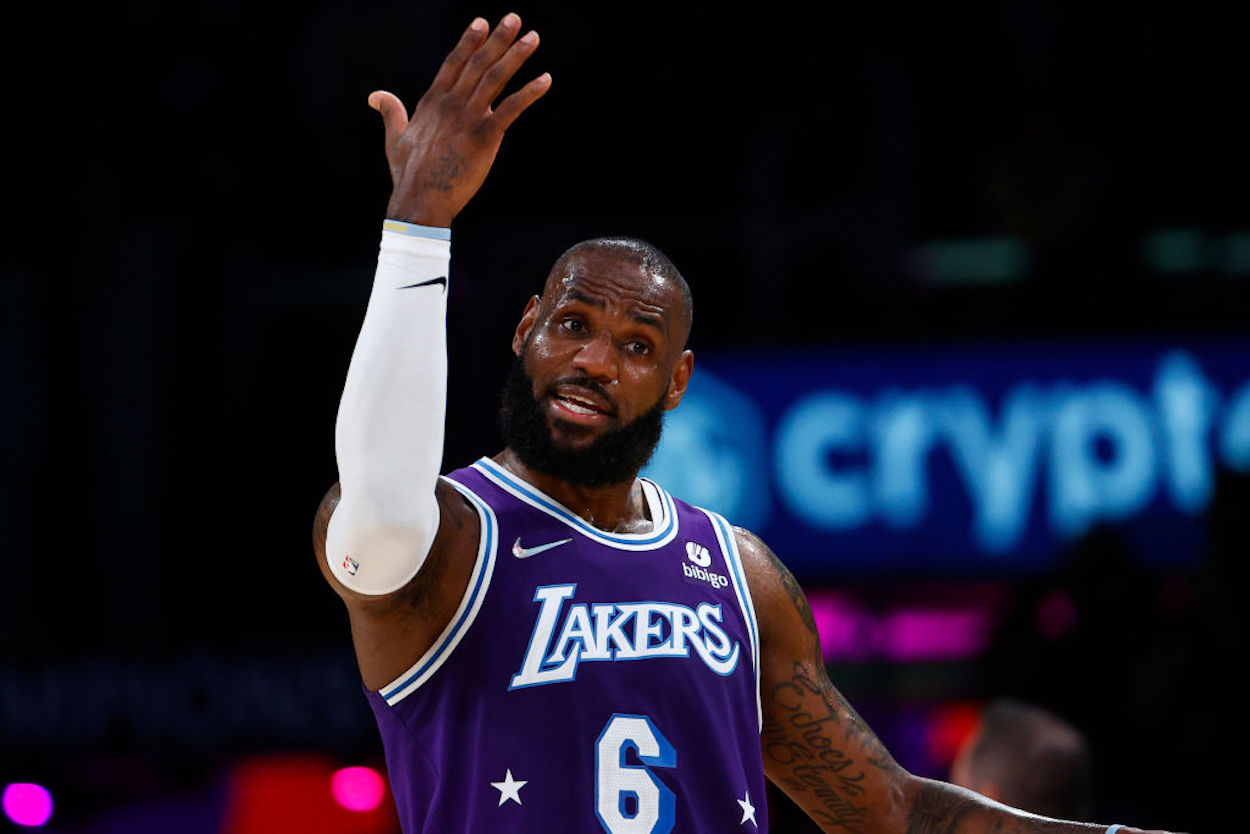 LeBron James' Recent Behavior Is a Complicated Reminder That Pro Athletes Are People, Too
LeBron James hasn't been acting like the best teammate recently. That's not ideal, but it's also incredibly understandable.
Whether you think he's the GOAT or an over-rated flop — and, to be clear, that's a discussion for a different post — LeBron James has simply become a part of the sports landscape. Ever since he burst onto the scene in high school, it's been virtually impossible to watch basketball without hearing, seeing, or thinking about King James. At this point, he's simply part of the furniture. Whether you want to cheer, boo, or simply observe, you know exactly where to find him.
This season, though, the sights and sounds have been a bit different. While James is still capable of individual greatness, the Lakers have been trapped in a tailspin. That seems to be taking its toll on the aging star, and he's looking more and more frustrated with each passing night.
Body language and other intangibles can be a touchy subject in sports — some think they're essential parts of building a championship squad, while others argue they're insignificant when compared to raw talent — so we're not going to wade too far into the discussion of sporting ethics. Instead, LeBron's recent behavior highlights a different point: for all of his incredible success and athleticism, he's simply a human being.
LeBron James has suffered through a frustrating season with the LA Lakers, and it shows
When you're an elite player on one of the NBA's marquee teams, the expectation is that you're going to be competing for championships. Despite claiming a title in the Orlando bubble, LeBron James and his Lakers now find themselves at the opposite end of the standings.
As of March 15, the Lakers are sitting in ninth place in the Western Conference. They've only won two games since the All-Star break, and the star-studded roster has failed to deliver. King James is still playing well, but Russell Westbrook has been nothing short of a disaster. Anthony Davis is still sidelined with a nagging injury, and while Carmelo Anthony hasn't been a problem, he's little more than a role player at this point of his career.
Since the 37-year-old star is watching one of his few remaining chances to win a championship slip away, his frustration has become more and more apparent. A quick search or scroll through social media will reveal Youtube clips of LeBron failing to get back on defense after a Russell Westbrook airball. He's also slammed the ball into the court after the Lakers failed to corral a rebound and, after a disappointing loss to the Raptors, didn't speak with the media.
"James' nightly performances have a bit of a split to them, especially if you're watching the difference between his offensive effort and his defense," Kyle Goon wrote the Orange County Register. "James has been as guilty as anyone of not rotating, of watching opponents grab offensive rebounds, of not being in the right spot or challenging shots. It's common to see him staring at the sideline in frustration after the Lakers give up a basket, as if to gesture to the coaching staff or teammates that nothing is working."
While that behavior isn't the best look, we can still understand where LeBron is coming from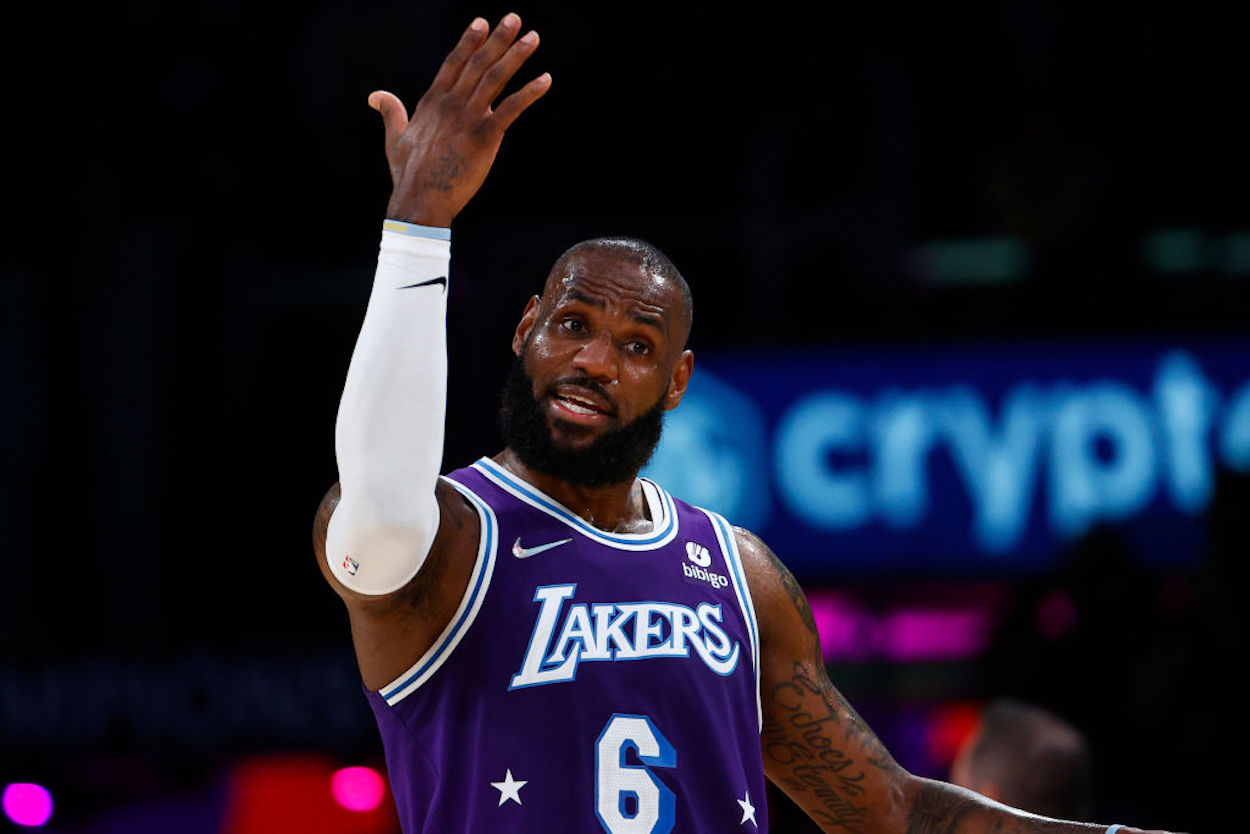 While being a good teammate important for everyone on an NBA roster, someone like LeBron James is held to an even higher standard. As one of the greatest players in basketball history, his choices carry extra weight; as much as fans like to rip him for being "LeGM," he is more than another name in the lineup. For some players, especially younger stars who idolized King James, his approval probably means as much as Frank Vogel's, if not more.
With all of that being said, though, it's easy to understand where James is coming from. As noted above, he isn't getting any younger and, despite his best efforts, can't have more than a handful of NBA seasons remaining. He probably felt like taking the court with Russell Westbrook and Anthony Davis would be a ticket to another title. When things fell apart and the Lakers didn't bring in any reinforcements, the season took on a much different tone. LeBron is scoring at near-career levels, and that's simply not enough to lift the team. You never want to say never, but, at this point, the club is working on borrowed time for the rest of the campaign.
So, if something is both inappropriate and understandable, what's the right course of action? While it can seem like somewhat of a cop-out, moderation is probably the answer.
If you feel like LeBron is behaving inappropriately and, as a team leader, shouldn't be so visibly frustrated with his peers, you're entitled to hold that opinion. If you want to argue that, as the biggest voice in the room, James is trying to send a message that the current situation isn't acceptable, that's OK. At the risk of veering too close to the LBJ vs. Jordan discussion, you could argue that His Airness was a pretty awful teammate at times. How much is that offense held against him?
No matter which side you take, though, the understanding part is key. If you want to rip LeBron, it's worth remembering that he's human and considering that side of things. While you (probably) aren't making millions of dollars to play a children's game, have you ever let cynicism or frustration affect your work?
At the end of the day, James is going to get ripped by a large section of the NBA fan base; that's simply the name of the game. And, while you're entitled to do that and judge him as you will, you should also remember that he's a human.