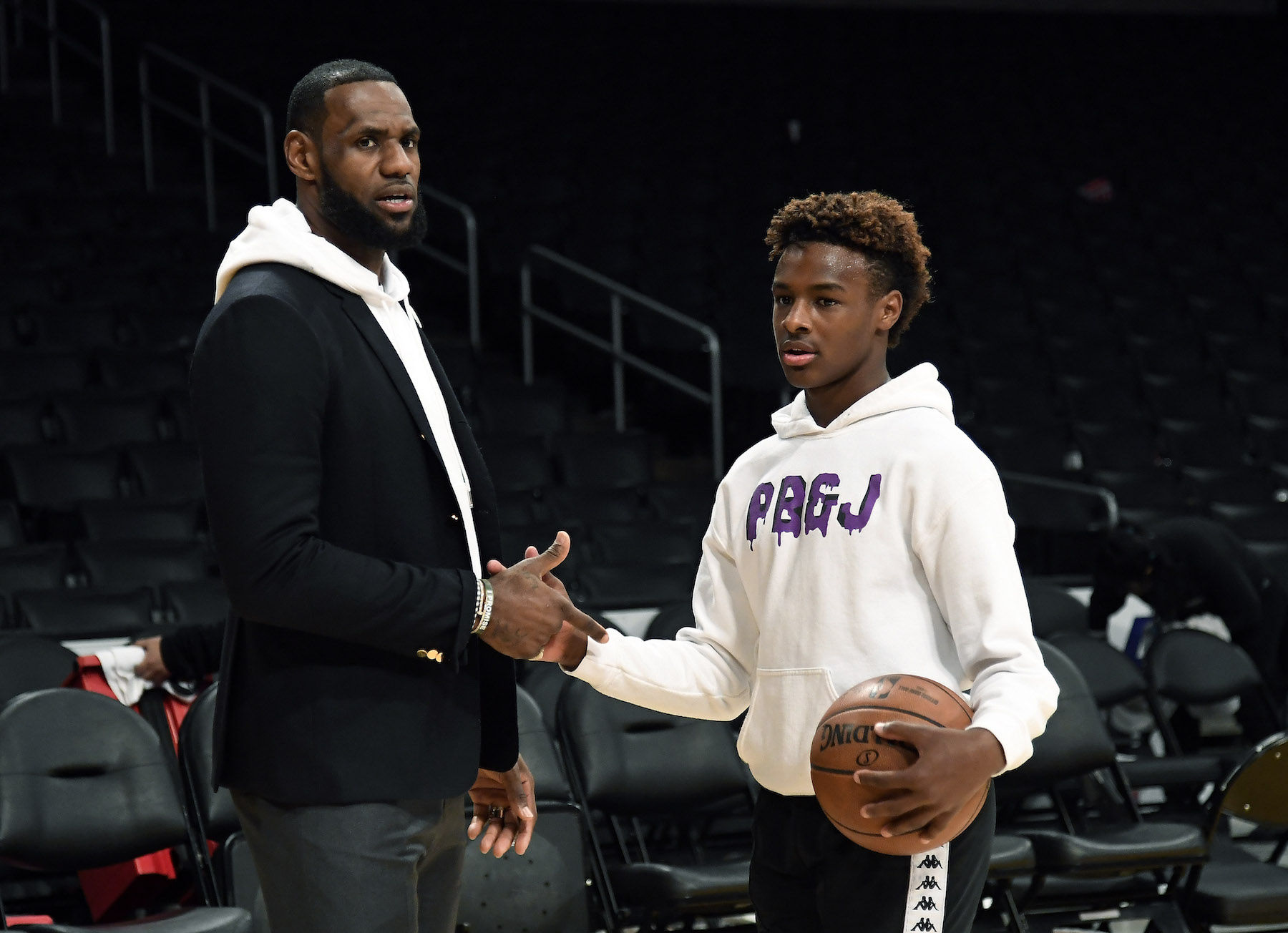 Lebron James Refused to Let His Teenage Son Bronny Join Instagram for 3 Years
While Bronny James is a big name on social media, LeBron made his teenage son wait three years before joining Instagram.
While LeBron James plies his trade on the basketball court, he's also keeping busy as a father of three. Given his incredible rise to fame—the LA Lakers star was on ESPN during high school—King James has been a bit protective of his basketball-playing sons. Take, for example, fifteen-year-old Bronny James.
Although social media and teenagers are a match made in heaven, LeBron tried to keep his son off Instagram for as long as possible. In fact, Bronny only joined the platform relatively recently; that absence hasn't impacted his follower count, though.
Bronny James seems poised to follow in LeBron's famous footsteps
As basketball fans know, LeBron James started making national headlines during his time at St. Vincent-St. Mary High School. While Bronny is only a freshman, he seems to be following in his dad's famous footsteps.
Since the James clan no longer calls Ohio home, Bronny plays his basketball at Sierra Canyon High School. Although he's only a teenager, James is already playing in front of big crowds and impressing observers with his poise under pressure.
While Bronny is already capable of throwing down dunks like LeBron, he also has a smooth jumper. In December, ESPN's Paul Biancardi noted that the teenager's shot might already be better than his famous father's; on Twitter, King James agreed with that assessment.
Beyond that physical skillset, though, Bronny also possesses remarkable poise for a high schooler. "I first saw him last summer and was struck by his poise and ability to navigate all the craziness around him," Eric Bossi of Rivals.com explained in 2019. "That poise is still there, and Bronny has now grown to 6-foot-2, has a great frame, is a budding athlete, and has the game to play at the point or shooting guard position."
LeBron kept his son off Instagram for a surprisingly long time
While basketball keeps LeBron James pretty busy, he's still active in his children's lives. In the past, we've seen him at Bronny's basketball games; King James also kept his children away from the football field, citing safety concerns.
Beyond that, LeBron apparently plays a role in Bronny's social media habits. If we take King James at his work, he forced his son to wait three years before joining Instagram.
On May 27, 2019, LeBron took to his own Instagram account and posted a picture of Bronny, who was still 14-years-old at the time. "Everyone welcome the heir to the throne to IG @bronny," the caption read. "Told him 3 years ago the summer of 2019 I'd let you him get one. Damn time flies! Hahaha! Anyways let's get Bronny! P.S. Keep y'all hating asses off his comments or we pulling up."
That delay hasn't stopped Bronny James from building quite an Instagram following
Although LeBron James kept Bronny off Instagram three years, that didn't hurt the teenager's metrics. These days, the high schooler's account has an NBA-ready number of followers.
As of August 2020, Bronny's Instagram boasts 5.3 million followers. To date, he's only posted 24 times, with every post receiving hundreds of thousands of engagements; some photos have more than one million likes, and several highlight videos have been viewed as many as nine million times.
While those numbers may pale in comparison to LeBron's Instagram—he's currently sitting at 69.6 million followers—Bronny's totals are still incredibly impressive, especially given his age and limited time in the spotlight. Anthony Davis, for example, only has six million followers despite being a first-overall pick and a current star for the LA Lakers.
At the end of the day, though, it seems like both sides probably what they wanted. LeBron James kept his son off social media until he was about to enter high school; after waiting three years, Bronny James has built up a massive Instagram following. That sounds like a win-win situation.
Like Sportscasting on Facebook. Follow us on Twitter @sportscasting19.