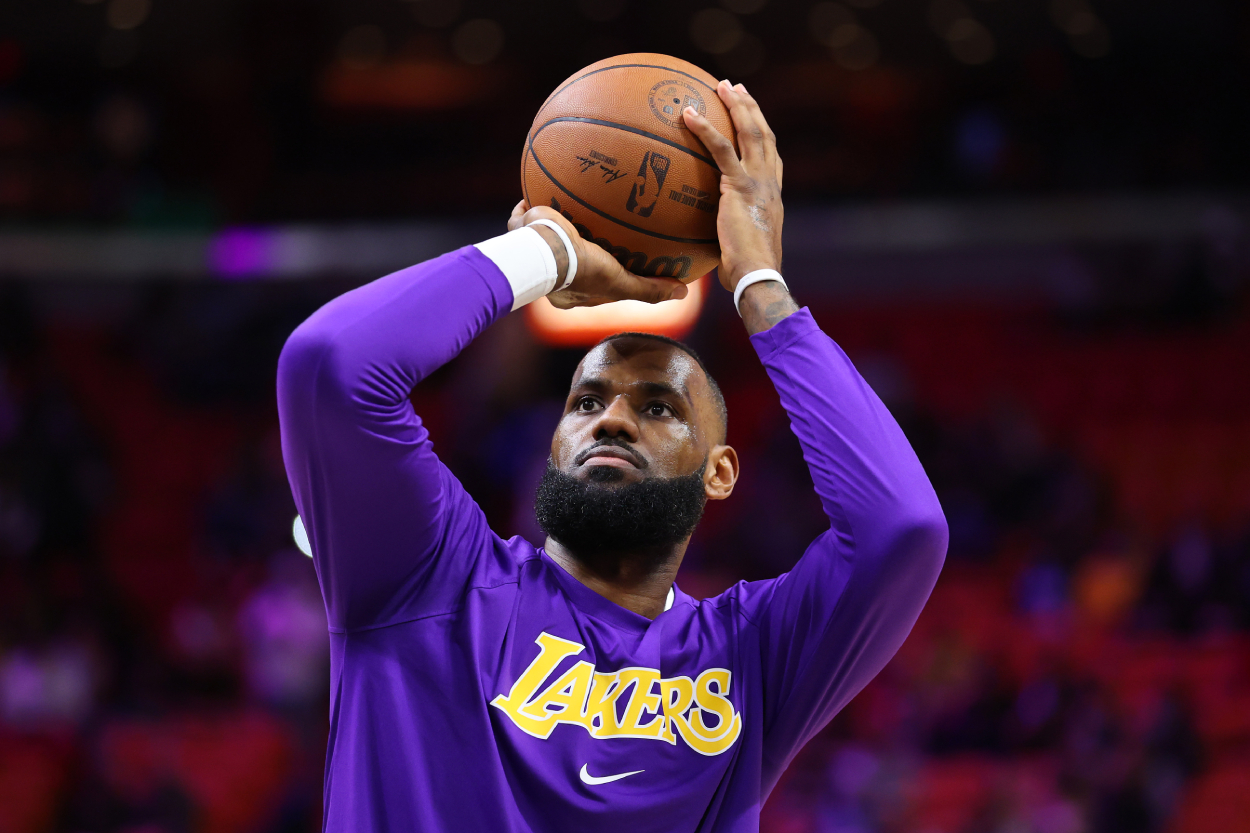 LeBron James' Dominant Scoring Run Has Allowed Him to Make History in Cleveland Yet Again
LeBron James has been the NBA's best scorer lately, and The King's dominant run has actually allowed him to possibly make history in Cleveland yet again.
LeBron James has looked like he's closer to 30 than 40 this season, as the 37-year-old NBA legend has been just as dominant as some of basketball's youngest stars.
James is averaging a whopping 29.7 points per game for the Los Angeles Lakers, and he just scored at least 50 points twice within one week. What he has been doing at his age has been simply phenomenal, and it has given him a chance to make NBA history in his old home: Cleveland.
James can potentially become the league's No. 2 all-time leading scorer in a game against the Cleveland Cavaliers later this month.
LeBron James has been on a dominant scoring run for the Lakers
The Lakers are trash this year, but LeBron James has been tremendous.
The King is leading the NBA with 29.7 points per game, his most since he was 25 years old. He's also making 52.2% of his shots, his highest shooting percentage since becoming a Laker in 2018-19, and he's averaging 8.2 rebounds and 6.3 assists.
However, LA is only 29-37 and in ninth place in the Western Conference. Their struggles have forced James to post some out-of-this-world performances. In a win over the Golden State Warriors on March 5, James scored 56 points on 61.3% shooting, and during a W over the Washington Wizards on March 11, he dropped 50 on 72.0% shooting.
His offensive brilliance has single-handedly kept the Lakers alive in the NBA Play-In Tournament race. But it has also allowed him to potentially make NBA history in Cleveland.
LeBron James can make NBA history in Cleveland yet again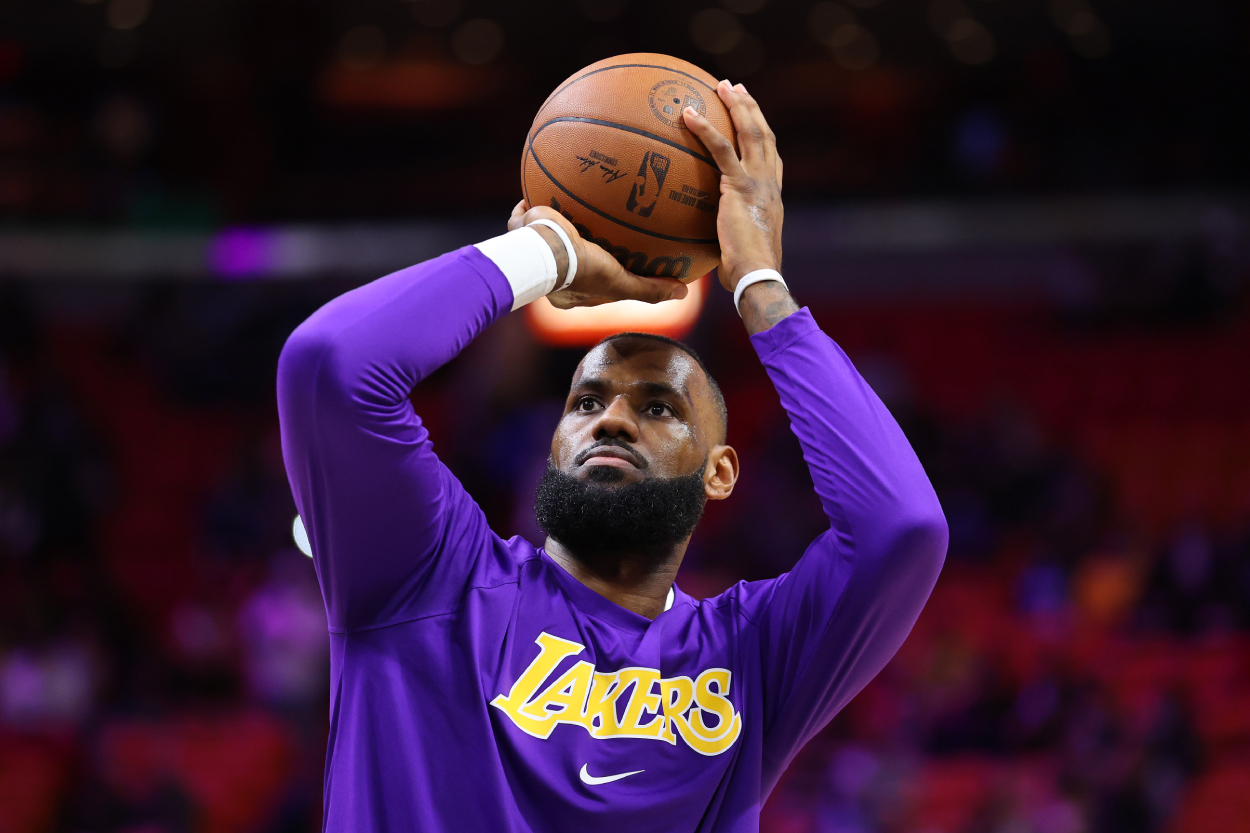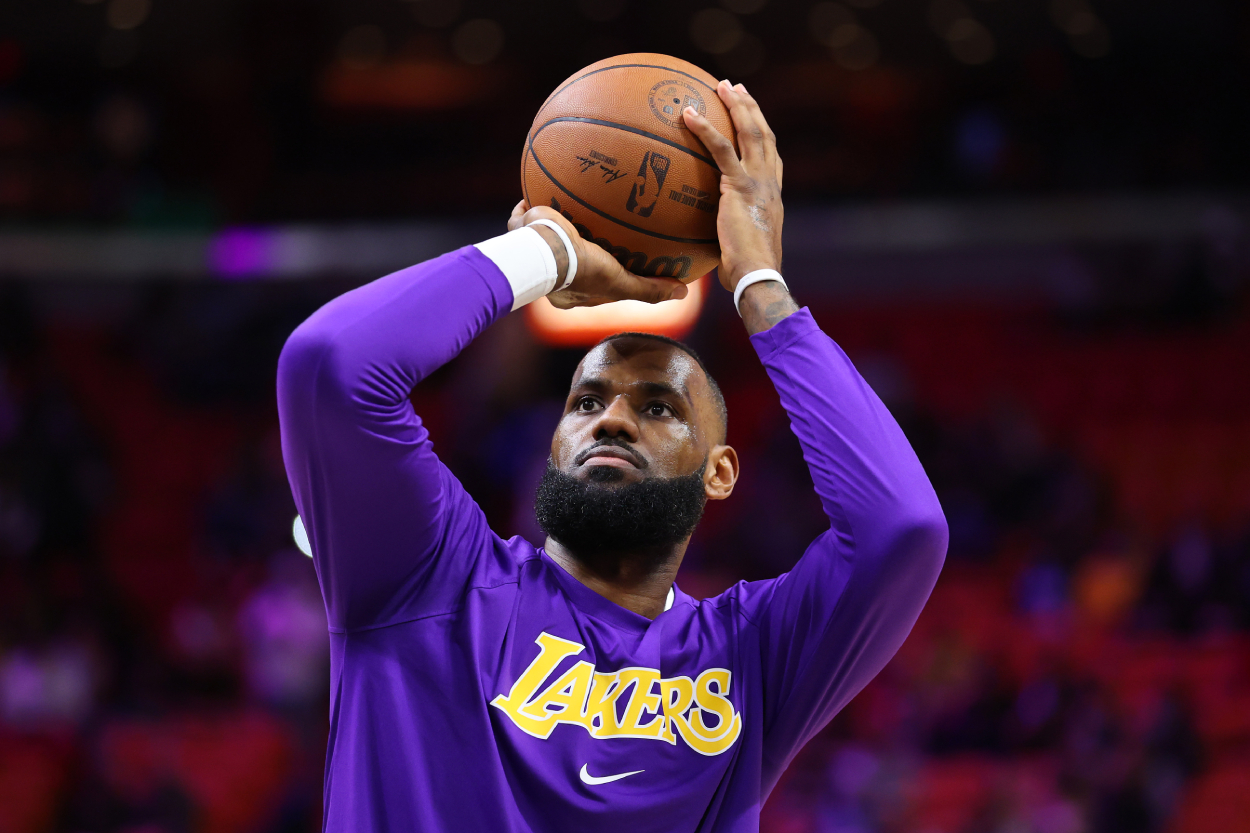 LeBron James will soon look to surpass Kareem Abdul-Jabbar on the NBA's all-time scoring list. Before that, though, he must beat out Karl Malone for second.
As of March 13, James is third on the list with 36,793 total career points. His recent 50-point games closed the gap between him and Malone by just 135 points. The Utah Jazz legend scored 36,928 in his career.
But as a Reddit user first pointed out (although their math was a bit off), James could move to No. 2 on the list during a road game against the Cavaliers later this month. LeBron spent 11 seasons with the Cavs in two separate stints, playing in five NBA Finals with the franchise.
The Lakers travel to Cleveland on March 21. If James plays in all six games between now and then (including the one against the Cavs), he would need to average only 22.5 points to reach Malone's mark while in The Land. If he misses a game due to his sore knee, he would have to record 27.0 per game.
That's certainly doable, especially considering that he's averaging 29.7 points this season. And it would likely mean a lot to him. He not only played in Northeast Ohio for over a decade, but he grew up in the area as well.
James can make more NBA history in Cleveland; just like the old days.
LeBron has made plenty of history in Cleveland
This wouldn't be the first time LeBron James has made history in Cleveland. He currently holds numerous Cavs franchise records, including games, minutes, points, field goals, assists, rebounds, and steals.
James also led the franchise to its first-ever NBA Finals appearance in 2007, clinching the trip with a Game 6 Eastern Conference Finals win over the Detroit Pistons on the Cavs' home floor. In 2016, James helped end the city's 52-year championship drought by winning a title over the 73-win Golden State Warriors.
All in all, LeBron James has meant a great deal to the city of Cleveland, and he can now have another special moment with Cavs fans by possibly passing Karl Malone on March 21.
Stats courtesy of Basketball Reference