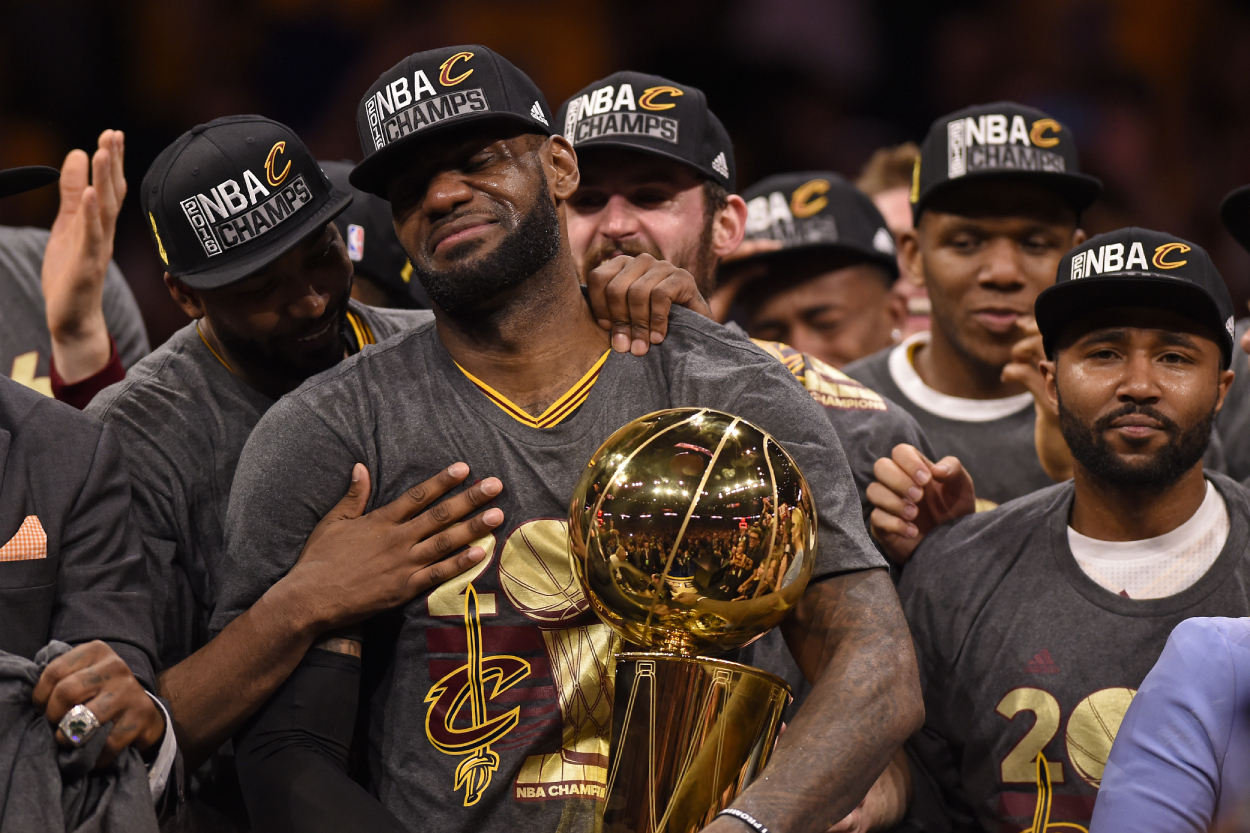 What Are LeBron James' Top 4 Career NBA Playoff Moments?
LeBron James has won four championships in his career and has not only become an NBA legend but has also had some incredible playoff performances over the years. So, what are his top four playoff moments? The list is hard to make, but four specific accomplishments really stand out over the others.
LeBron James has proven that he is one of the greatest NBA players to ever play. He has not only had significant regular-season success, but James' teams are almost always in the NBA Finals.
So, since James has accomplished so much in the postseason throughout his career, what are his best playoff moments? Below is a list of James' top four career playoff moments. The rankings are based on what they mean to his legacy and in the totality of his career.
LeBron James has won four NBA championships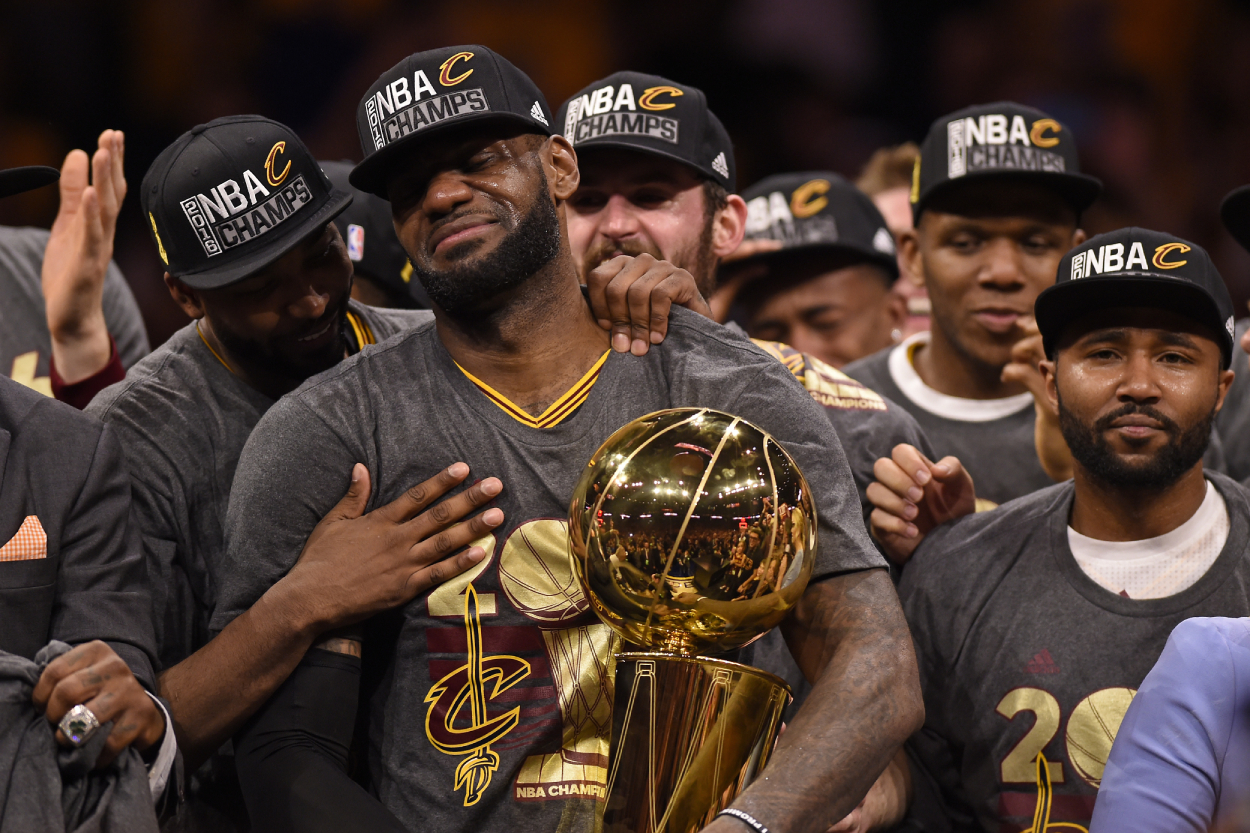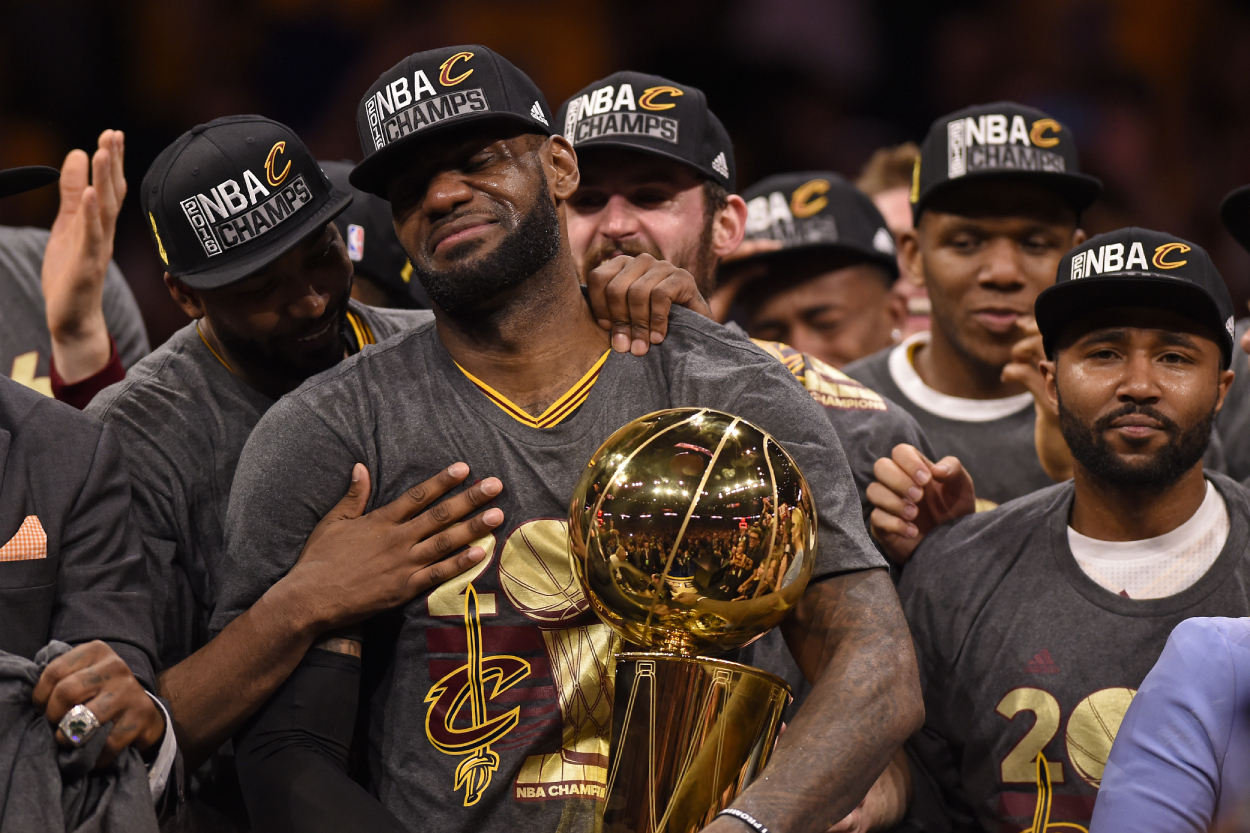 Before we get to the list, let's recap everything James has done in the postseason so far.
He has ultimately won four NBA championships with three different teams, as he won two titles with the Miami Heat, one with the Cleveland Cavaliers, and another with the LA Lakers. He has also played in nine NBA Finals in 10 seasons from 2010-11 through 2019-20.
Throughout all those playoff runs, James has also won four Finals MVP awards, and has racked up some incredible stats. He is No. 1 all-time in total playoff points, No. 2 in assists, and No. 6 in total rebounds.
Ranking LeBron James' top 2–4 NBA playoff moments
With all of James' incredible accomplishments, it's extremely hard to make a list of his best postseason moments; there have just been way too many great ones. James, of course, led the Lakers to the 2020 NBA title after mourning Kobe Bryant's tragic death and dealing with the COVID-19 pandemic during that same season. There was also the title he won in 2013 with the Heat when Miami defeated the San Antonio Spurs in seven games in the NBA Finals.
However, these next four achievements mean slightly more to his legacy.
4. Reaching his first NBA Finals with the Cavaliers in 2007
OK, you may be wondering why this moment is here since the Spurs eventually swept James and the Cavs in the 2007 NBA Finals. However, getting this particular Cavs roster past the Eastern Conference Finals may be one of James' greatest accomplishments yet. This team consisted of guys like Daniel Gibson, Zydrunas Ilgauskas, Drew Gooden, and Larry Hughes. Each of them were solid players but had no business playing in the finals.
Despite the lack of talent around him, though, James led the Cavs out of a 2-0 hole against the Detroit Pistons in the conference finals by winning four straight games in the series, including a 98-82 win in Game 6. James' play in that final game, and in the entire series, proved to the world that he could ultimately become as great as advertised.
3. Winning Game 6 of the 2012 Eastern Conference Finals
Many people had questions about James after he and the Heat choked in the 2011 NBA Finals and then fell behind 3-2 to the Boston Celtics in the 2012 Eastern Conference Finals. He proved many of his doubters wrong, though, with his performance in Game 6 of that series against Boston. James scored 45 points in that game and led the Heat to a 98-79 win. Miami then later won in Game 7 to reach the NBA Finals for a second consecutive season.
No, James' Game 6 performance didn't win him a championship or clinch a trip to the NBA Finals, but it laid the groundwork for his first title.
2. Winning his first NBA championship with the Heat in 2012
Speaking of his first title, beating the Oklahoma City Thunder in Game 5 of the 2012 NBA Finals has to be James' second-most meaningful moment of his career. Many critics questioned whether he could actually lead a team to a championship, but James proved them all wrong by dominating the Thunder and winning the series in five games. He recorded 26 points, 13 assists, and 11 rebounds in that 121-106 series-clinching Game 5 win and later won his first Finals MVP.
Game 7 of the 2016 NBA Finals is LeBron James' top playoff moment
James has a deep connection to the team that drafted him in 2003, the Cavaliers. He was born and raised in the area and played high school ball there, so Cavs fans were pretty hurt when he left Cleveland to go to the Heat in 2010. His first departure was just another heartbreak for a city that ended up going 52 years without a major sports championship.
That was until Game 7 of the 2016 NBA Finals when James led the Cavaliers to an epic 93-89 win over the 73-win Golden State Warriors. His performance in the game, which included his legendary block on Andre Iguodala, was a storybook ending to Cleveland's championship drought and the Cavaliers' historic 3-1 series comeback.
James may still have a lot more to accomplish in the NBA, but it's hard to see any moment surpassing his 2016 championship win.
Stats courtesy of Basketball Reference