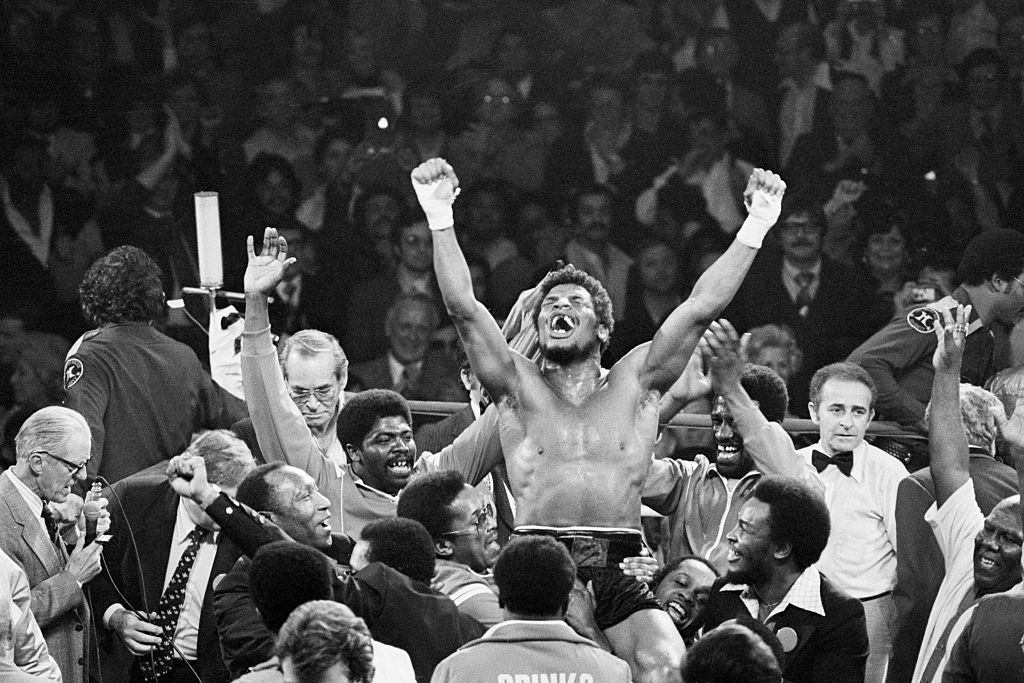 Leon Spinks Lucky to Have His Wife Brenda in His Corner
Former heavyweight boxing champion Leon Spinks is very lucky to have his wife Brenda in his corner as his health declines.
Leon Spinks is in the fight of his life. He's also in the fight for his life. Spinks, a former heavyweight boxing champion, is in failing health after being diagnosed with prostate cancer that eventually spread to his bones. He's also battling dementia. While Spinks continues to play the role of fighter, he wouldn't be able to do it without the help of his wife Brenda.
Leon Spinks' boxing career
Leon Spinks was a heavyweight boxer who struck gold early in his professional career. Spinks made his professional debut Jan. 15, 1977, and knocked out Bob Smith in five rounds. Spinks remained undefeated after seven fights and then in only his eighth professional fight, he went up against Muhammad Ali.
On Feb. 15, 1978, Spinks faced Ali and became the first and only boxer to take a title from Ali. Spinks defeated Ali in a 15-round split decision. Spinks claimed the world heavyweight title with the win. Winning the title in his eighth pro fight was the shortest time in boxing history. The two met up again in a rematch seven months later with Ali reclaiming the title in a 15-round unanimous decision.
From that point on, Spinks struggled. He was never given a rematch with Ali, who retired after that fight. In his next fight, Spinks was knocked out in the first round by Gerrie Coetzee. Spinks eventually had one more heavyweight title fight, facing Larry Holmes. Holmes quickly took care of Spinks with a TKO in the third round. Spinks finished his career with 26 wins in 46 fights.
Spinks' failing health
Last June, Leon Spinks, 66 was diagnosed with prostate cancer. Despite multiple rounds of chemotherapy, the cancer spread to his bones. According to his wife Brenda, doctors said in November that Spinks had about two weeks to live.
Couple his cancer with a previous dementia diagnosis and Spinks has te fight of his life on his hands. Brenda, who is Spinks' third wife, said that Spinks continues to show that fight. "He's a champion, he's going to keep fighting," she told USA Today in March.
During the last year, Brenda said, Spinks has lost 80 pounds and is down to 194 pounds. She said he is down to his fighting weight and "boy has he been fighting with everyone." In August, blood was found in Spinks' urine and he was admitted to a hospital, where he stayed for four months. He was on a ventilator because he was suffering from sepsis, a staph infection, and inflammation of the colon, among others. He rebounded nicely and was able to go back home.
Brenda has been a savior
Like many boxers, they're only as good as their trainer or cornerman. Brenda has been a top-notch cornerwoman for Leon Spinks. Spinks has had trouble swallowing so Brenda is right there crushing the seven pills he must take every morning. She then loads them into a syringe and injects it int Spinks' feeding tube.
Brenda has helped schedule recent autograph signings for Spinks to help offset his medical costs. According to USA Today, Spinks began taking Zytiga, a medication for patients who have been diagnosed with prostate cancer who have already undergone chemo, and the price tag is $8,000 for a bottle of 120 pills.
Brenda assists Spinks with his walker and is always there to be Spinks' rock, where he knows it or not. "I'm just so happy that he's here and we're just going to keep working at making things better," she told USA Today. "We're not going to give up. We're not throwing in the towel."