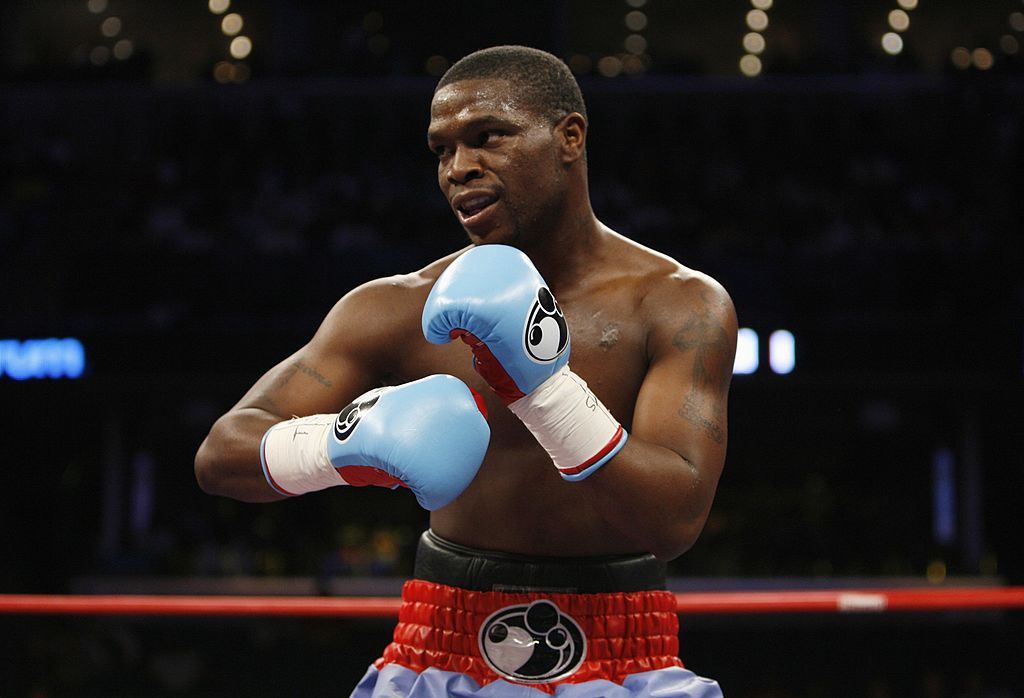 Leon Spinks' Son Was an Undisputed Champion, Too
Cory Spinks was a world boxing champion like his father, Leon, and uncle, Michael.
Ken Griffey Jr., brothers Eli and Peyton Manning, and Stephen Curry all followed famous dads into the family business and achieved greater success, but none of them could take and deliver a punch like Cory Spinks, the boxing son of Leon Spinks.
The second-generation father matched and exceeded his father's achievements in the ring.
Boxing became the Spinks brothers' family business
Brothers Michael and Leon Spinks were Olympic champions in Montreal in 1976 on the same United States team as Ray Leonard. Leon Spinks captured the light heavyweight gold and Michael Spinks was the middleweight winner. Both gained further fame after turning pro.
Leon Spinks got a title shot after just seven fights and proceeded to shock heavyweight champion Muhammad Ali with a victory by split decision on Feb. 15, 1978, in Las Vegas to earn the title of undisputed champion. Spinks lost the rematch to Ali seven months later, and the rest of his career was checkered.
He fought for championships twice more but lost to heavyweight Larry Holmes in 1981 and cruiserweight Dwight Muhammad Qawi in 1986, finishing his career in 1995 with a 26-17-3 record.
Michael Spinks had a more methodical march to the top, beating Eddie Mustafa Muhammad in 1981 in his 17th fight for the WBA light heavyweight championship. He consolidated all the other major championships by beating Qawi in 1983 and Eddie Davis the following year.
He ran his record to 28-0 and won the heavyweight championship by beating Larry Holmes on Sept. 21, 1985. The unbeaten run ended with a first-round obliteration at the hands of Mike Tyson 1:31 into their 1988 fight and he left the sport with a 31-1 record.
Leon Spinks' son Cory was an undisputed champion, too
Cory Spinks proved to be an accomplished second-generation fighter. Though he won't be listed alongside the all-time greats, Spinks earned respect for being competitive against top fighters of his era and not ducking the toughest opponents.
Spinks was born about a year and a half after his father Leon successfully competed in the Montreal Olympics. Growing up around the sport in which his father and uncle became world champions rubbed off on Cory, who began his amateur career as a teen and rolled up a 78-3 record. He capped his amateur days with national Golden Gloves and Police Athletic League championships in 1997.
Similar to his father's experience, Cory Spinks was given a quick title fight – albeit a minor one – early in his pro career. That December 1998 loss to Antonio Diaz for the IBA light welterweight championship was only a temporary setback. Spinks won his next 16 bouts and collected three minor championship belts while polishing his reputation as a crafty fighter who knew how to accumulate points on the judges' scorecards.
On Dec. 13, 2003, Spinks decisioned Ricardo Mayorga to win all the major world welterweight championships and followed five months later by beating former world champion Zab Judah. Judah won the rematch in early 2005 before 22,000 fans in St. Louis, where rapper Nelly led the Spinks entourage into the ring.
Spinks plowed forward, winning and losing the IBF junior middleweight championship twice in the next five years before finally losing his status as a leading contender. He retired at the age of 34 following a loss to Carlos Molina by unanimous decision on Feb. 1, 2013.
Spinks' final record was 39-8 with 11 knockouts. He was the undisputed welterweight champion for 14 months beginning in December 2003.
Tragedy touches the Spinks family
Cory Spinks wasn't the only second-generation boxer in the family. Leon Spinks' other son, Leon Calvin, was off to a 2-0 start as a light heavyweight when he was shot and killed in East St. Louis in 1990 a month into his pro career.
Calvin's son, Leon Spinks III, also tried the sport as a light heavyweight, compiling an 11-3-1 record from 2012 to 2017.